Three-cylinder Triumphs and four-cylinder Hondas were fighting for the title of Ultimate Superbike in 1970. But one year later there was a new contender for the title – and it was a Single
Words: Phillip Tooth
Studio photos: JP Pradères. Archive photos Seeley and Greening,Jayne Skayman, Mortons archive
The Seeley Condor has acquired an almost mystical reputation among classic bike enthusiasts – partly because of the exotic race heritage, but mostly because it is such a rare beast.
So you can imagine his surprise when Colin Seeley saw this Condor at a French circuit. "The owner didn't know who I was," explains Colin, "but when he realised that I was the man who designed his bike he got very excited and started slapping me on the back!"
The Condor was not the first road bike to use the single overhead camshaft Matchless G50 engine. Dick Mann competed in the American Motorcyclist Association's Grand National flat track championship in 1962 with a G50 engine dropped into a rigid BSA Gold Star frame.
You could tell that he had the Harley boys worried when the AMA banned the hybrid because it wasn't based on a road bike.
So Matchless made 25 examples of the G50 CSR Golden Eagle – a street scrambler with lights – to homologate the race version. Dick used a G50 in road races when he won the AMA Grand National Championship in 1963.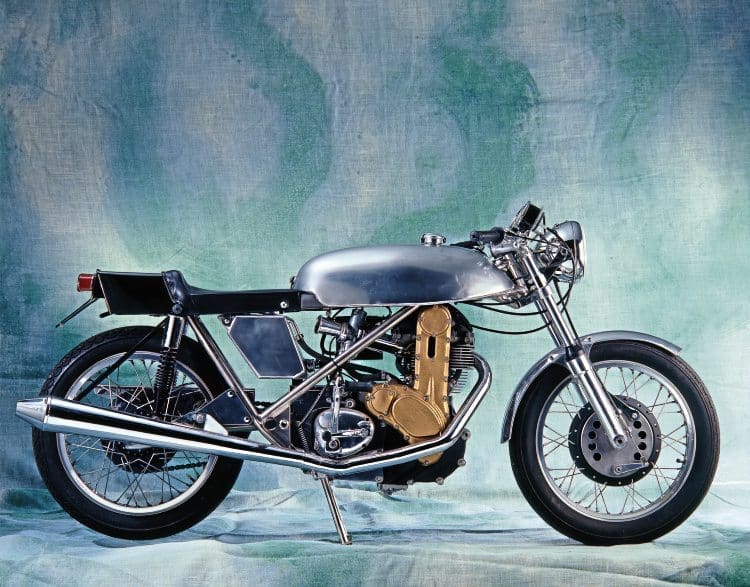 But Associated Motor Cycles Limited (AMC), manufacturers of AJS and Matchless motorcycles, was soon in trouble. In 1966 the infant Norton Villiers rose from the financial ashes of AMC.
New boss Denis Poore quickly streamlined the range to finally end up with just the Norton Commando. And he sold virtually everything connected with AJS, Matchless and Manx Norton racing – everything except the brand names – to Colin Seeley.
Colin had given up an engineering apprenticeship to open a motorcycle shop in Belvedere, Kent in 1956 and was soon selling AJS, Matchless and Greeves.
He tried his hand at grasstrack and scrambles, but it was watching sidecar racing that really got him excited. He wanted some of the action for himself.
He was a quick learner. Colin raced an elderly ex-Eric Oliver Manx Norton outfit, but rider skill soon exceeded machine potential.
The answer was to build his own outfit powered by a Matchless G50.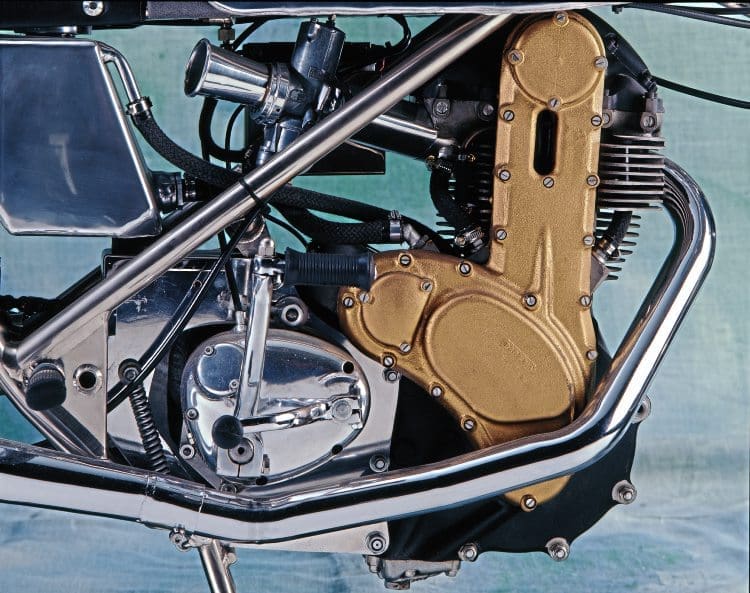 Colin Seeley's racing rivals fell about with laughter at the young man's madness. Surely he knew no charioteer used a G50 engine.
But passengered by his workshop mechanic Wally Rawlings, the greenhorn gained a sixth in the 1961 TT behind the all-conquering BMWs.
A year later he moved up to third in the Isle of Man and topped off a brilliant season by taking the British sidecar championship on the constantly modified Matchless outfit. The laughing stopped.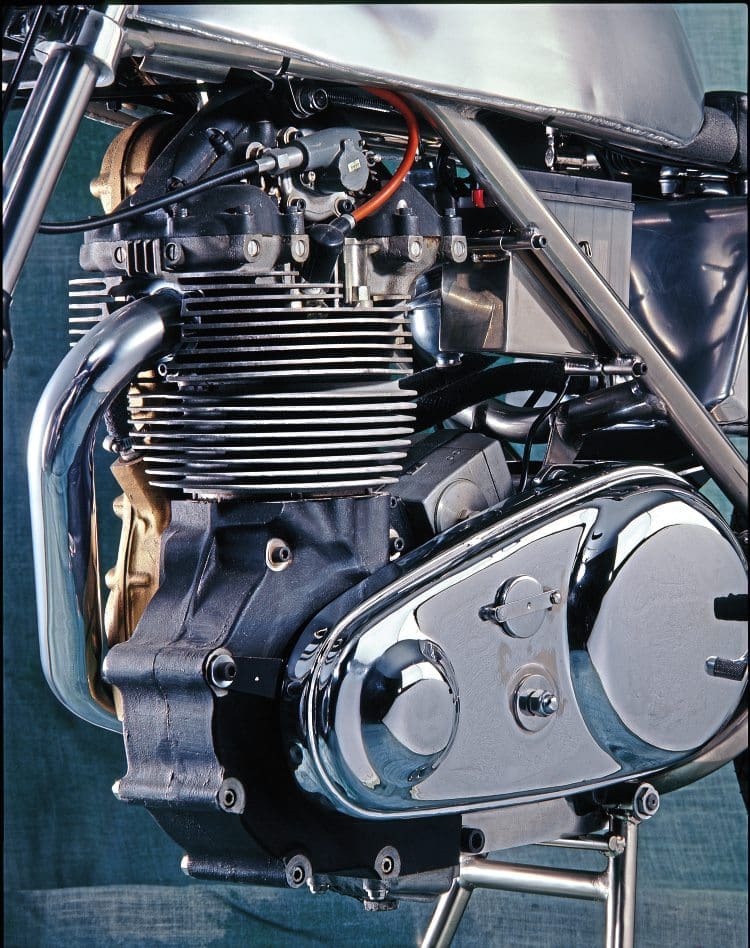 Every Seeley outfit was immaculately turned out, and thoroughly well engineered. Passenger Rawlings was no mean tuner of G50 units. These factors were to prove highly significant to the future of Seeley manufacturing activities.
Colin won the British championship again in '63. He raced a BMW outfit loaned by Swiss ace Florian Camathias in 1964 and finished third in the world championship.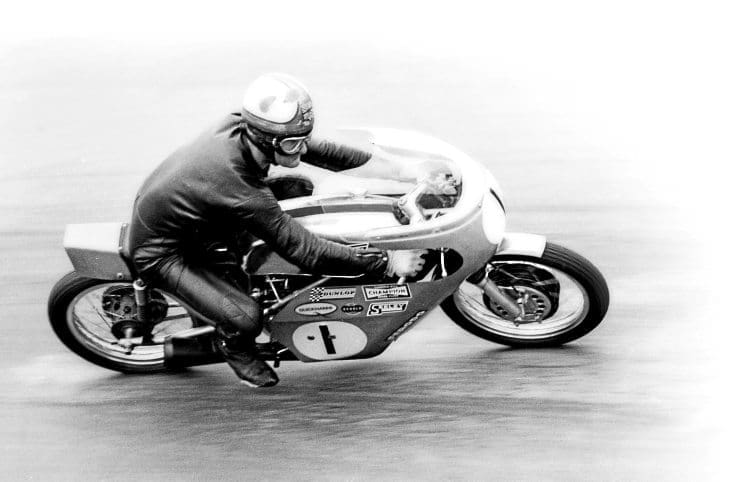 Highlights of that year were a superbly fought second place to Max Deubel in the Isle of Man TT and a great win at the Dutch TT.
Getting off to a famous Seeley start, Colin held off a challenge from fellow Brit Chris Vincent (BMW-Watsonian).
The privateers relegated BMW factory supported outfits down the places as Seeley set new lap and race records. Seeley was third again in the 1966 world championship, this time riding the ex-Trevor Layton Rennsport BMW.
At the end of 1965 Colin decided to become a manufacturer. The move from sidecar racer to race bike frame builder must have seemed obvious to Colin, but left everyone else puzzled.
Not for long. AMC agreed to supply him with new AJS 7R and Matchless G50 engines and gearboxes. Without drawings or plans Colin made a stiffer, lighter and better handling frame for the short-stroke camshaft singles.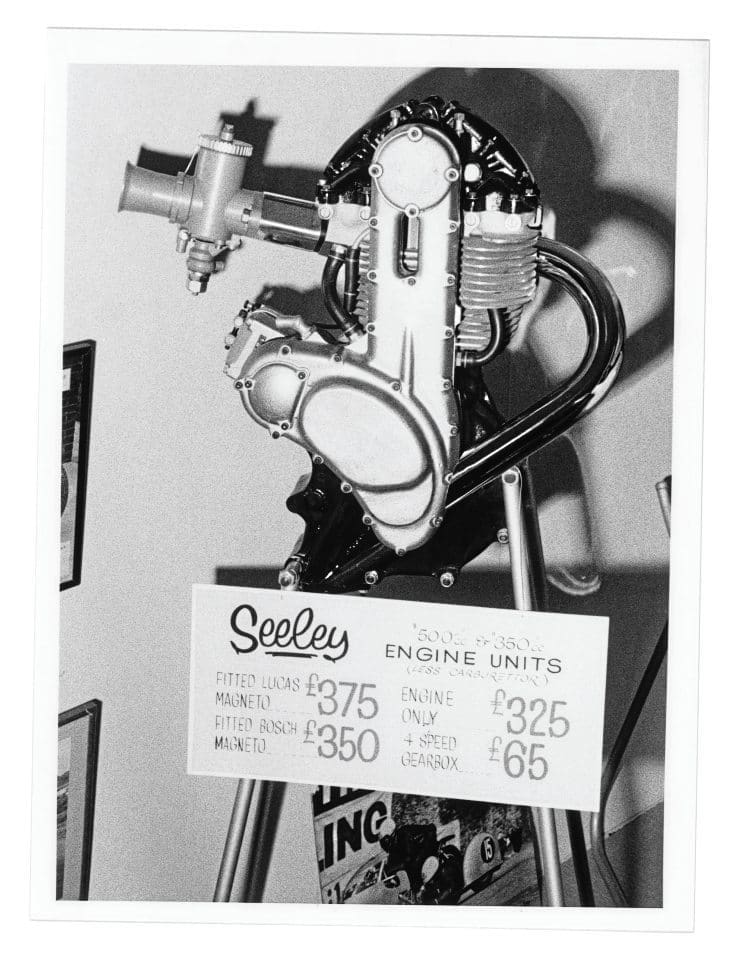 He bent the Reynolds 531 with a plumber's pipe bender, after packing the tubes with silver sand.
The first effort, known as the Seeley Matchless, featured a twin-loop frame of fairly conventional design. Derek Minter won the Seeley's debut races at Brands Hatch with both G50 and 350cc 7R versions.
The Sif-bronze welded frame had given the ageing single-cylinder engine another lease of life, especially on the British short-circuit scene where handling and manoeuvrability is everything.
Then, in October 1966, it was announced that Colin Seeley Racing Developments had bought the manufacturing rights to the 7R AJS, G50 Matchless and Manx Nortons.
It took two weeks and two vans to move all the tooling and spare parts from AMC's Woolwich factory to Colin's workshops at Belvedere, Kent – just 10km away. He was going to make new engines, and put the Seeley AJS and Seeley Matchless into production.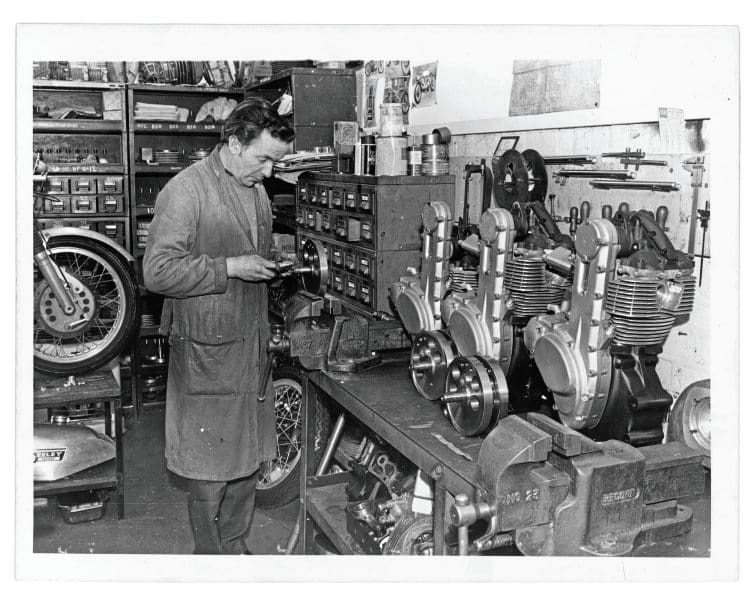 There was a MkII Seeley frame for 1967, which had the front twin downtubes set further apart. The main load-carrying top tubes still sloped from the steering head to a point rear of the engine.
There, they took a further angle downwards to the swinging arm fork pivot area. Main frame tubes were in Reynolds 531 of 26mm diameter and 1.42mm wall thickness. Smaller tubes formed the rear sub-frame. Dave Croxford won the British 500cc road race championship on a Seeley in 1968.
Next up was the Seeley Mk3 frame of 1969. "The design makes it easier to get the engine in and out if you are working under pressure at a race meeting," says Colin.
"But to be honest, the main reason for the Mk3 was that it was easier and faster to produce, so that we could actually make some money when we sold them!"
With the Mk3 the front down tubes disappeared along with the traditional engine loops, easing production procedures and engine removal.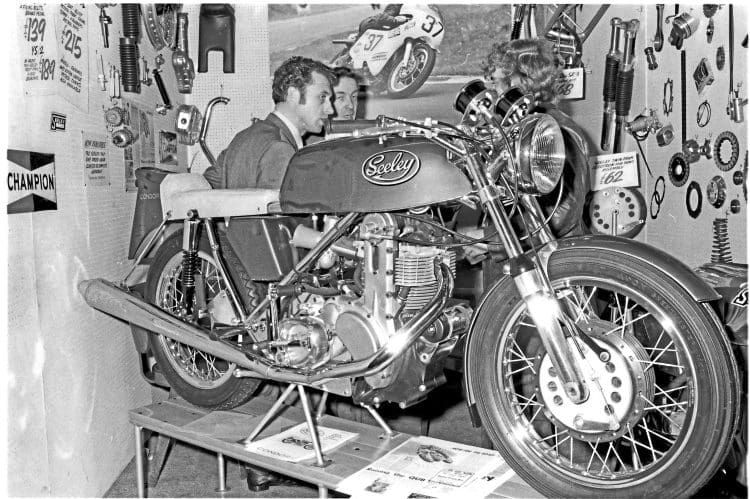 In their place were twin tubes that stretched from the steering head to the swinging arm pivot point in a straight line.
From the bottom of the steering head, two tubes ran horizontally rearwards to the upper mounting points of the rear suspension units.
From there, more tubes ran to the pivot point, continuing downwards and curving inboard where they were bolted to massive light alloy engine-gearbox plates.
The gearbox and crankcase were bolted between the plates, semi-cantilever fashion, with the forward mass being supported by a bracket joining the cambox to the upper frame tubes.
Ken Sprayson of Reynolds Tube Company built the first batch of Mk3 frames and Croxford won the British championship for a second time.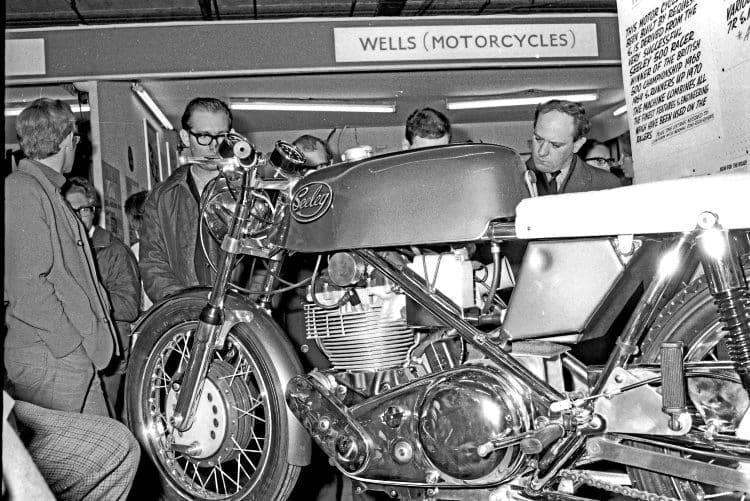 Other notable Seeley riders included John Blanchard, Mike Hailwood and Tommy Robb, who finished fourth in the 1970 World 500cc championship on a Mk3 G50.
Of course, Colin realised that he had to develop new machinery if he was going to stay competitive. After John 'Moon Eyes' Cooper's success on the Yamsel, there were plenty of orders for Seeley-Yamaha frame kits.
Ducati had also ordered frames for their 500cc V-twin GP prototypes, and there was development work to do on Triumph and Suzuki chassis as well.
He had sold more than 40 Seeley G50 and 7R racers. "I knew that the single was coming to the end of its life as a racer, but as the engine was such a potent, proven unit it would be a shame to see it disappear completely," says Colin. "So I started thinking about making a road bike version."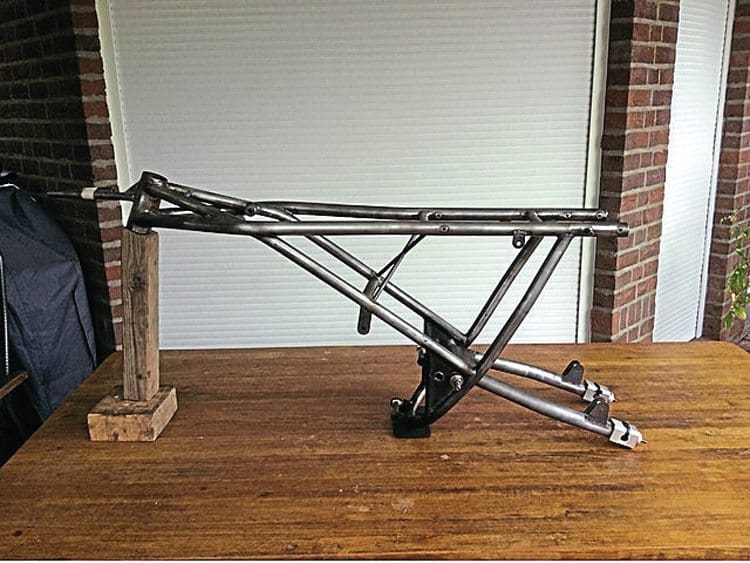 Colin's enthusiasm was spurred on by American airline pilot David Ross, who was based in New Hampshire and ran the Ross Seeley Racing Company as a sideline.
The café racer boom had hit the US and Ross reasoned that there would be a demand for the ultimate road bike.
The big show at London's Olympia exhibition centre was scheduled for 10 days starting January 6, 1971 and Colin wanted to put his prototype café racer on show alongside the best from BSA, Triumph, Norton, Suzuki, Ducati, Honda, Kawasaki and BMW.
That gave him two months to get his first road bike up and running. It wasn't as easy as it sounds.
"Converting a road bike into a competitive racer means throwing away everything that is not needed to cut weight and get the maximum performance," explains Colin.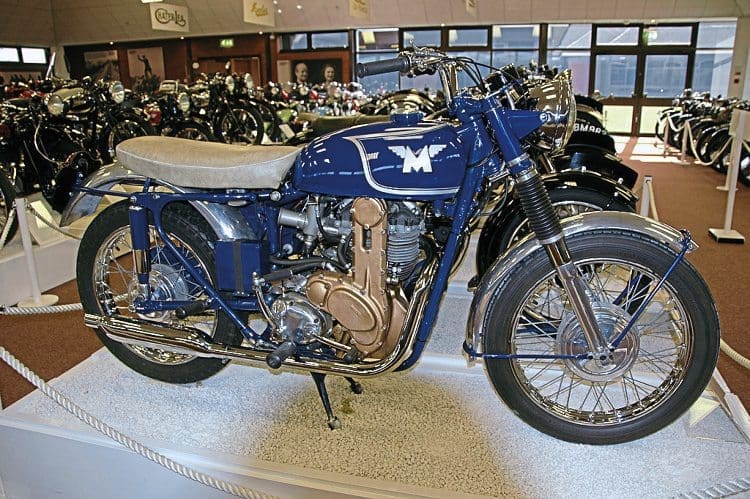 "Building a roadster from a racer is much more difficult. So much needed to be added or altered – lights, charging system, primary chaincase, dualseat, pillion footrests, speedometer, a stand and of course a kickstarter as nobody wants to bump start a road bike."
"We worked flat-out to get it finished on time," recalls Colin. Although he had 19 men working for him he says: "I only took Christmas day off. My wife wasn't very pleased…"
Colin grafted a belt-driven Lucas dynamo to the front of the engine, just like on a Velocette. The battery also powered the coil ignition system, so the contact breaker assembly was mounted in the space behind the engine usually reserved for the magneto.
Production versions would feature a crankshaft mounted 12V alternator and a chrome-plated Norton primary chaincase.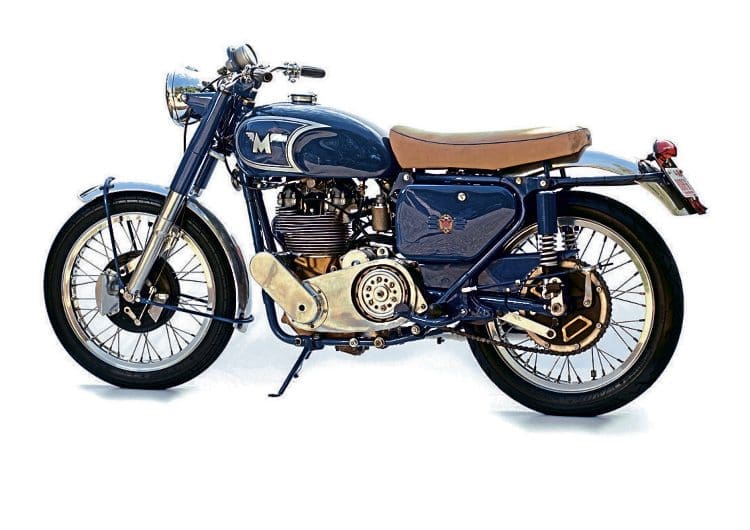 A 1961-type cylinder head with smaller valves and without the squish-band of later engines lowered the compression ratio from an astronomical 11.4 to acceptable 9.5:1.
A 38mm Amal Concentric was used instead of the temperamental GP carburettor, but the short-stroke engine kept the full race cams.
A race bike would run with an open megaphone, but that would not impress the traffic cops who would probably pull you over and ask: "Who do you think you are, sonny – Colin Seeley?
Or is it Mike Hailwood?" So Dr Gordon Blair of Queen's University, Belfast, who had worked with Colin to design exhaust systems on his new-fangled computer, came up with a long reverse-cone megaphone that was reasonably quiet and still let the detuned G50 produce 45hp at 6500rpm, compared to the racer's 51hp.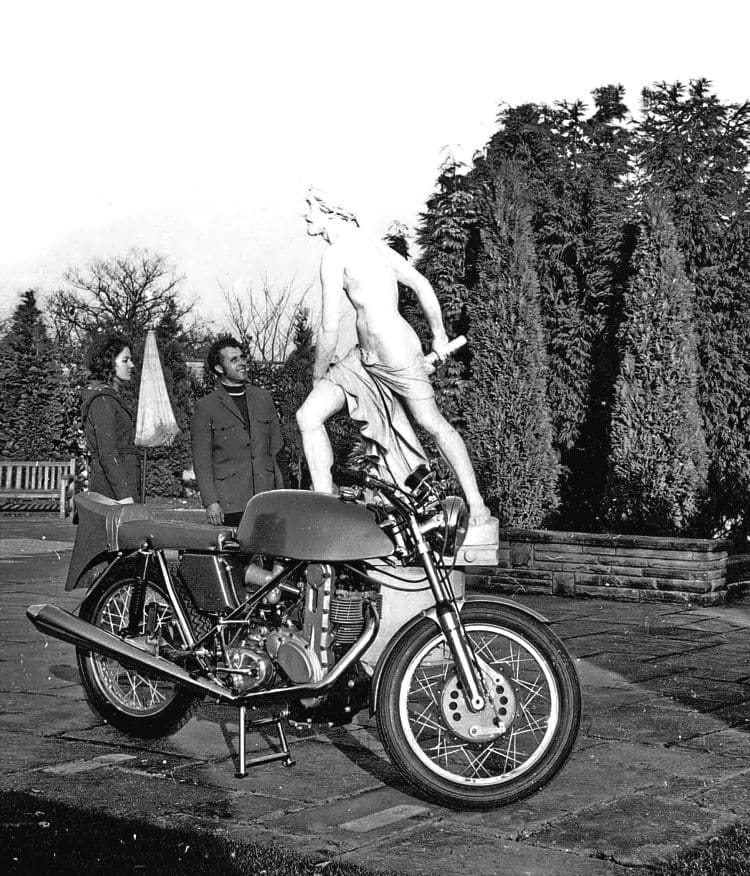 The prototype used a four-speed gearbox, but later versions would have the latest five-speed Seeley PGT box with a kickstarter.
Both the four-litre oil tank and the 16-litre petrol tank were hand-beaten from alloy by one of Colin's craftsmen.
The frame was exactly the same as the racer, but numbers were stamped with the suffix 'R' to indicate 'Road'.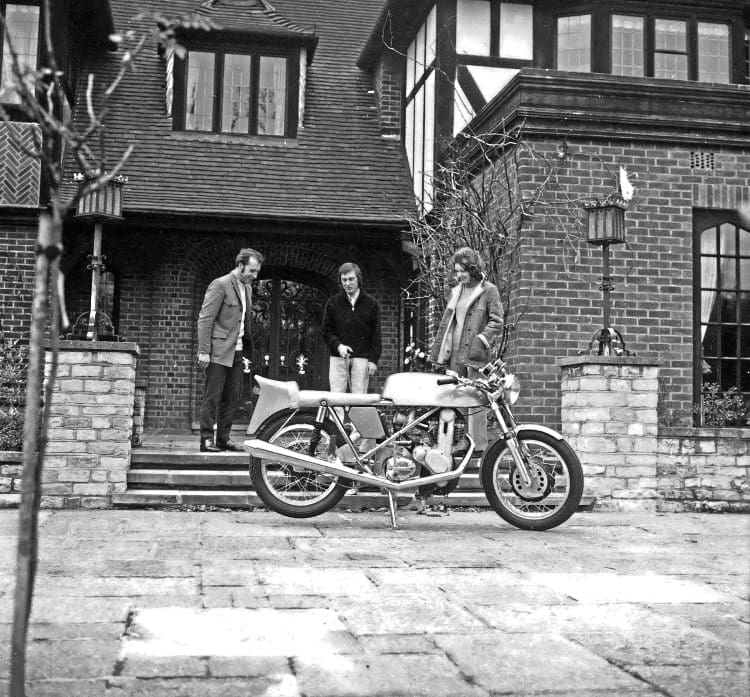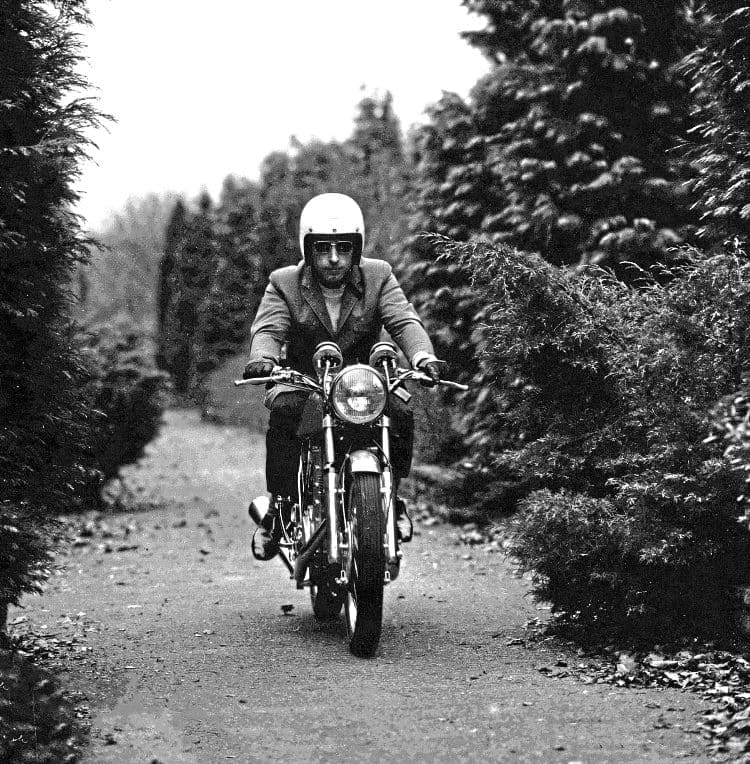 The forks were a modified Manx Norton design, now made by Colin, with Reynolds 531 stanchions and the alloy sliders and fork yokes heat treated for maximum strength.
Both wheels featured 18-inch alloy rims, with an Elektron front hub with two separate single-leading shoe brakes.
The rear Elektron conical hub had a single-leading shoe brake. Colin prefers a single- leading shoe brake.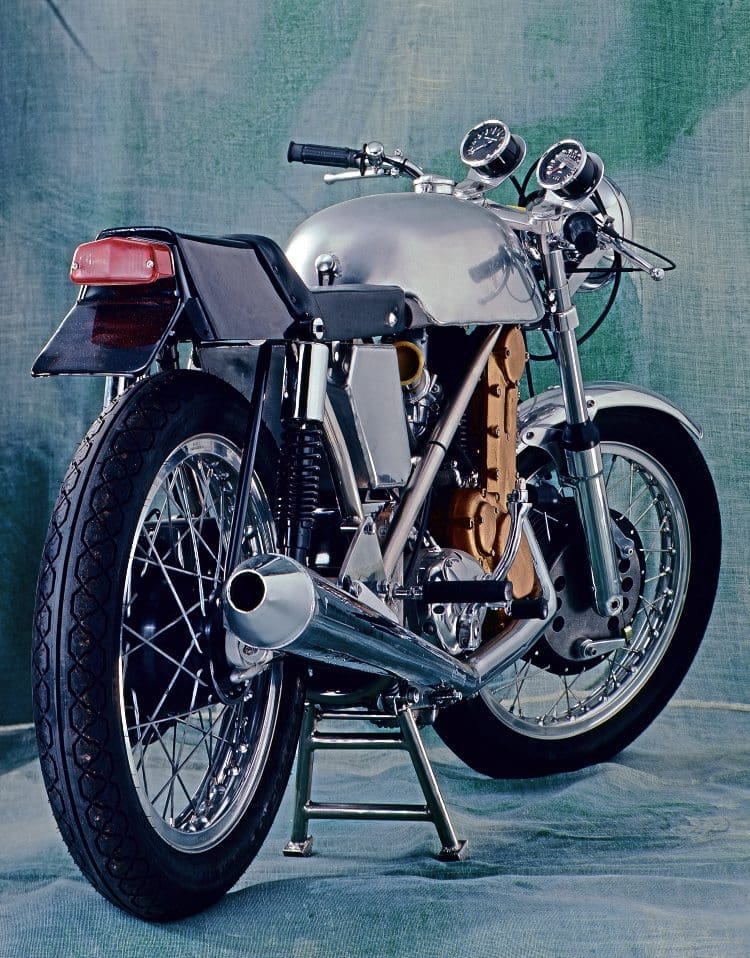 "Braking is more progressive than with a twin-leading shoe, and the rider gets more feel."
Now Colin needed a name for his Ultimate Café Racer, so he asked his workers to come up with ideas.
Nothing seemed to hit the spot. Then one evening he was flicking through his son's comic, The Eagle, and saw a story about the condor.
This South American vulture has a 300cm wingspan, making it one of the biggest birds in the world.
"That would make you sit up and take notice if you saw one," says Colin. "I just hoped that people would notice our Condor when it started flying!"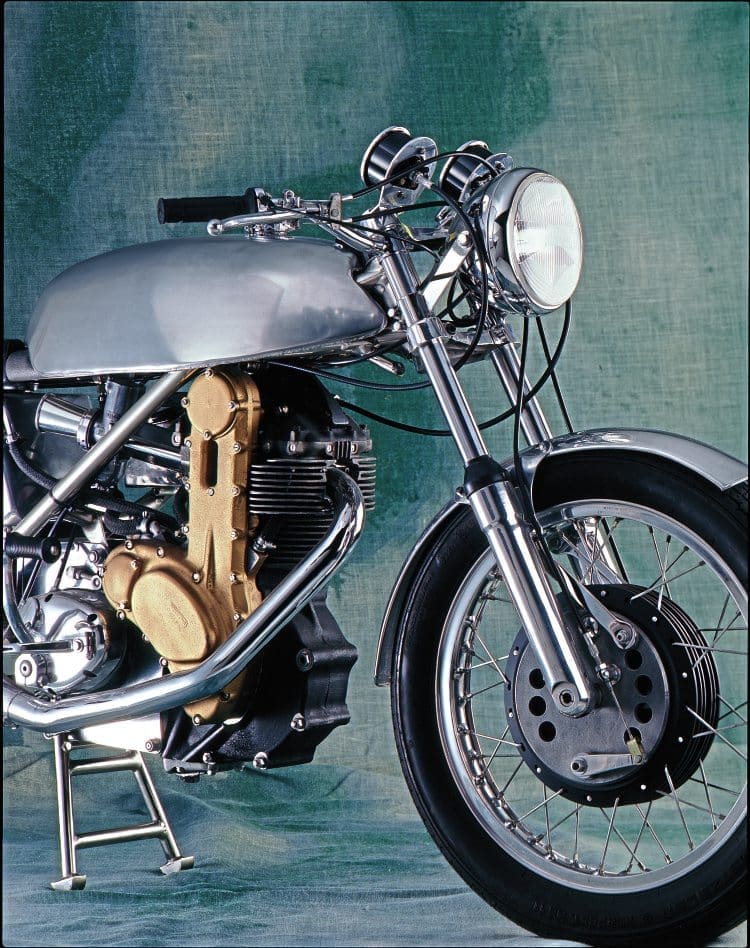 Top speed was about 190km/h or 120mph, depending on the gearing, and dry weight was just 141kg or 310lb. Handling and roadholding were, as you would expect, simply superb.
With a nickel-plated frame and swinging arm set off by the 'flame orange' of the petrol and oil tanks, tail section and front mudguard, the Condor looked like every boy racer's dream come true.
Not that many would ever be able to afford one. The Condor came with a cool £1000 price tag, or $2650, including air freight to the US. David Ross paid for the prototype, while his brother Robert ordered a second. Another American, artist Larry Poons, put his name down for the third Condor.
Then Bernie Ecclestone telephoned Colin.
Colin had known Bernie from the time when today's head of F1 owned a motorcycle shop in London.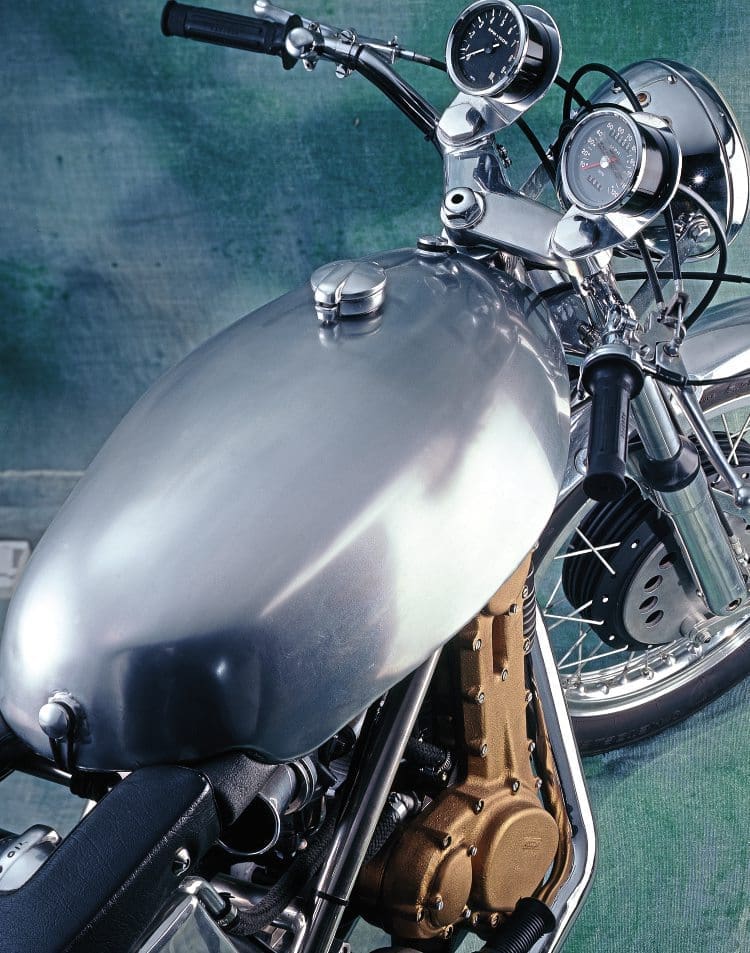 Bernie was thinking about buying Motor Racing Developments, makers and entrants of Brabham race cars, and wanted Colin Seeley Racing Developments to join forces with the car maker.
"Bernie picked me up and flew me in his private airplane to Silverstone to see the 1971 Formula One GP," recalls Colin. "He was very persuasive."
They agreed that Colin would become a director of Motor Racing Developments and use his expertise in both the car and motorcycle parts of the business.
Ecclestone even promised a cash injection to get the Condor into production.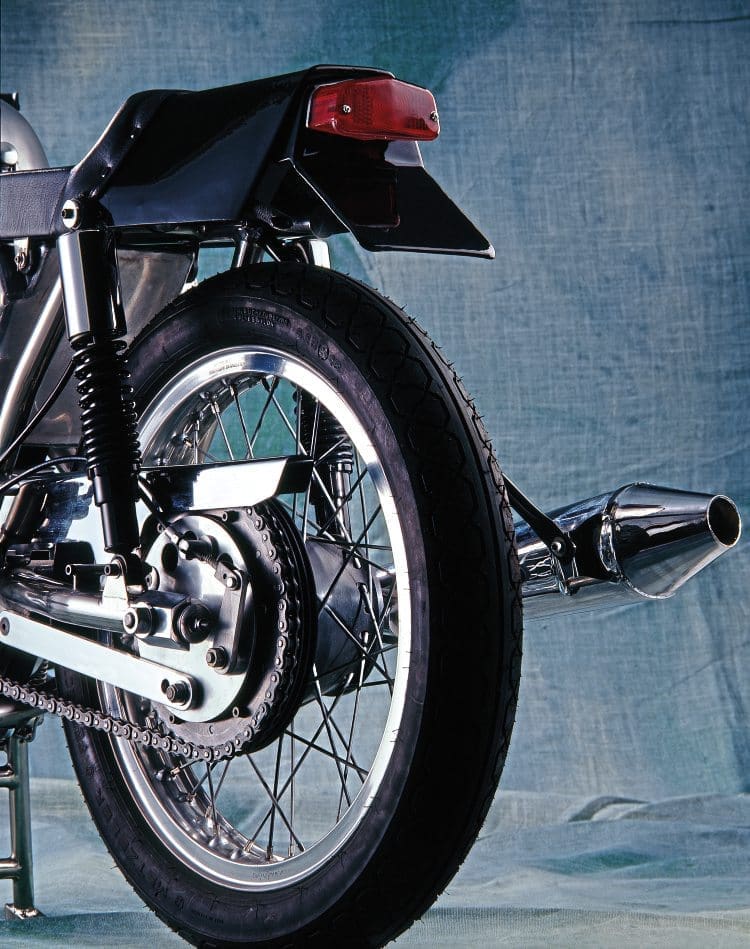 And that's when Bernie suggested that Colin use his mansion at Farnborough Park as a venue to shoot the advertising photographs for the Condor. "I couldn't believe it when I got there," says Colin. "Bernie had 26 acres of landscaped gardens and we were given the run of the place."
By 1973 the Condor project had been pushed onto the back burner. MDR's order book was looking very healthy, with more than 40 Brabham BT40 F2 cars waiting to be made.
The motorcycle side of the business was also doing well – CSRD had designed a monocoque-framed Suzuki for Barry Sheene to test, and Colin was also running Kawasaki's Superbike team.
But when the business didn't produce the profits that Ecclestone expected he pulled the plug and Colin was left high and dry. It was not until 1975 that he sorted out the mess and Seeley motorcycles went back into production with the CB750 powered Seeley-Honda.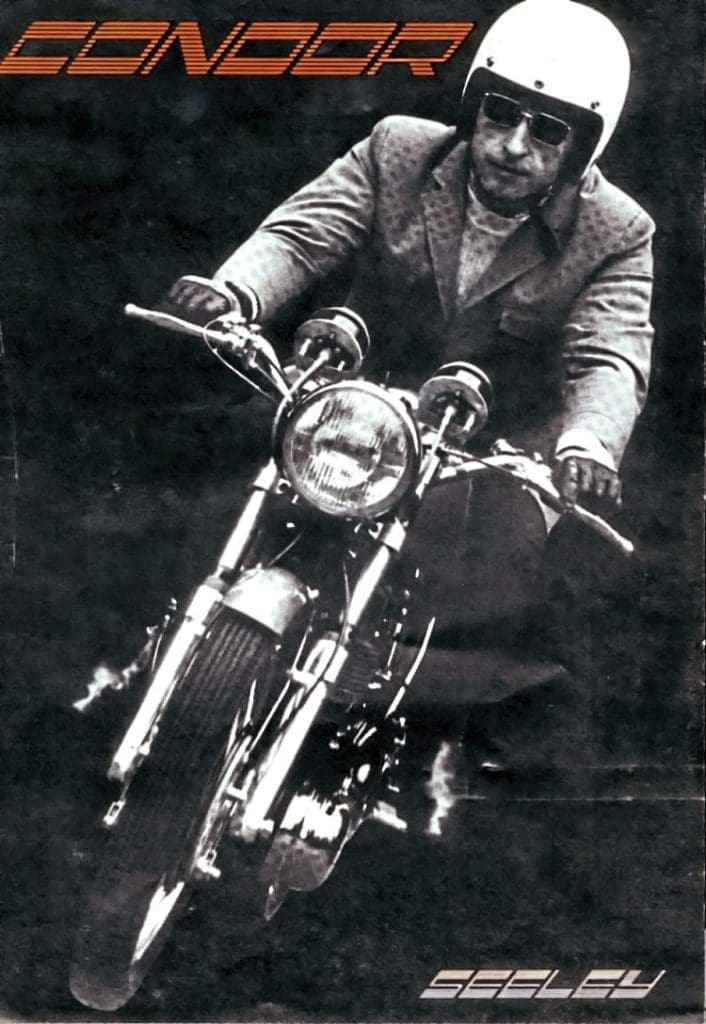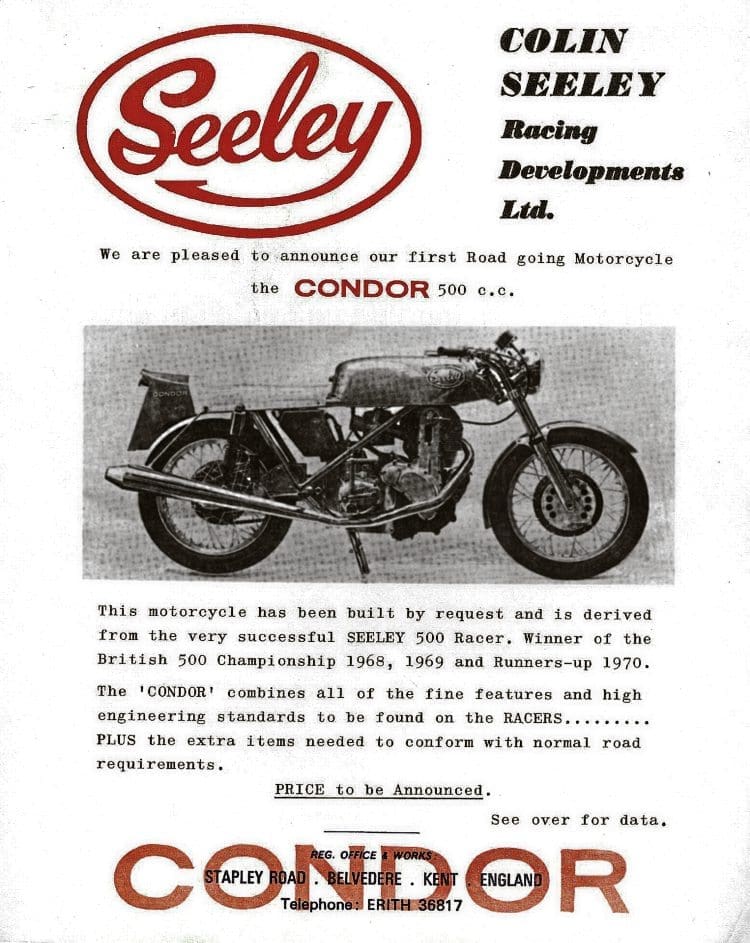 So how many Condors were made? "We only sold seven complete motorcycles," says Colin, "and three rolling chassis so that people could fit their own engine."
A quick look through his record books shows that the one he found in France, frame number Mk3 CS302R, left the factory on August 25, 1972 and was originally sold to Claude Lambert, one of Colin's old sidecar racer friends. Which probably means that he got it at a discount…
Read more News and Features online at www.classicbikeguide.com and in the April 2020 issue of Classic Bike Guide – on sale now!