The bike – and the men – who won the Thruxton 500-miler
Words and photos: Phillip Tooth, archive race pics: Geoff Sims
Mike Hailwood knew exactly where to go to when he went to collect a Tiger 110 from Meriden.
As soon as he reached 16 he had dropped out of an expensive private school where he excelled at boxing and enjoyed music but was bored by the academic demands.
His father put him straight to work at King's of Oxford. That lasted for a couple of months before Stan got him a job at the Triumph factory.
It only took one phone call. Stan Hailwood was a self-made man who had built up a chain of motorcycle shops under the King's Motors brand, with 50 sites in 21 towns and cities across the UK and sales of 12,000 bikes a year including AJS and Matchless, Royal Enfield and Norton, BSA, James, plus Lambretta and DKR scooters…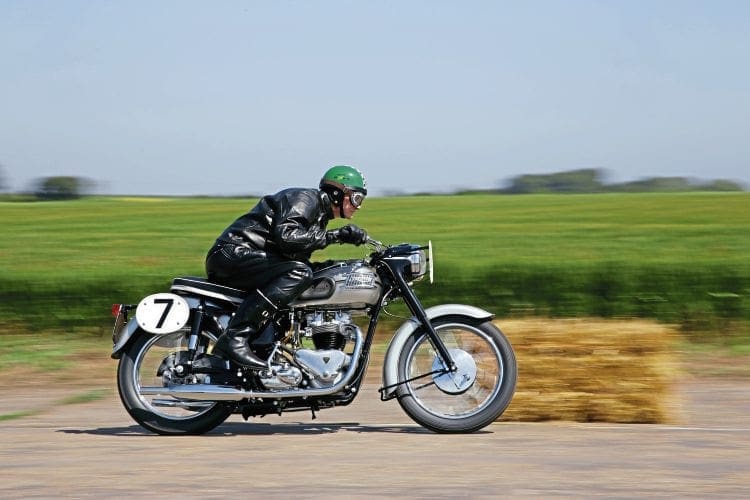 Oh, and a lot of Triumphs. Yet Stan didn't want any special treatment for his son. He wanted Mike to learn the trade from the bottom up – and that meant being the tea boy.
Mike must have thought his luck was in when he was told that he was going on the track.
But instead of becoming a motorcycle tester he was put on 'the track', where he discovered that the assembly line was even more boring than English literature and algebra.
He couldn't wait for April 2, 1957 when he would be 17 and old enough to get a racing licence.
On Easter Monday, April 22, Stan drove Mike to Oulton Park for his first race.
They made quite an entrance when Stan's gleaming white Bentley Continental purred into the paddock.
Waiting for them was a fire engine red 125cc MV borrowed from veteran racer Bill Webster, a friend of Count Agusta.
Read more and view more images in the September 2019 issue of CBG – on sale now!