In 1984 Judith Bonser saw a brand new Triumph Daytona in the window of The Motor Cycle Shop in High Road, Leytonstone, East London. It didn't matter that she was only 17 years old or that she didn't have any money. That bike was going to be hers.
Words and pHOTOGRAPHY Phillip Tooth
Hang on a minute – a new Daytona for sale in 1984? Didn't production end in September 1973 when NVT, the parent group of Norton, Villiers, Triumph and BSA, announced that the Meriden factory would close and production move to the BSA works at Small Heath?
The Meriden workers had responded by locking the gates and began their famous sit-in, which would last until 1975. Although a few Daytona models might have appeared in dealers' showrooms later that year they would have been old stock, because after the sit-in the factory only built the larger twins. So what was the story?
It was Ted Bloomfield, boss of MCS, another North London bike shop, that was the reason. This strongly opinionated Brit bike enthusiast opened his first shop in 1958 when he was 20 years old and specialised in Triumph, Norton and BSA.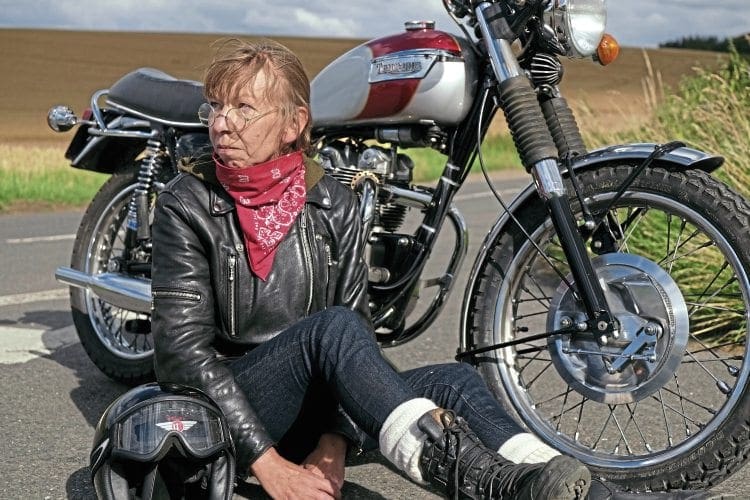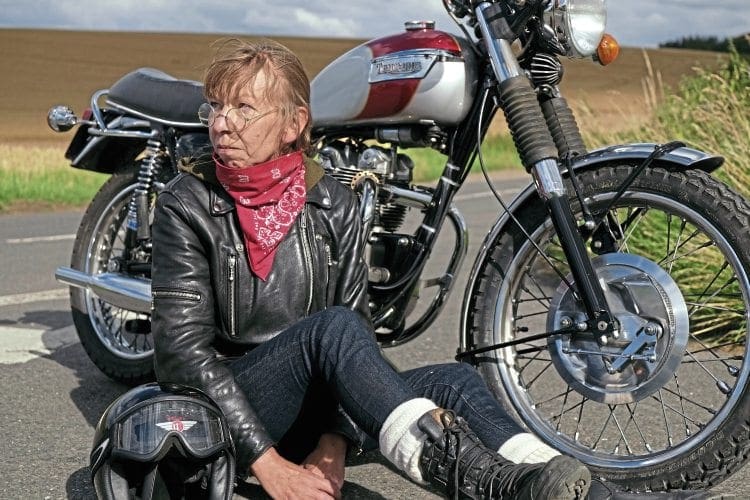 In the 1980s the British motorcycle industry was on the ropes, but Ted kept his customers on the road with workshop facilities, a reliable supply of spare parts, and by selling repatriated BSA A65 police bikes from Libya and Saudi Arabia, BSA B40 army bikes from Holland and Triumph TR7 750s from Germany. And he cleared out the Metropolitan Police stores when they changed to BMW.
Ted owned three houses behind the main shop and it took 13 people, three hours to carry those police parts inside. In 1984 his stock had a retail value of over £2,000,000 and filled every room of the three houses, including the toilets and bathrooms.
Ted was also sourcing Triumph spares from PS-Motors. When the Meriden workers started their sit-in at Factory No1, NVT boss Dennis Poore sold Factory No2, along with tons of spare parts for the Daytona and other models, to Busder Reinhardt, the Triumph importer for Denmark. The factories were on opposite sides of the road, so 'Buster' didn't have far to look for someone to head up his new business. Jack Shortland left his job as Triumph's spares manager and became the S in PS-Motors.
The huge stockpile included crankcases and flywheel assemblies, fork legs in their triple clamps, wheels complete with hubs and brakes, gear sets and frames, tanks, seats, electrics… Ted realised that there were enough new parts to begin making a batch of Daytona T100R, T140 Bonneville and TR7 Adventurer motorcycles and put his workshop manager, Matt Colling, in charge of the project. "I worked in another of Ted's shops, on the other side of the road," recalls Matt. "Our target was to build one new bike a week." The first engine made from new parts was stamped T100R with number 58001, and the second 58002. There was no two-letter prefix indicating the month and year of production.
Read more in the February issue of CBG – on sale now!