WORDS BY Morgan Rue
PHOTOS BY Morgan Rue and Terry Joslin
ARK BUILDERS WERE in short supply in the West Country as floods of biblical proportions and hurricane-force winds tried to scupper this early-season favourite in February.
This did dampen spirits somewhat on the Saturday, when even the most stalwart outdoor traders struggled to stop their stalls being swept away and the elements encroached on the indoor halls.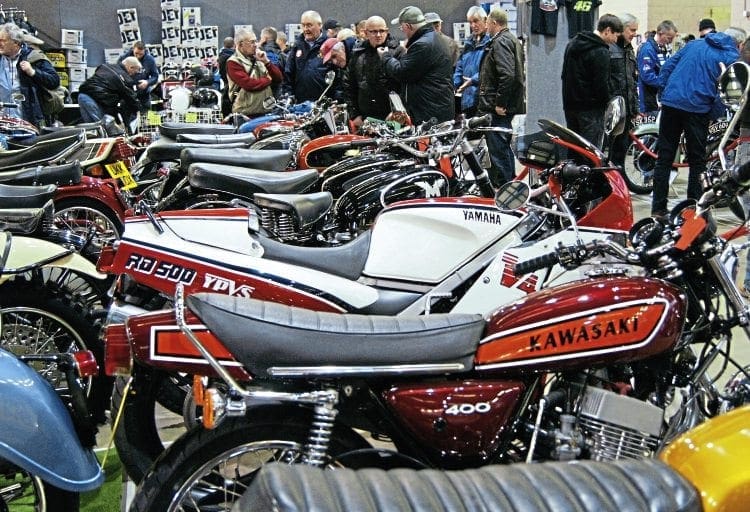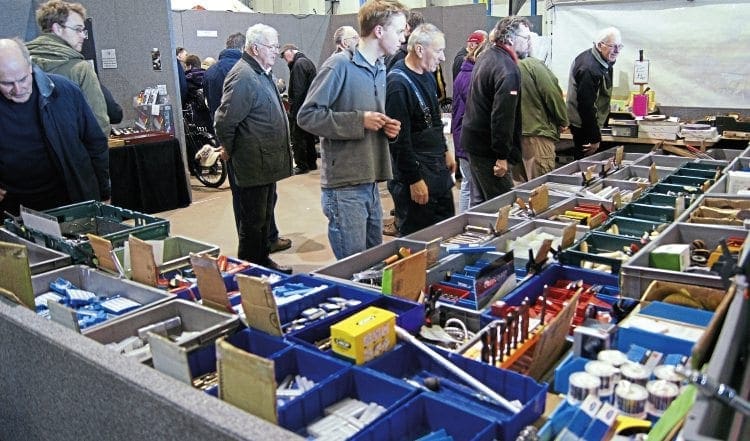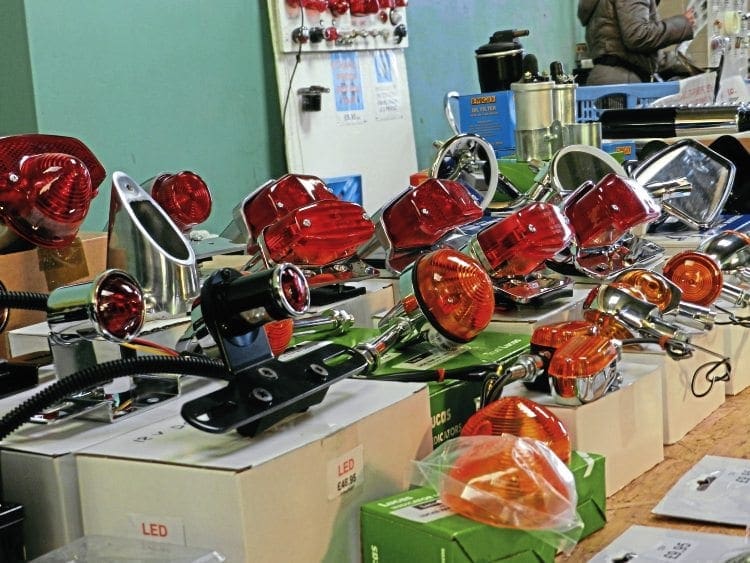 By Sunday, however, conditions improved and the crowds returned. Good job too, as there were some cracking bikes to be seen, some with paint barely dry from winter rebuilds.
Bristol tends to have a strong showing in the 'girders and hand-change' department, but there was also plenty of later, British and international iron on offer, both on club stands and in the private entry displays.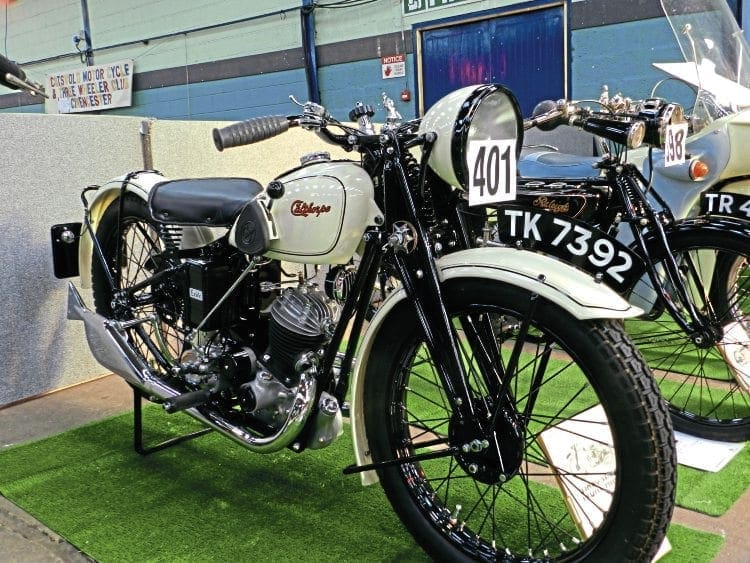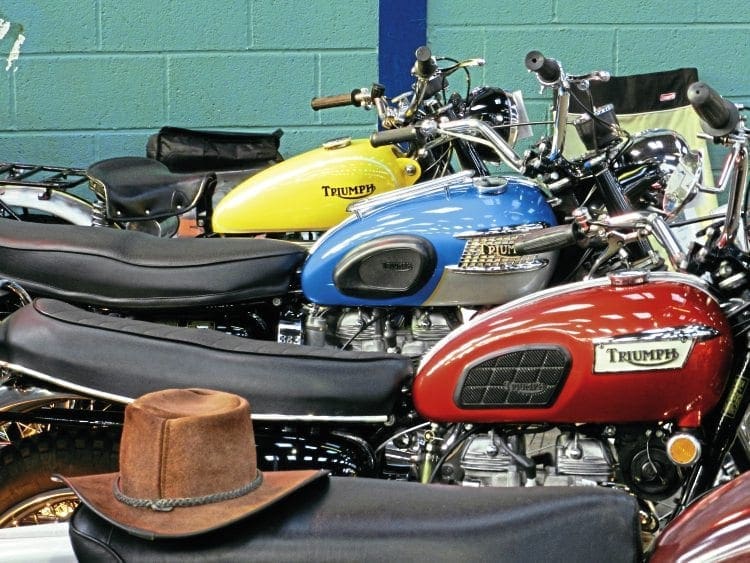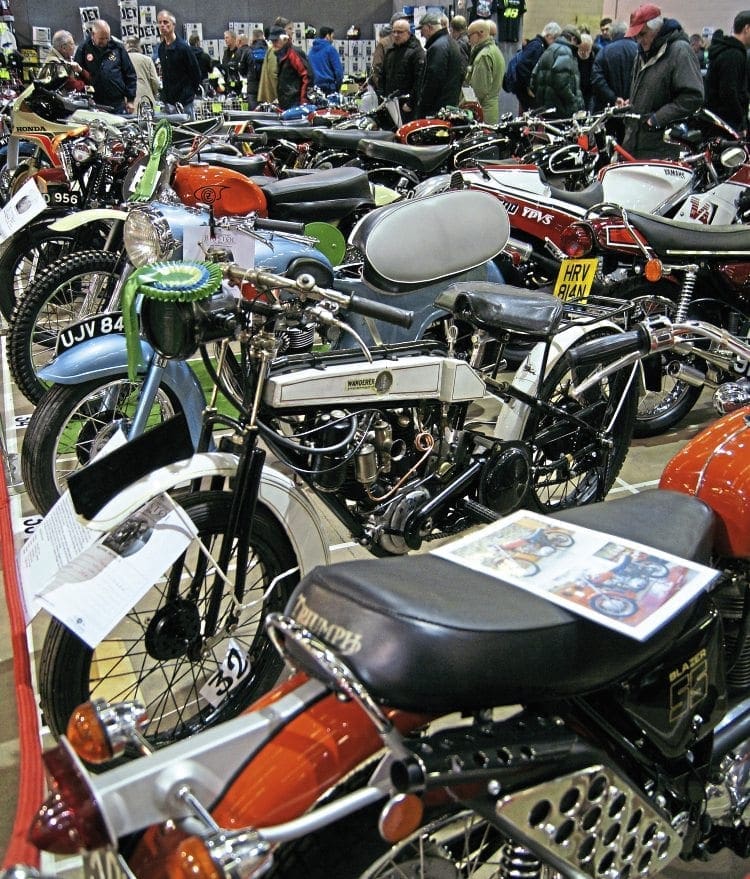 It paid to investigate the nooks and crannies at the back of some stands, where near-mint rare models lurked in the shadows. Read on to see what you may have missed…
IVORY CALTHORPE
METICULOUS RESTORATION WORK was in evidence everywhere on this motorcycle, an Ivory Minor from 1932. Could they possibly have been that clean when new? P
erhaps not for long – but in show trim the Minor certainly displays the gleaming livery that gave the 'Ivory' bikes their name to best effect.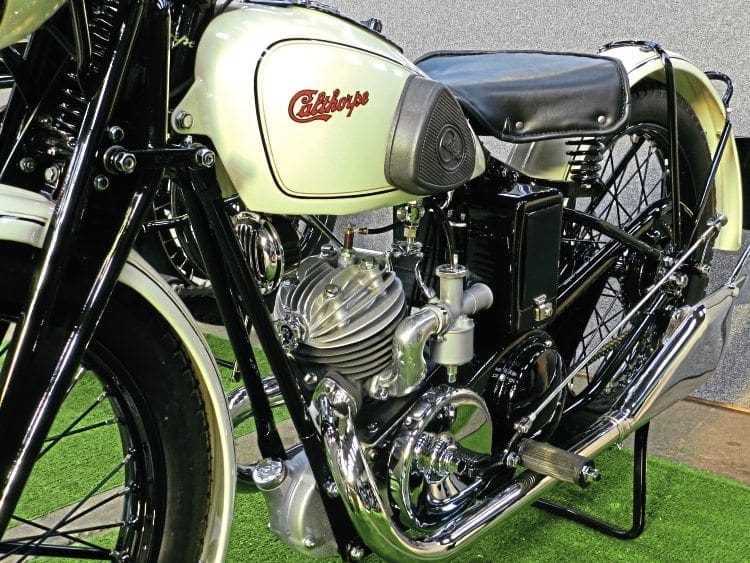 A high quality lightweight, this version, with its Villiers-based two-stroke 250 motor was built for just one single year, although a four-stroke Minor resurfaced in 1934.
NORTON DOMMI 99
WHEN MOST YOUNG men dreamed of a Norton featherbed in the 1950s, this is probably what their fantasy bike looked like.
Of course, some of them ended up with the workaday 350 single (see the Model 50 feature elsewhere in this issue), instead of a 1957 596cc wideline 99 like this one.
Offered alongside the 497cc Model 88, the bigger Dominator was still a relatively new addition to Norton's range and had been restyled for the 1957 season in the firm's 'smooth look' style with swooping tailpipe, redesigned rocker box and cylinder head, new induction tract, and contour-crafted foot controls that hugged the crankcases.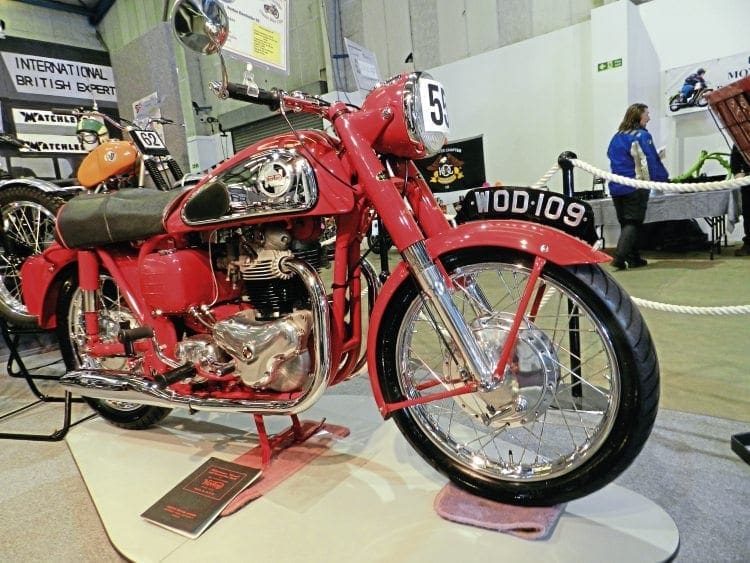 The Dominator 600 had 'all the desirable attributes of the Model 88' said Norton, 'plus that extra power and performance – the Model 99 is in a class of its own.' Apart from all those tiresome 650 Triumph twins, of course…
Norton introduced alternator electrics and coil ignition in 1958, so for some enthusiasts this is definitely the Dominator to have.
The pursuit of performance pushed up compression ratios, capacity and added extra carbs and complexity to later models.
If your physique fits the wideline frame (riders with shorter legs typically prefer the slimline version which arrived in 1960), you might've joined the crowd at Bristol, admiring DougB's bike as it revolved majestically on the Taw and Torridge Club display.
ROYAL ENFIELD INTERCEPTOR
ENFIELD WAS EARLY on the scene with a big-bore superbike, and stole its competitors' thunder with the Super Meteor 700 when it was launched in 1952, in theory leapfrogging legions of 600 and 650 twins.
However, it took several attempts to turn what started out as a solid tourer into a genuinely successful rip-snorting street rod.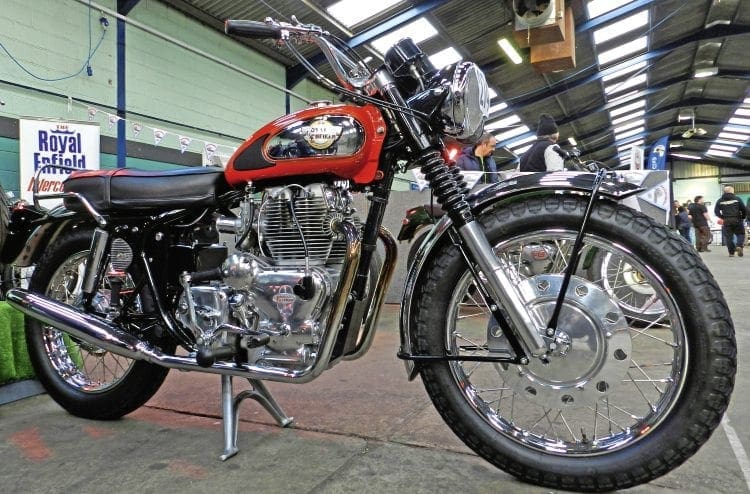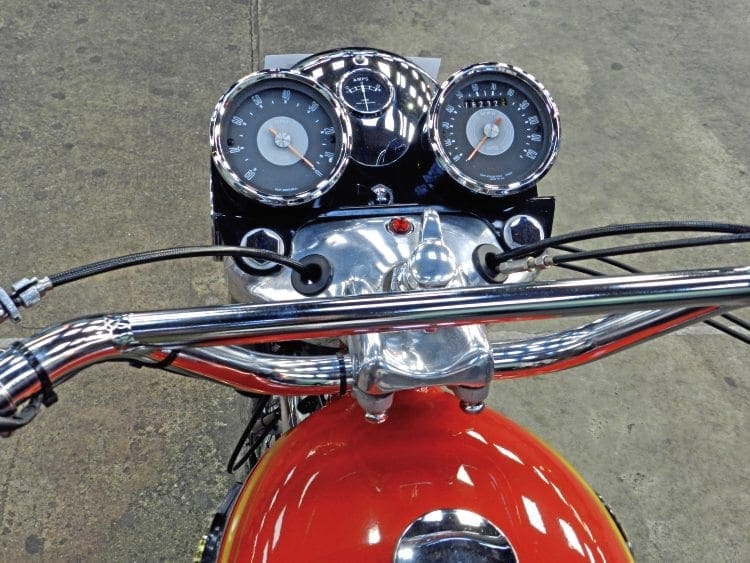 Which is one reason why today a Constellation costs significantly less than a Mk2 Interceptor. Some of them reflect the popularity of the Mk2's American-influenced style, but Connie owners also need to accommodate the company's learning curve as they developed their big beast through its flawed 692cc incarnation and into its ultimate 736cc form, where it finally flourished.
The revamped Mk2 Interceptor is usually considered to be the best of the bunch, and there were several on display at Bristol alongside their Rickman-framed special-build kin.
However, this 1967 Mk1a definitely deserves its moment in the limelight. Dismantled for 22 years and repatriated to the UK as a basketcase in 1998, it took owner MichaelT 10 months of daily labour to bring it back to its original gleaming glory.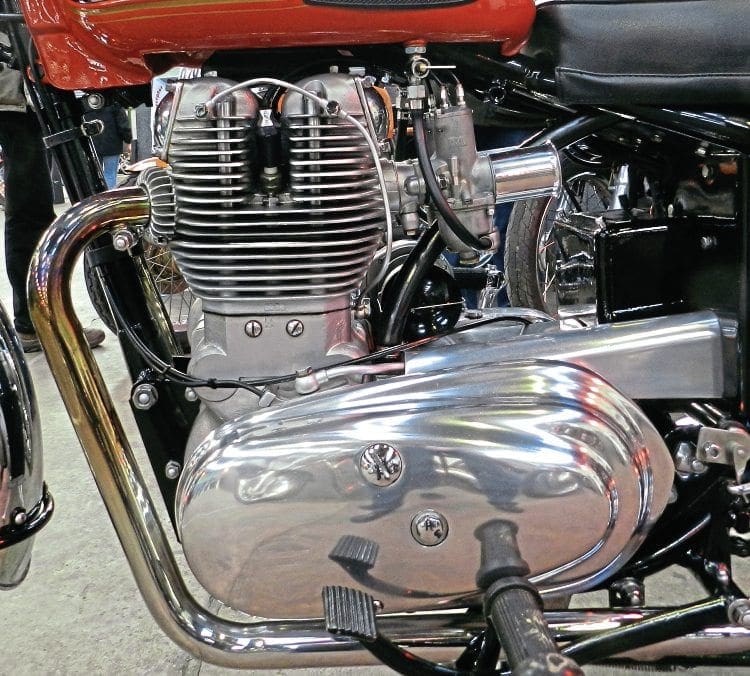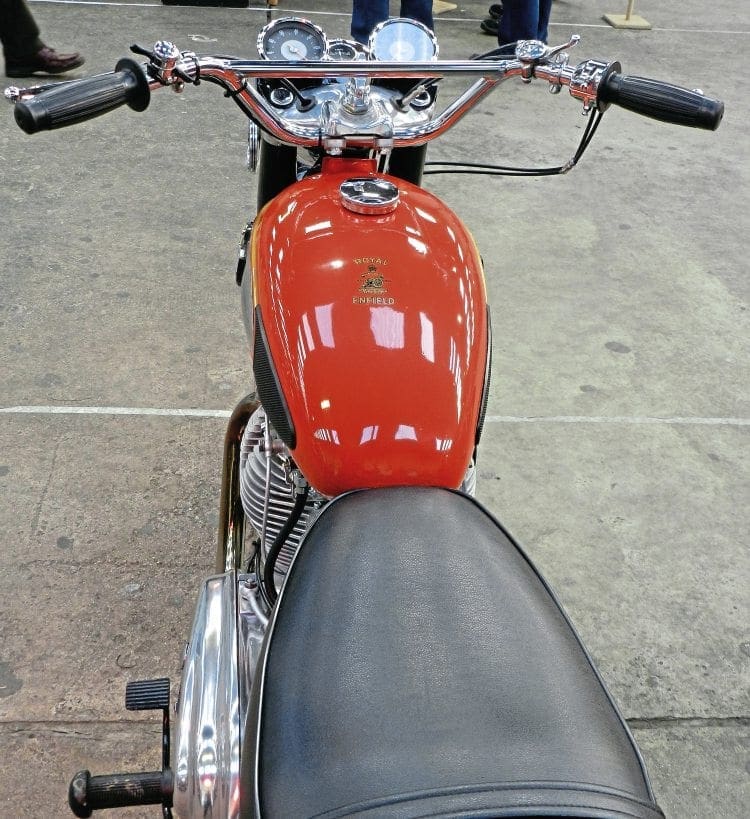 Capable of clocking a standing quarter mile in under 14 seconds, the Mk1a featured the handsome two-gallon petrol tank as standard, high and wide braced handlebars, bell-mouth Concentrics, new aluminium fork yokes, a pair of upswept silencers and plenty of chrome.
Although Royal Enfield was close to collapse at the time, around a thousand of these bikes were built – and Michael deserves much credit for bringing this one back from the brink of extinction.
HARLEY-DAVIDSON SS350 SPRINT
1960S BADGE ENGINEERING at its best, Aermacchi's Varese plant produced this sleek 350 for H-D, which sold well in the US and Europe.
Harley needed a lightweight bike to compete in the small-capacity class, and Aermacchi had an OHV 250 single on the stocks… and a parent company keen to sell 50% of the business to an American sugar daddy.
So the nifty 250 went on sale badged as a Harley in 1961, and grew to a 350 for 1969.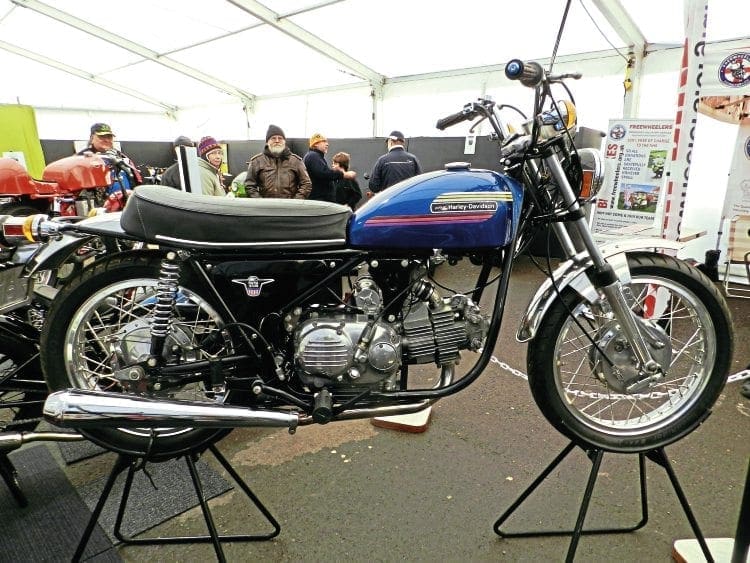 This is the SS version with low-level exhausts and street styling, while the SX had off-road pretensions with its high pipe and chunky tyres.
An electric start arrived in 1973, much to the relief of owners who couldn't quite get the hang of the left-side kickstart.
But the Sprint couldn't compete with clean-sheet OHC designs from Japan – its roots went way back to the mid-1950s – so it was something like 10bhp down on power compared to a contemporary Honda 350.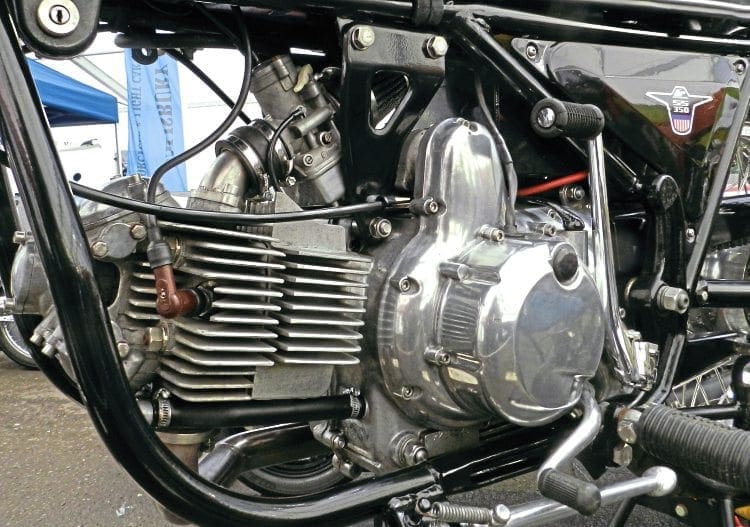 Even so, the 344cc motor could churn out 25bhp and maintain 50mpg. It was straightforward to work on and reasonably robust.
Andy W bought the show machine as a restoration project, in poor shape. Fitting non-standard alloy rims and undertaking a spot of chassis lightening has shaved 25kg off the plot.
Andy's efforts produced a light, well-handling machine for wife Jo to ride – and those beautiful Italian alloy castings have polished up a treat!
BENELLI SEI
SPEAKING OF MACHINES which stole a march on the motorcycling world, Benelli was another innovator that turned plenty of heads when it launched the first production six-cylinder bike in 1972.
The Benelli range of the time used a four-cylinder engine, which shared many characteristics with the Honda CB500.
To create the 750, it added an extra set of cylinders and parked the alternator behind the block instead of leaving it hanging on the end of the crankshaft.
This kept the six-cylinder 750 quite slim, and contributed towards its tidy-looking, purposeful appearance.
Stiff suspension, a strong chassis and the smooth motor meant that the 750 developed a reputation for being taut and responsive, although not massively fast.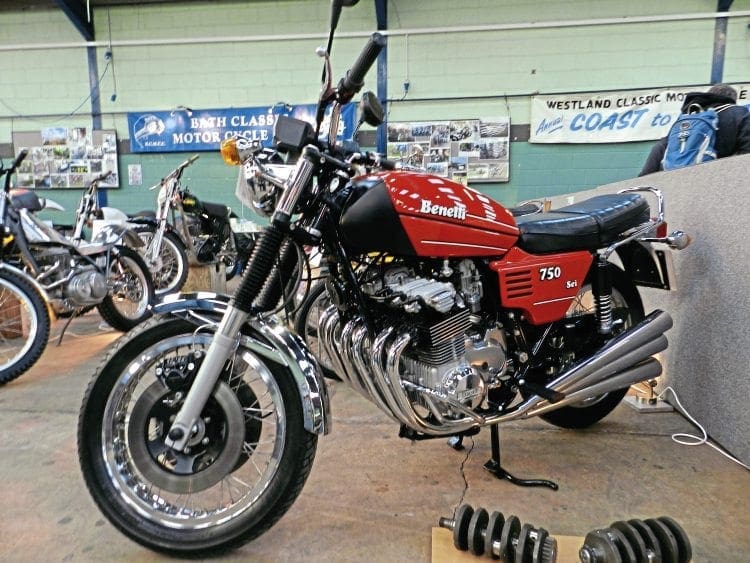 The 900 was developed to deliver more performance and smooth out some of the 750's teething troubles – the bigger bike only produced a few more horsepower than the 76bhp 750, but it was some 15kg lighter than its predecessor.
Neither Sei is particularly porky – a tribute to Italian accomplishment – and both weighed less than the four-cylinder Honda CB900 of the period.
Benelli built around 3200 of the 750s and even though these weren't officially imported into the UK when new, they tend to be the more common model today. Not that either type of Sei is exactly widespread.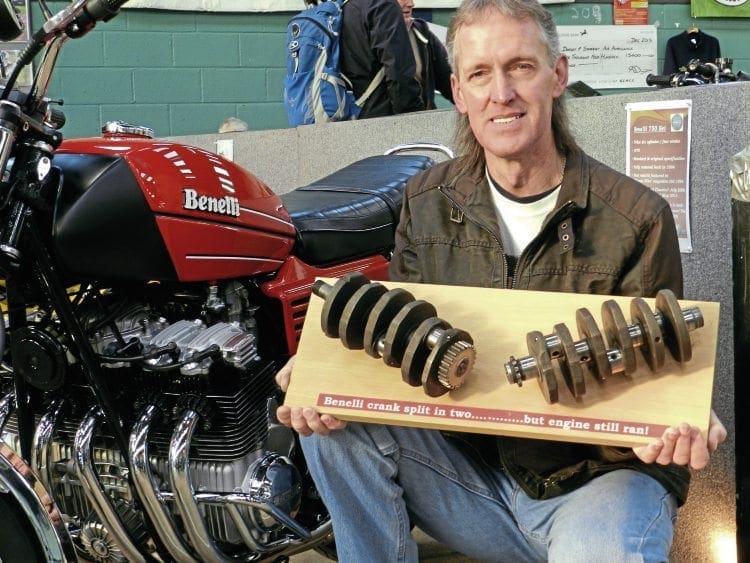 To give you an idea of just how robust that exotic six-pot engine actually is, this 1978 example still ran – with its crank snapped in two!
That was prior to its restoration some 20 years ago, and owner Andy B now displays the scrap iron alongside his still-immaculate summer ride.
TRIUMPH BONNEVILLE
THE SPECIAL EDITION Silver Jubilee Bonneville proved such a hit that in 1981 Triumph seized the opportunity to offer another bright and shiny version of the venerable twin.
The 'Royal Wedding' T140LE was based around the electric start version of the 750, and came kitted out with Bing carbs, Marzocchi shocks and the Prince of Wales 'feathers' emblem on the side panels, as well as a certificate of authenticity.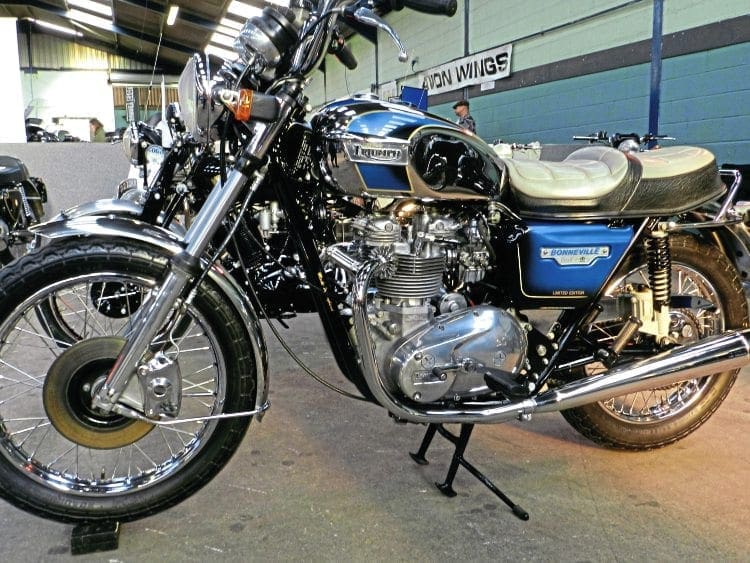 Two batches of 125 each were built, to slightly different specs intended for the home and US markets. UK customers got a silver frame, black engine, twin front discs, a four-gallon chrome and black petrol tank and Morris alloy wheels.
American bikes had spoked wheels, a single front disc, a two-gallon blue and chrome tank, a grey saddle and a silver engine.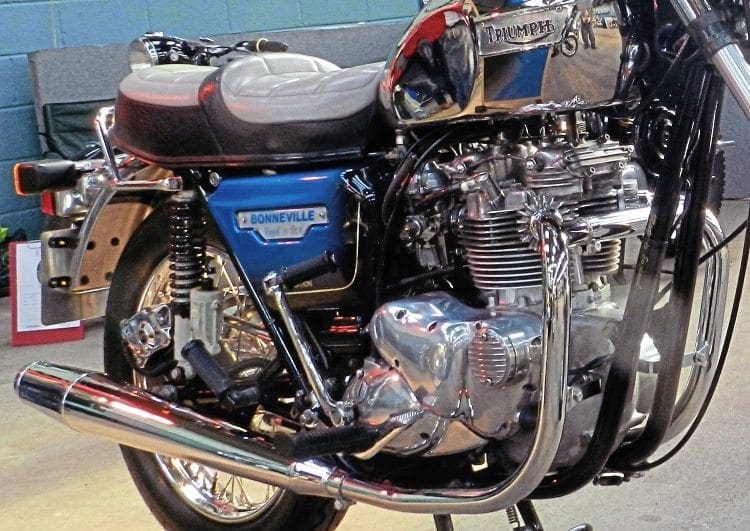 This particular US-spec example was discovered after being stored in a shed for a dozen years, and it seems to have proved much more durable than the event it commemorated…