Packed full of interesting snippets, historical facts, in depth articles, technical features and hands on restorations, Classic Bike Guide aims to educate those who are new to the old bike scene, without patronising those with experience of such matters. Well known and respected names such as Peter Williams, Jim Reynolds, Alan Cathcart, Steven Myatt and even founding father Frank Westworth all have their two pennorth each month, bringing a wealth of wisdom, knowledge, experience and humour to proceedings. The magnificent Mortons Archive is put to good use too, with wonderful images accompanying tales of derring-do from yesteryear. Immaculate restorations, unrestored originals, high mileage sloggers, café racers, bobbers, sprinters, racers, you name it, you'll find them all here as each has its own rightful niche in Classic Bike Guide.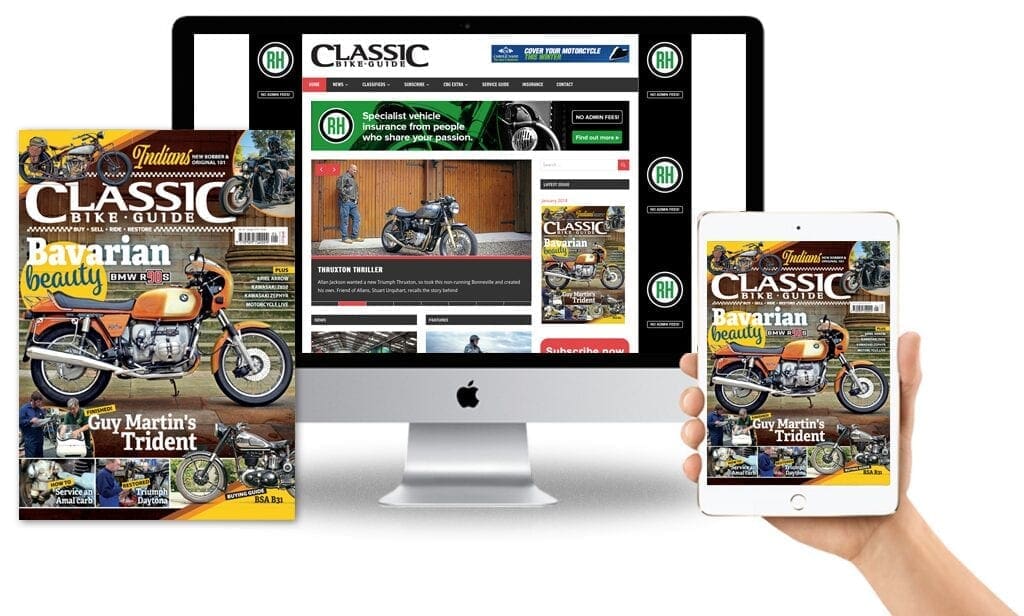 Contact
Advertising Representative
Mark Bainbridge | 01507 529413 | [email protected]
Advertising Team Leader
Leon Currie | 01507 529465 | [email protected]
Group Advertising Manager
Sue Keily | 01507 529361 | [email protected]
Inserts
Sandra Fisher | [email protected]
Note: Telephone calls may be monitored or recorded for quality and training purposes. Please read our Trade Supplies Conditions of Acceptance www.mortons.co.uk/advertising-terms
Media Pack
Please fill in your name and email address below and you will receive a media pack shortly.
Magazine Information
Format: Glossy A4 full colour magazine
Average pagination: 132 pages
Frequency: Last Thursday of every month
Availability: Normal retail outlets, overseas distribution, subscription (Print and digital)
On-line Banner Sizes
---
Advert

Enjoy more Classic Bike Guide reading in the monthly magazine. Click here to subscribe.
---