Every month, in Classic Bike Guide magazine:-
BUY – SELL – RIDE – RESTORE
*Iconic motorcycles spanning more than a century from all around the world
*In-depth features, historical reviews, hands-on rebuilds, tech tips, quick spins and riding lives
*Essential buying guides, industry insiders, marque histories and model profiles
*Concours classics, café customs, brats, bobbers and hi-tech trackers
*Recommended reading for all distinguished gentlefolk
Buying a classic bike? Start with CBG!
October 2016 – Issue 306
Current issue: October 2016 – Next issue: November 2016 – On sale: October 26
Don't miss out – get involved and take out your print or digital magazine subscription now!
In the October 2016 issue:
NEWS
All about shows and bike lifts and shiny parts and… things like that
SUBSCRIBE!
Save money, get the magazine early. Thrills undiluted. Excitement intense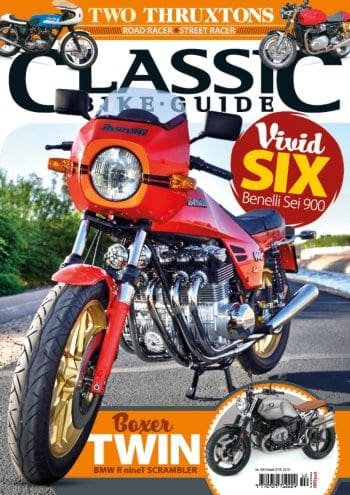 TRIUMPH THRUXTON R
The current best of the current breed?
TRIUMPH T120 THRUXTON
The best of the last generation of Bonnies?
SUNBEAM S7
Built for gents. Few gents bought them, of course
MOTO GUZZI T3
Long legged, and affordable too
ARIEL SQUARE FOUR
Always a delight. Mostly
BOOKS!
Plenty of great reading. Ideal for (whisper) Christmas
LETTERS
Much congratulatory stuff. More complaints required
PAUL D'ORLÉANS
Wheels and whatsits
MARK WILLIAMS
The rich man's game?
PAUL MILES
The carry tool kit
BENELLI 900 SEI
Something grand and pretty wide too
NORTON DOMINATOR
Long term ownership
is its own reward
BMW R nineT SCRAMBLER
Boxing clever with a boxer
BSA A65 REBUILD
Challenge is its own reward
CAFÉ RACER HONDA
Take a sad CB450 and
make it badder
CLUBBING
There are lots of bike clubs. Here's a few
INFO ARCHIVE
Great knowledge here. Surely
READER ADS
Send us bargains. We need
many more bargains.
We do, we really do…
INK WHEELS
Café Noir by Brett Breckon
FRANK WESTWORTH
Never buy a project…