Every month, in Classic Bike Guide magazine:-
BUY – SELL – RIDE – RESTORE
*Iconic motorcycles spanning more than a century from all around the world
*In-depth features, historical reviews, hands-on rebuilds, tech tips, quick spins and riding lives
*Essential buying guides, industry insiders, marque histories and model profiles
*Concours classics, café customs, brats, bobbers and hi-tech trackers
*Recommended reading for all distinguished gentlefolk
Buying a classic bike? Start with CBG!
September 2016 – Issue 305
Current issue: September 2016 – Next issue: October 2016 – On sale: September 28
Don't miss out – get involved and take out your print or digital magazine subscription now!
In the September 2016 issue: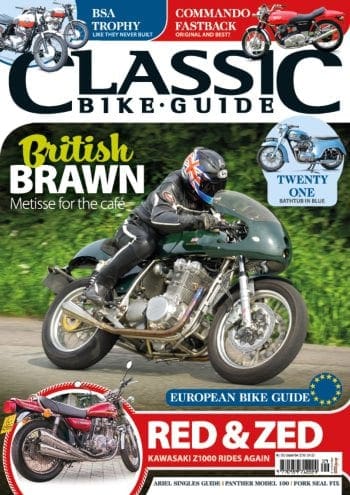 NEWS
Big new banger from Royal Enfield, as well as sparky stuff and news from Norvil
SUBSCRIBE!
Save money, get the magazine early. Thrills undiluted. Excitement derestricted
ONE HONDA MUSEUM
David Silver has finally opened a museum, and it is fine indeed
VELOCETTE VENOM
Despite the remarkable colour, this was a seriously good start
BSA TROPHY?
BSA never built one, of course
APRILIA MOTÓ 6.5
The accent's on Style here
PANTHER M100
More bang than most
CLOTHING REPORT
Mister Editor's jackets, ancient and modern
LETTERS
So we made more room this month, maybe
PAUL D'ORLÉANS
Going your own way
MARK WILLIAMS
Custom? Classic? There's a difference?
PAUL MILES
Spares included … please
MÉTISSE CAFÉ RACER
British and big and brilliant
NORTON COMMANDO FASTBACK
When coming first is best
TRIUMPH TWENTY-ONE
Bathtub in bathroom blue; handsome stuff
EURO CLASSIC BIKE GUIDE
With a strange selection of the prices real bikes were sold for
INFO ARCHIVE
Great knowledge here. Somewhere
ARIEL SINGLES PROFILED
Under-appreciated postwar beauties. Mostly
CLASSIC CLUBS
Something of a list
FIXING FORKS
Rebuilt, repaired, restored. An everyday tale of sprucing and fettling
KAWASAKI Z1000
Raising a Zed from the dead, apparently
READER ADS
Send us bargains. We need many more bargains. We do, we really do…
INK WHEELS
Infinity, by Talana Gamah
FRANK WESTWORTH
Noted collector speaks, softly