Every month, in Classic Bike Guide magazine:-
BUY – SELL – RIDE – RESTORE
*Iconic motorcycles spanning more than a century from all around the world
*In-depth features, historical reviews, hands-on rebuilds, tech tips, quick spins and riding lives
*Essential buying guides, industry insiders, marque histories and model profiles
*Concours classics, café customs, brats, bobbers and hi-tech trackers
*Recommended reading for all distinguished gentlefolk
Buying a classic bike? Start with CBG!
January 2017 – Issue 309
Current issue: January 2017 – Next issue: February 2017 – On sale: January 25
Don't miss out – get involved and take out your print or digital magazine subscription now!
In the January 2017 issue:
RIDING LIFE
Show show showtime! We've been busy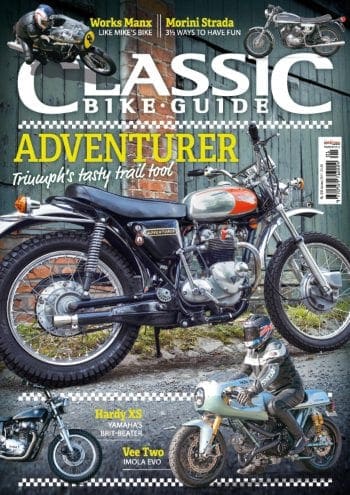 SUBSCRIBE!
Save money, get the magazine early. Thrills beyond description. Possibly
TRIUMPH T160 TRIDENT
One handsome 750, practical pleasure with an electric hoof
YAMAHA XS650
All to XS, but not as you know it
MORINI 350 STRADA
3½ roads to perfection
HONDA CB400F
Well used, hard ridden
NORTON CLASSIC
Great bikes! Can't fail! Ah…
SOME LETTERS
Did anyone say 'festive'? Thought not
PAUL D'ORLÉANS
Bob-bob-bobbing along
MARK WILLIAMS
Abandoning the Orient?
PAUL MILES
Wet winter wobbling
VEE TWO IMOLA EVO
A Ducati by any other name, maybe
TRIUMPH TR5T ADVENTURER
The last Brit 500 twin?
WORKS RACER
Brand new 'Norton' Manx
KAWASAKI Z1
A little renovation story
NORTON COMMANDO
Yellow. The wrong yellow…
READER ADS
New year bargains, anyone?
TRIUMPH REFLECTING TRIUMPH
by Talana Gamah
FRANK WESTWORTH
When old love returns…