Every month, in Classic Bike Guide magazine:-
BUY – SELL – RIDE – RESTORE
*Iconic motorcycles spanning more than a century from all around the world
*In-depth features, historical reviews, hands-on rebuilds, tech tips, quick spins and riding lives
*Essential buying guides, industry insiders, marque histories and model profiles
*Concours classics, café customs, brats, bobbers and hi-tech trackers
*Recommended reading for all distinguished gentlefolk
Buying a classic bike? Start with CBG!
July 2016 – Issue 303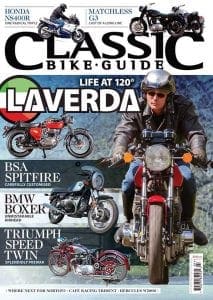 Don't miss out – get involved and take out your print or digital magazine subscription now!
In the July 2016 issue:
NEWS
Some clothing, quite a lot in fact, a smart battery charger and more
SOUTHERN CLASSIC SHOW
The Kempton Park racecourse was packed with people (and bikes, too)
BIKE SHED
A very different kind of event, lots to look at, less to buy. Great bikes and people, again. Tobacco Dock, no less, uber-smart
BSA SPITFIRE
Another award winning Brit twin
TRIUMPH 900 TRIDENT
Beefy café racer loses weight shock
HERCULES W2000
Revolutionary Engine Takes World By Storm Shock. Or not
MATCHLESS G3
Gentle thumper bows out gracefully
NORTON CEO SPEAKS
As does its design chief. Stuart Garner and Simon Skinner bare all
PAUL D'ORLÉANS
Why factories won't build your dream bike
MARK WILLIAMS
Is Made In Britain anything more than a distant and irrelevant memory?
PAUL MILES
It is a pleasurable experience, restoring and then riding a Japanese classic
LAVERDA JOTA
Which is the best, and why?
TRIUMPH SPEED TWIN
Almost the very first of a very long line indeed
HONDA NS400R
Two strokes, three cylinders, single purpose
BRITISH CLASSIC BIKE GUIDE
With a truly remarkable selection of the prices real bikes were sold for
BMW AIRHEAD TWINS
A lengthy guide to the Teutonic twins
FRANK WESTWORTH
Doesn't everyone lie in for-sale ads?