Every month, in Classic Bike Guide magazine:-
BUY – SELL – RIDE – RESTORE
*Iconic motorcycles spanning more than a century from all around the world
*In-depth features, historical reviews, hands-on rebuilds, tech tips, quick spins and riding lives
*Essential buying guides, industry insiders, marque histories and model profiles
*Concours classics, café customs, brats, bobbers and hi-tech trackers
*Recommended reading for all distinguished gentlefolk
Buying a classic bike? Start with CBG!
December 2016 – Issue 308
Current issue: December 2016 – Next issue: January 2017 – On sale: December 21
Don't miss out – get involved and take out your print or digital magazine subscription now!
In the December 2016 issue:
006                    RIDING LIFE
Newsy stuff, including the best Triumph ever (possibly), ace bikes at Stafford and someone's made a load of money by selling BSA. Strange…
008                    SUBSCRIBE!
Save money, get the magazine early. Thrills undiluted. Excitement possible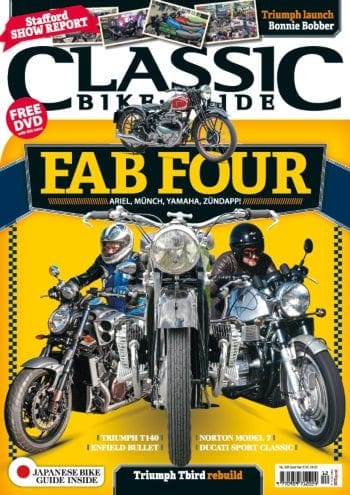 024                    TRIUMPH T140 BONNEVILLE
One handsome 750, practical pleasure as always
030                    DUCATI SPORT CLASSIC
Unsung hero from the home of great engines
036                    ROYAL ENFIELD BULLET
Surely the perfect winter wheels
042                    NORTON MODEL 7
Gentle twin; no feather bed this
048                    PAUL D'ORLÉANS
Shoot the grouse, then
050                    MARK WILLIAMS
Rats to the lot of you
052                    PAUL MILES
The racing line
054                    MÜNCH MAMMUT
Three extinct monsters
064                    YAMAHA V-MAX
One great survivor
072                    ARIEL SQUARE FOUR
Two twins twinned
080                    ZUNDAPP K800
Four flat cylinders
092                    CLASSIC BIKE GUIDE
Some Japanese classics for you
102                    TRIUMPH THUNDERBIRD 900
Thunderbirds are Go! So they say
110                    READER ADS
Lots and lots to look at
128                    TRITON IN THE SNOW
By Louise Limb
130      FRANK WESTWORTH
Perfection achieved. Next!