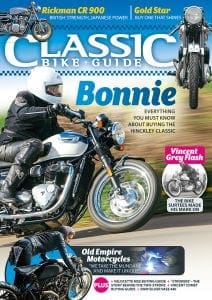 004 From the archive
We take you back to the golden time, Earls Court motorcycle show, 1960
008 Riding life
A brand-new flat-tank, Foggy hurts himself sliding and you can win 'On Any Sunday'. What more do you want?
010 Subscribe!
Save money and bask in the knowledge you get it delivered, for free, before anyone can get it in the shops. Hurrah!
012 Shows
We report back our findings on the Goodwood Festival of Speed and Copdock Motorcycle Show.
025 Letters
What would you like to know, what have you found, what did you like and what didn't you like? We love to hear.
026 Buying guide – BSA DBD34 Gold Star
We all like the idea, but what are they really like to live with?
030 Buying guide – Rickman CR 900
Every one is different, so you can't buy a fake!
034 Buying guide – Velocette MSS
Still lovely, still expensive, still hard to start.
038 Buying guide Special – Triumph Bonneville
Modern classics don't come easier to live with, easier to customise or easier to ride than the Hinckley-built Bonneville.
048 Classic products
We test them and if they're any good, we let you know.
050 Mark Williams
Tales of a time long since gone about the wonders of scooters from his youth.
052 Paul Miles
Paul looks to the future for the Vintage Motorcycle Club. Where do we go?
054 Paul D'Orleans
A wonderful story shows it's not the bikes, but the stories around them.
056 Vincent Grey Flash
The fascinating story of the single-cylinder Grey Flash, Vincent's last racing success.
066 From the Archive
Surtees on his Grey Flash. In colour. Surely one for the shed wall.
068 Buying Guide – Vincent Meteor and Comet
Singles give more than you think.
076 Old Empire Motorcycles
Beautiful craftsmanship, proper engineering, labours of love.
086 New bikes – FB Mondial
Old name, funky new 125.
090 New bikes – SWM Silver Vase 440
Intriguing new single from SWM.
092 New bikes – Bullit Hero and Spirit 125
They're new, they're cheap and they're over here. One's a scrambler, the other a café racer.
096 Restoration – Kawasaki Z1B
A Zed comes back from the dead. And it's beautiful.
104 Two-strokes
Our resident lover of two-stroke peers through the smoke and explains what it's all about.
112 Reader Adverts
You tempt us, we pay you, so you can be tempted again. Is that how it works?
130 Frank Westworth
Frank rides two identical bikes, only to find them totally different.