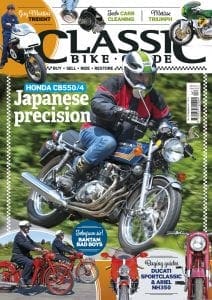 From the archive
We look at the varied life of the BSA Bantam.
Telegram Bantam boys!
Two of the original telegram boys tell their tales of the days on GPO BSA Bantams.
Subscribe!
Get your magazine before everyone else and for this month receive one of our great new T-shirts for free!
Buying Guide – Ariel NH350 Red Hunter
A good-looking bike that you can use every day? All you need to know about Ariel's 350.
Buying Guide – Ducati SportClassic 1000S
Born before its time, the SportClassic was a sales flop but has now turned into a collector's dream.
Buying Guide – Honda 550/4
It came in several guises, but the smaller Honda is a brilliant, usable and beautiful bike.
News
What's happening? New bikes, new kit and some more MoT rules.
What's on
It's cold outside, but grab the woollies and head out – there's loads to see.
Products
Go on, it's Christmas – treat yourself!
JMC Norton and Metisse Triumph
Built to a specific brief, these two bikes have the best of everything.
Paul Miles
Paul likes to look at bikes for sale to see bikes not for sale…
Paul D'Orleans
Paul may have the answer to dwindling classic ownership.
Mark Williams
Mark has never liked Harleys. Will this change?
National MotorCycle Museum Live
Over 3000 visitors went along to this year's NMM Live.
Thruxton Thriller
Take one unloved Hinckley Bonneville and turn it into a gorgeous Thruxton.
Letters
Want your say? Let us know what you've been up to.
Guy Martin's Triumph Racer build
That man from the telly gets a Rob North-framed Trident built.
Norvil
The Norton specialists show us how to keep your Norton on the road.
Cleaning carbs
Get your fuel tap and carb cleaned and serviced.
Reader ads
Be tempted, go on, you deserve it. Hello – is that my bank manager?
Frank Westworth
Frank finds himself unusually lost for words…