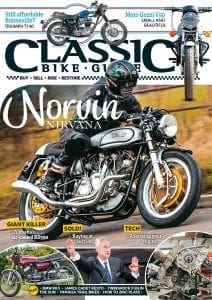 From the archive
A collection of British bikes, in New York.
BSA Super Rocket special
CBG finds a BSA special and its wonderful owner, Ray Loxton.
Subscribe!
Get your favourite magazine delivered from just £20 for six months. Bargain!
News
John McGuinness riding a Norton at the TT and many other goings-on in our world.
What's on
Pick a new show to visit this year with our comprehensive guide.
Bristol Show
A few of our favourite photos from the Bristol show.
BUYING GUIDE – Moto Morini 31/2
Hardy Italian V-twin is easy to work on, great to ride and affordable.
BUYING GUIDE – Triumph Tiger 750
Put a Tiger in your tank – or garage.
BUYING GUIDE – BSA A7
Pre-unit 500cc twin heaven.
Fredder!
Manx Norton OHC-engined special from none other than race maestro, Fred Walmsley.
From the archive
Belgian Grand Prix, Spa, 1954.
Steve Cooper, VJMC
If you want a Japanese classic, Steve says now's the time.
Paul Miles
Paul declares his poor sense of direction but a loathing of sat navs – not a great recipe…
Paul D'Orleans
The ultimate bike? It may be the one you're sitting on.
Products
New stuff tested!
The Tiger from Kashmiri
A great story about a well-travelled T100 that's been looking after its owner for nearly 40 years.
Paris Dakar BMW
We get a world trials champion to test a tribute to BMW's Paris Dakar-winning GS.
Letters
Your thoughts, plus a heart-warming story of an owner being reunited with his first bike – by chance!
Royal Enfield – Built like a gun
CBG sits down with Siddhartha Lal, CEO of Royal Enfield, to hear what's in store for the future, including the new twins. It's exciting.
In the workshop – Change your tyres
We look at how to change your tubes and tyres at home.
Reader ads
Loads of bikes and spares for sale – finish that project or start a new one.
Frank Westworth
Frank breaks his own rule…