From Autobahns to wee twisties, this tolerant twin is tremendous fun and often recommended as a good choice for a first British bike!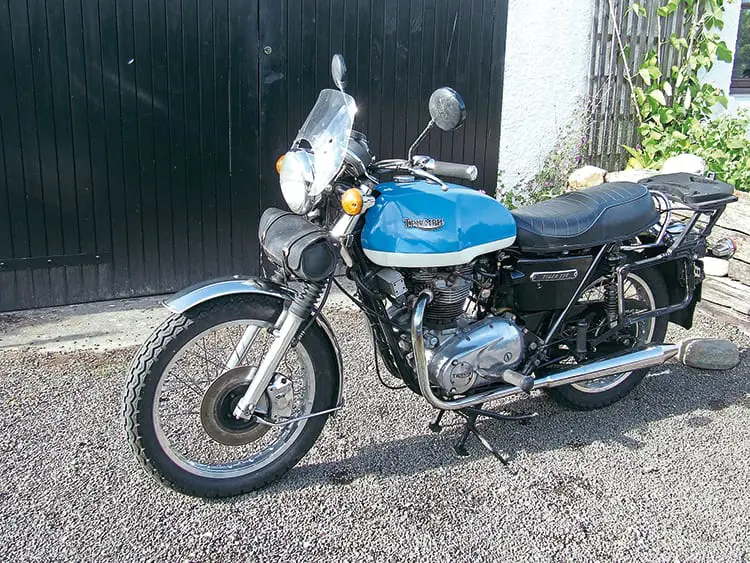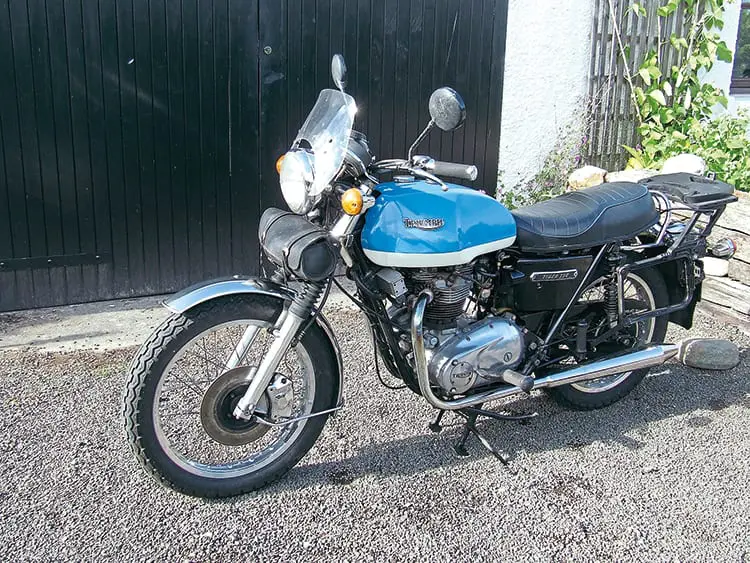 In 1973, if you didn't have the cash to splash on a Trident or a Bonnie, Triumph's Tiger was a slightly tamer, more affordable prospect, with the promise of performance almost on par with the Bonnie.
Triumph introduced its oil in frame T120 Bonneville 650 in 1971, accompanied by the single carb TR6 Tiger. The frame, seat and shocks all combined to create a machine particularly well suited to taller riders, with a seat height of 34in (864mm) and rather wide at that.
In 1972 a modified frame and new seat followed, lowering the height by a couple of inches. By this time owners could also opt for a five-speed gearbox.
For more content, why don't you like our Facebook page here, or follow us on Instagram for a snippet of our striking pictures!
Edward Turner believed the evolution of his twin would reach a comfortable limit at about 650cc. More cc's predictably meant the potential for bad vibrations, but the American market dictated that bigger was better. So in 1973 the engine grew again, to 750cc. The earliest 750s had a bore and stroke of 75mm x 82mm running 8.25:1 compression. This gave 725cc, before a new cylinder block was introduced with a larger 76mm bore, giving 744cc. The new cylinder heads sported 10 studs.
Triumph's TR7V Tiger was, again, effectively the single carb version of the twin carb T140V Bonneville, and built to the same spec. Sharing the same engine and running gear, a different cylinder head and inlet manifold were required for the Tiger's single carb. The V indicated the five-speed gearbox now fitted as standard and a steering damper was available as an optional extra.
Differences between home market and American machines were effectively cosmetic in nature. American machines had high bars, bare polished stanchions, smaller, curvier three-gallon tanks and the same megaphones as the earlier T120 Bonnies. UK machines, rather logically, sported gaiters to protect the stanchions from an often sadly predictable climate, sensible four-gallon slab sided tanks which gave a good touring range and new style megaphones. With a lower state of tune than the Bonneville but similar performance, for many owners the Tiger was, and still is, seen as an easier bike to live with – a Bonnie idling on tickover walking off on its centrestand can form a lasting impression which is hard to shake.
For more content, why don't you like our Facebook page here, or follow us on Instagram for a snippet of our striking pictures!
September 1973 saw the sit-in at Meriden with few machines released until it ended in 1975. Little changed during this time but the Tiger was now available in sea jade with ice white. In 1976 Triumph lost the conical hub, adding a rear disc brake and moved the gear change to the left, to meet US legislation. Electronic ignition arrived in 1979 and 1981 saw the final year of production for the TR7.
Our bike
Our feature bike was manufactured in March 1973, just ahead of the factory closure and subsequent co-operative. Rob bought this Tiger in 1979 as a non-runner. A friend of his had bought the bike, then had an accident in his Robin three-wheeler, so wasn't using his bikes.
The engine was seized up on the pistons so Rob stripped it down and went through everything. He had to regrind the crank within 12 months as the oil pressure light kept coming on. Since then it's had new bearings and two rebores. Rob had to fit a different cylinder barrel as the piston rings broke and scored the bore deeply and the new barrels are currently on +.020 overbore.
The Tiger came with points but Rob has fitted a Boyer Branson electronic ignition. The Tiger ran okay when it was cold, then after about 10-15 mins started misfiring. This took a while to figure out but it turned out one of the twin coils had vibrated, ending up with a hole in it. Rob also experienced a problem on full lock when the bike cut out unexpectedly. The wiring had come loose at the headstock, got caught in the lockstop and it'd blown the fuse.
The bike has had no major modifications during his ownership, just sensible ones.
Rob changed the carburettor to a Mikuni as he found the Amal was unreliable. The bike wouldn't idle at junctions or traffic lights. Sometimes it would tickover and sometimes it wouldn't, so he was forever blipping the throttle. It now ticks over at a very low 500rpm. Rob finds the Mikuni makes no difference to fuel consumption, performance or the power of the bike.
Subscribe to Classic Bike Guide and read our magazines online!
When putting the manifold on for the Mikuni carb Rob ported the cylinder head, because he noticed that there's a great big step where the manifold fastens to the cylinder head. He filed it away to make a nice smooth entrance onto the cylinder head and thinks that this has helped the performance a wee bit.
The fuel tank has a stabiliser bracket at the front of the tank from one side to another. When Rob originally bought the Tiger he rode it hard without the bracket and the tank split at the back. He thinks that vibration possibly caused the down pipes to break away where the balance pipe goes across, but Rob braised it all together again many years ago and it's still holding well.
While working in the motor trade a long time ago, Rob acquired an oil cooler. This came off a Sherpa diesel van, the same as was used on MG cars in the 1970s. He decided to fit it to the Tiger but didn't have proper brackets or time to fabricate them as he was leaving for Holland the next day.
He cut down the top bit of a radiator hose to slip over the frame at the front and cable tied the oil cooler on. The cable ties having held, 15 years later it's still working well. Anticipating long distance cruising at about 75-80mph Rob was trying to stop the oil overheating. Although the exhaust doesn't smoke and the engine doesn't leak oil, he has since realised that if he cruises for more than an hour or two at those speeds, it simply throws the oil out of the breather. The earlier 650s with separate oil tanks actually carried more oil.
Rob tours the continent regularly on his Tiger, heading once or twice a year to Holland and Germany. The furthest he's gone was Austria for the Trifest in 2014 and the Tiger ran really well, he just had to keep an eye on the oil consumption. Regularly doing 200 miles a day stints abroad, he tries to keep his speed down a bit but advises anyone new to British bikes that regular oil checks are absolutely crucial. You need to carry oil for long distance riding or you'll get caught out. This is learned from cruising at about 80mph for a couple of days abroad, checking his oil and realising there wasn't any…
For more content, why don't you like our Facebook page here, or follow us on Instagram for a snippet of our striking pictures!
Rob also fitted a cartridge oil filter, the same one used on a Citroen 2CV. He made up a bracket to suit with a neat twist in it. The return oil pipes go through the filter as it has more pressure on the return than the feed.
Changing the gearbox sprocket, Rob added an extra tooth to keep the revs down when he's cruising. At 70mph it's sitting at about 4000rpm, which he says is nice and comfortable. Rob tends to keep below 5500 revs because in top gear it's doing nearly 100mph. Sometimes in fourth gear if he's overtaking on the autobahns he'll go to about 6000rpm then drop it into top gear.
The Dunlop chromed rims were replaced with Akron aluminium rims with stainless steel spokes, which Rob says he finds easier to keep clean, as he's not a polisher.
When the Triumph silencers got rusty he replaced them with Norton ones which are a lot louder. He found the Triumph ones were over baffled for the American market in order to meet regulations. The Norton silencers look good, sound great and are half the weight too.
Rob stripped and painted the seat, then handed the bare base over to Tony Archer in Huddersfield, where new foam was put on and it was reupholstered. The seat was sculpted, dipping it down at the front to make it a bit lower and recovered with a bit of blue beading to match the tank. The tank was resprayed, matching its original astral blue and opal colour scheme. There's sufficient space under the seat to carry some tools, including a spare spark plug and plug key.
Rob also sent the cylinder head away to get hardened valve seats in the exhaust but is disappointed that they don't appear to be. He needs to adjust the valve clearances every thousand miles as they close up – particularly on the exhaust.
Subscribe to Classic Bike Guide and read our magazines online!
For more content, why don't you like our Facebook page here, or follow us on Instagram for a snippet of our striking pictures!