Words and Photography: Robert Davies.
Much thanks to: Graham Horne and Tony Cooper
Have you ever gone to view a motorcycle and then ended up looking at something completely different? I did that.
I went along to Graham Horne's to talk about the elusive, but mysterious, Ariel Square Four, but I spent most of the time talking about and photographing his BSA Spitfire.
The Ariel – valuable and fascinating as it no doubt is – can wait for another day – it's not going anywhere I mused.
And for a few precious moments, in the relative quiet of the garage, I feasted my eyes on this glittering but beautiful machine with its bright red and chrome fuel tank.
A fuel tank not like any other A10. And yes, I know what you're thinking, this bike is just another incarnation of the ubiquitous A10 – and it is – but it isn't.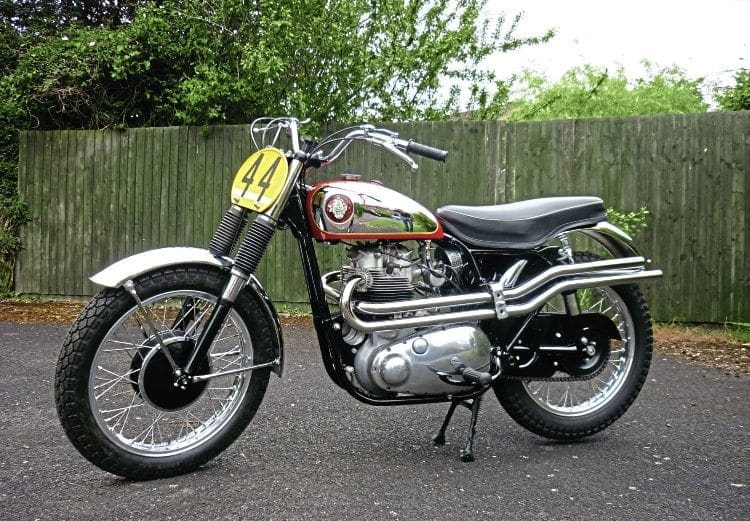 In the day, BSA were only doing what others like Triumph were doing; taking what we now call a platform, a nondescript term for a model, and turning it carefully into another desirable machine, but for a different purpose, and in a very different dress.
The Americans, during the 1950s, were hurtling all over the place – deserts included – on their stripped down bikes, and having a whole lot of fun in such competitions as the Big Bear Run and Jack Pine Enduro. BSA knew this, so they made one for the rough.
Graham turned on the fuel tap, gave the carb a tickle and then vigorously prodded the kick-start.
I thought my ears were going to split. Within the confined space of the garage, the straight through high level pipes held nothing back and any decibel meter within a mile would have withered on the spot.
With the garage door finally open, Graham went for an ear-splitting blast along the lane and for a 1950's machine, it look remarkable – cool – with its street scrambler garb, competition numberplate and dazzling high fitting chrome mudguards.
Later, after having experienced an oh too brief quick check of the clutch and gears, and zip up the all too short driveway, we retired with a cup of tea to the nitty gritty of how this rare bird got restored.
Read more and view more images in the September 2019 issue of CBG – on sale now!