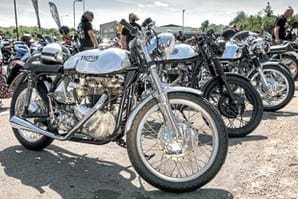 The place oozes 1960s rock and roll and on a hot, sunny day, the car park full of bikes with alloy tanks, single seats, clip-ons and rear-sets, you feel transported back in time to another era.
The Ace is as it always was; a place to hang out, drink tea, eat bacon sarnies and wallow in biking culture. The twist is that Tritons and cafe racers are far from the remnants of a bygone era, but is a phenomenon that's re-emerging as a viable and exciting way to enjoy motorcycling, not just for the old boys who've been around for donkey's years, but for those newcomers looking for a way into two wheels.
The 59 Club, forever associated with the Ace, was there, as was the Busy Bee Motorcycle Club. BHP Performance was there selling a range of essential equipment for a cafe racer build. As was Enfield specialist Hitchcocks with a range of bikes, including the really cool 612 Bullet cafe racer it built and featured on the cover bike of its 2013 catalogue.
But the Ace is about the people and their bikes and the car park was rammed most of the day as the bikers came and went. And the best thing about this revolving ride-in show is that while all the cafe racers and Tritons conform to a certain style, every one of the bikes is unique.
---
Advert

Enjoy more Classic Bike Guide reading in the monthly magazine. Click here to subscribe.
---