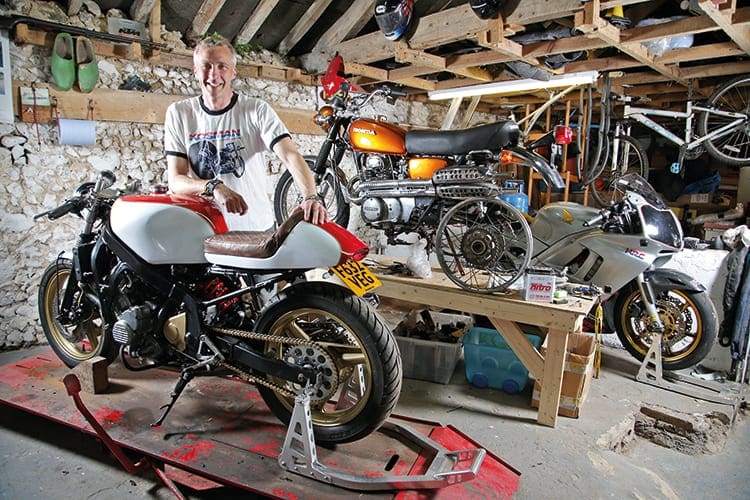 As you may have read last month, Frank Westworth has now stepped away from creating Classic Bike Guide. Rumours that decades of perfecting the skill of kicking over his trusty steeds taking its toll, are greatly exaggerated. But fear not, our Frank will still be contributing to CBG every month with his always entertaining column, so we can all keep tabs on what he's up to out there. And together with his better half, Rowena, Frank will still be editing Real Classic magazine.
This month in CBG there's a great mix of machines. I enjoyed reading the fascinating story behind Vincent's Grey Flash racer, the bike that would inevitably be the swansong
of the esteemed manufacturer. Up against some fearsome opposition from the likes of Norton and always under the shadow of difficult financial times which eventually took its toll on the company, the single not only put up a good fight, but also helped launch the career of a young racer by the name of John Surtees.
There's plenty of buying guides – if the Grey Flash tickles your fancy, we look at Vincent singles, the Meteor and Comet. If something easier to live with is your choice, then our feature on the Hinckley Bonneville range will be of great use, while there is also Velocette's MSS, a tasty Rickman CR900 and everyone's favourite naughty boy, BSA's DBD34 Gold Star. Hide your wallet.
There's a plethora of new, classic-styled smaller bikes, for those who are looking for minimal fuss at minimum money. We've ridden the Bullit café racer and scrambler 125, SWM's Silver Vase 400 and the beautiful FB Mondiale hps 125. Then we get dirty, with two-strokes and a restoration of a Kawasaki Z900 – that should get you putting the mag down and heading for the shed.
Age may bring experience, but we take a good look at the young guns at Old Empire Motorcycles, who are creating some stunning custom bikes with a classic feel. They use age-old techniques and skills with their builds and are even helping to bring back another British marque that was long-gone.
It's great to see younger riders enjoying the classic bike scene – whether that be customs or classics, riding, building or restoring. We can learn from them, as they learn from us. At my local bike meet – the Whitwell railway in Norfolk – I see the diverse range of bikes and ages of riders, mixing and mardling (Norfolk term for gossiping and telling tales) about rides, bikes and their adoration for each other's machines. It may be my pint of mild, but the comradery gives me a warm feeling.
Hope you enjoy this month's magazine and then get out there – whether that's the shed or the road. Myself? I'm off to buy a B31 I've heard of that's done 2000 miles in the last 25 years. Oh, and let us know what you think of Classic Bike Guide, we're always interested in what you want to read about.
As Frank would say, that's it. See you out there.
Matt Hull