AN AUSTRALIAN ARCHIVIST has put together a series of DVDs for classic British motorcycle enthusiasts, containing an invaluable mass of information from the postwar period about well known marques. The collator Kim White started collecting the information in the mid-1990s.
Kim says: "I'm in Australia and back in 1995 I saw there was a need for classic British bike documentation to be available to enthusiasts and restorers at a reasonable price.
"So, I sought permission to start reproducing workshop manuals, parts lists, service sheets, and even advertising memorabilia for the major British classic marques. I started with Norton, and BSA and Triumph soon followed. I've been producing them ever since."
Kim scanned in the archives and burned them onto DVDs. Each DVD contains manuals, parts lists, and service sheets.
Kim estimates that it would cost more than $1000 to buy the original hard copies, and that's if you could find them. Many of the documents on the DVDs are simply not available anywhere else.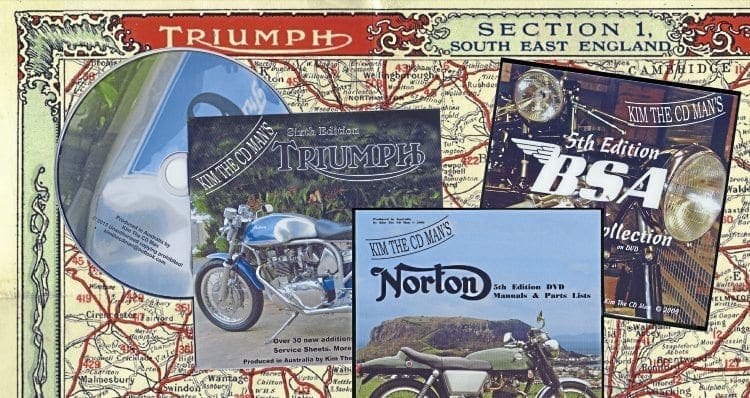 Originally on CD-ROM, they are now on one DVD for each marque, and each DVD holds hundreds of documents and photos in PDF format, covering almost all models of each bike from 1945, some earlier, to the point when each factory folded.
The bikes are all from the classic period. Kim added: "The beauty of having all these documents on DVD is that the buyer can print out hard copy to use in the workshop and simply discard it if it gets too dirty."
The DVDs are sold by mail order. Cost is $60 USD (around £50) which includes airmail postage anywhere in the world, and Kim only accepts payment by PayPal. To get a list of the content on each DVD email Kim at [email protected].
Read more News and Features in the December 2019 issue of Classic Bike Guide – on sale now!