We should tread carefully with this story, because it's all about a man renowned for some stunning restorations who also enjoys taking a gentle rise out of folks who would have you believe they possess great knowledge. If you called such a chap an expert, he'd probably blush slightly and bow his head in false modesty, glad to know that his huge fund of knowledge has been recognised at last. According to my 1956 copy of 'Comprehensive Advice In Avoiding Social Faux Pas', any man or woman who accepts the title 'expert' without argument should be avoided; the more blunt wisdom of the 1970s explained it in one sentence: 'Ex means a has-been, and a spurt is drip under pressure.' With that sundry collection of wisdom, let's take a look at this very fine motorcycle and the modest chap whose creation it is.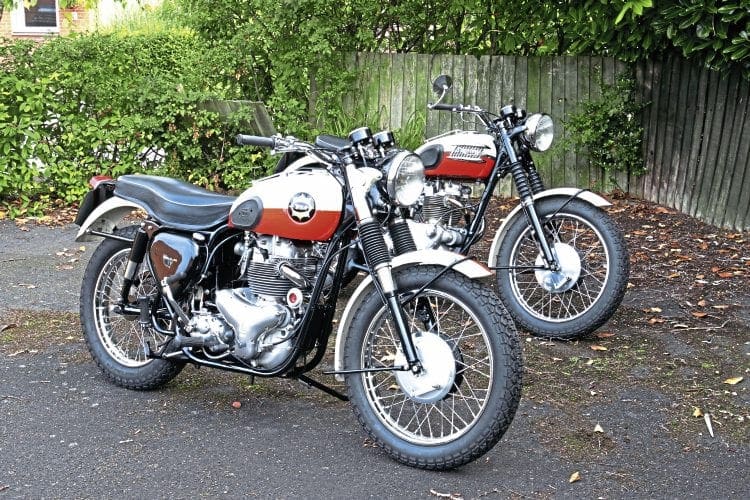 Graham Horne is a professional restorer; has been for many years and never seems to have time to spare as he struggles to cope with demand for his handiwork. But he does love to occasionally produce something a little out of the ordinary and two years ago was considering a sundry collection of BSA bits – 'Just a load of garage debris' is his description – and wondering what to do with them in his spare time. He'll admit that in his youth his heart's desire was Triumph's 1957 650cc Trophy in Ivory and Aztec Red, but he couldn't afford it; instead he moved on to buy a Norton 650SS and went racing, including the Thruxton 500 Mile Production Race on a couple of occasions. He had a useful reputation as a Midlands scratcher, taking the Midland Motorcycle Racing Club's 250cc championship on a DMW Hornet, but through all this the mental picture of the Trophy in that dazzling colour combination stayed with him.
Read more in September's edition of CBG
---
Advert

Enjoy more Classic Bike Guide reading in the monthly magazine. Click here to subscribe.
---