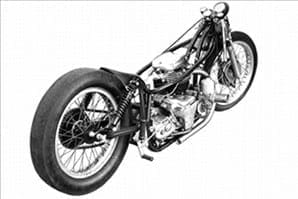 The 1960s produced a surge of interest in sprinting, drag racing and record breaking, which carried through right to the late Seventies – a time when straightline racing was afforded almost as many column inches in the weekly bike press as any other form of bike sport. Riders like George Brown, Alf Hagon, Ian Messenger, Mick Butler, Derek Chinn and John Hobbs enjoyed the same status as road racers and motocrossers.
It was a vibrant sport of ingenious engineering and 50 years ago, the July 9, 1964 issue of Motor Cycle carried a report of this new BSA twin-cylinder sprinter.
Built by Geoff Garside, it featured an A10 bottom end with an A65 head/barrel to give a 75mm bore x 84mm stroke for a capacity of 742cc.
A65 pistons came ½in below the top of the block at tdc, extra tall pistons (10:1 compression ratio) were made rather than shortening the block.
The gearbox came from a Gold Star scrambler and Motor Cycle reported that Garside aimed to run 3.44:1 gearing in top gear and use first to launch on the flying kilometre after the bike had been tested with 5.38:1 gearing, that proved too low, on the quarter mile. Clutch was an A10 unit, as fitted to a Rocket Gold Star.
A Shorrock blower, was located in front of the engine crankcases, with a drive from the crankshaft made up of pulleys and V-belts. The belt tensioner was made from five ball bearings on a threaded bolt. The blower ran at three-quarter engine speed, calculated to give a boost of 12psi. A two-inch bore SU carb provided the fuel mix.
The frame, made from Accles and Pollock T45 tubing, followed A10 pattern and the top tubes splayed to clear the cylinder head while the front tubes swept forward, between the top tubes to form the steering head. At 57in, the wheelbase was only one inch longer than an A10 Golden Flash. Although the bike was tested with plastic fuel tank and alloy oil tank, Motor Cycle reported that Garside planned to make a lightweight and neater alloy fuel and oil tanks – and fit a red, glass fibre dustbin-style fairing, identical in shape to Super Nero for future competition.
Forks were cut down C15 BSA with just 1.5in of travel. Front brake was light alloy Ariel Leader. Ribbed front tyre was 2.50 x 18in. Rear end featured cut down twin Girling shocks. Rear tyre was 18in Avon slick. Rear brake was a 7in BSA. The bike weighed 280lb.
More images like this are available to view and purchase from the Mortons Archive.