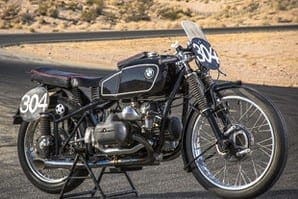 This was BMW's factory race bike, intended for the 1963 ISDT but late arriving and only put into use for the 1964 off-road season.
The new machine was revealed by Peter Fraser in his 'On The Rough' column in the April 23 issue of Motor Cycle. He said: "Prototypes of the new lightweight BMW, which Sebastian Natchmann hoped to ride in last September's ISDT, are now being used in competitions.
"Weight is 368lb, compared to 420lb of last year's ISDT model. There is a new lightweight duplex frame, pivoted rear fork and telescopic front fork. Light alloy is used for the fuel tank, air-filter housing and many other small parts."
"Power is supplied by a 596cc R69S unit. However, with the help of a specially developed exhaust, the power output is now claimed to be 54bhp at 7200rpm against 42bhp at 7000rpm of the current production version."
The end result isn't exactly the prettiest motorcycle that BMW created (what is going on with that Cherry Bomb-style* boom box of a muffler?) but former ISDT class winner Nachtmann did win the Over 500cc class of the German Enduro championship on the R69S. He repeated the success the following year on a similar machine and his fellow countryman Kurt Tweesman won it in 1966.
By 1969, the /5 series models was launched – all-new designs with alloy cylinders but with the frame and chassis descended directly from the factory off-road equipment.
In 1970 BMW produced an R75/5 'street scrambler' prototype, that looked like a stock R75 with high bars, crash bars and twin high-level mufflers, that were even uglier than the single muffler on this R69S enduro racer!
Fifty years on, there must be a chance that one of the BMW custom specialists will think of creating an 'anniversary special' of the R69S race bike – maybe not an authentic replica but something that tips a nod to an impressive development machine from another era.
*American-made Cherry Bomb mufflers are long, fat silencers for cars and favoured by hot-rodders since 1968.
• Classic images like these are available to purchase from the Mortons Archive.