More stories of a freelance motorcycling journalist
IN THIS SECOND part of his autobiography, Frank Melling continues telling the ripping yarns which he started in A Penguin In A Sparrow's Nest.
The Flying Penguin takes the reader on a personal journey through a remarkable and highly eventful life.
There are plenty of near death stories, from almost drowning when trapped under a Honda enduro bike to looking down the business end of a Colt 45 in the backwoods of Missouri.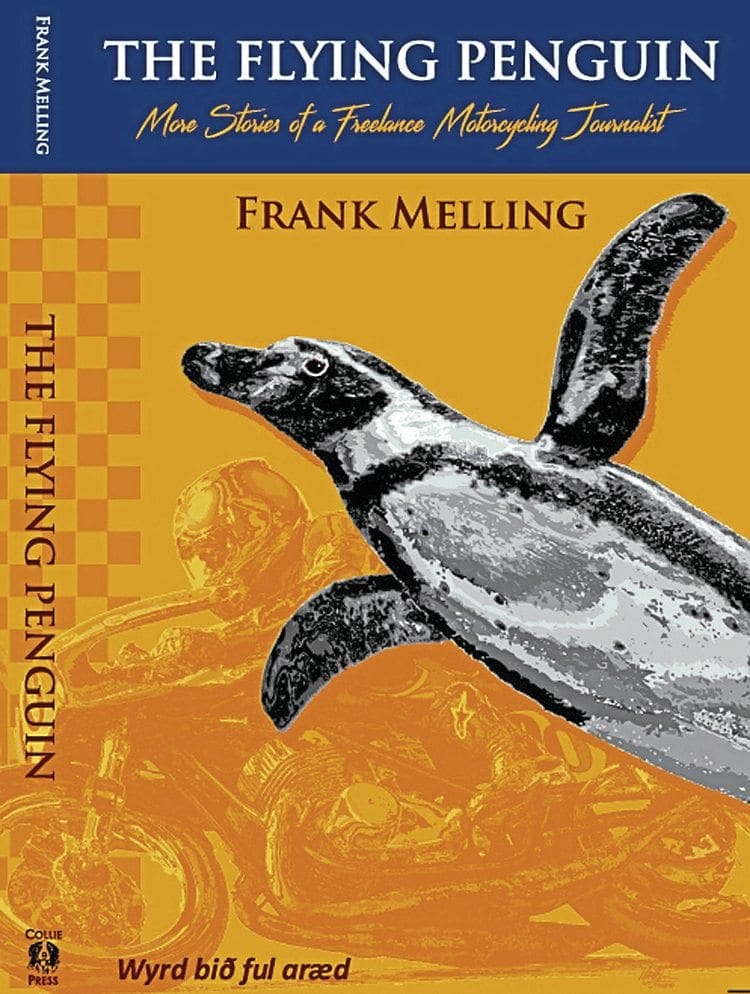 Melling's well-known humour permeates every page, including how to imitate a world champion – when there are free hotel rooms on offer!
Along the way there are broken bones, broken bikes, broken relationships and the international success of the Thundersprint. Frank also reveals the close friendship he enjoys with motorcycling legend Jim Redman. But The Flying Penguin is far more than a book of motorcycling memories: it provides a fascinating insight into the last 30 turbulent years of British social history.
Author Frank Melling. Publisher frankmelling.com ISBN 978-0952798736. £12.99
How to Restore:
Triumph Trident T150/T160 & BSA Rocket III
THIS ENTHUSIAST'S RESTORATION MANUAL is subtitled as a 'step by step colour illustrated guide to complete restoration', but it is absolutely not an old-fashioned, blandly basic workshop manual which leaves you in the lurch at the worst possible moment. Author Chris Rooke owns several Beezumph triples. In 200-plus pages he talks the reader through his personal experience of DIY home restoration with detailed, first person explanations given in layman's terms, using tools you'll find in most sheds. He covers the complete rebuild of a T150V and an electric-start T160 with stacks of clearly-captioned full-colour photos for each stage, including the engine, frame, gearbox, wheels, and electrics.
The text is extremely user-friendly, eminently readable and delivered in an informal style – and Chris isn't shy about sharing some of his less successful episodes, providing both entertainment and practical advice about the pitfalls to avoid.
A definite asset for any Trident or Rocket 3 owner.
Author Chris Rooke.
Publisher Veloce.
ISBN: 978-1-845848-82-8. £45
AJS and Matchless Post-War
Singles and Twins:
The Complete Story
THIS LONG-ESTABLISHED series of marque histories sticks to a well-proven format and Matt Vale is a practised hand at delivering the background and development history of a motorcycle model in easily digestible and informative style. While his other books typically focus on one model or class of machine (Norton Commando, Triumph pre-unit twins, BSA unit singles), this hardback covers a far greater scope to encompass the majority of Associated Motorcycles' post-war twins and singles.
Necessarily, then, it's a little less in-depth than, say, the author's overview of Triumph 350 and 500 twins. However, there are so few publications currently available about AJS and Matchless machines – particularly with reference to running and riding the bikes today – that this is a welcome addition to the specialist shelf.
It provides technical details of
the major models and info about
racing machines including two-stroke moto-crossers and the firm's fabulous GP contenders, with more than 200 photographs.
Author Matthew Vale. Publisher Crowood.
ISBN 978-1785001956. £25
Actually I'm English:
Rediscovering my homeland
on foot and by motorbike
FORTY YEARS AGO, Moto Guzzi enthusiast Nick Adams left the UK and relocated to Canada. Four decades is a long time to be away. Travelling on foot and by Royal Enfield single, Nick returns to discover that, while many things have changed, the things he loved – the hills, the pubs, the back roads and yes, even the weather – are undiminished.
In an engaging style, Nick relates how he hiked the length of Wales, hitting all the high spots, and up the spine of England on the Pennine Way, through brutal February weather. Then the reader travels pillion on Nick's 500 Classic Enfield from Scotland to Devon via Norfolk, dodging hypothermia, through the Lakes, the Pennines and Wales.
Nick's idea of a good time seems to involve bad weather, difficult terrain, stealth camping and innumerable pubs. This is one man's view of a country he loves, told in a straightforward and entertaining manner.
Author Nick Adams. Publisher Amazon.
ISBN 978-1523332854. £2.28/£8.35