Recently there's been plenty of opportunities to catch up on your reading. I've been given a large collection of copies of The Motor Cycle, 1956-59, that I've been devouring, while my shelves already groaned with reference volumes and other tomes found at shows and jumbles. Books by Roy Bacon and Bob Currie are regularly perused, as are Rupert Ratio's books on BSA Unit Singles.
Then there are books that have less in the way of technical information but tell a fascinating tale – the story of the steady rise and rapid fall of the British motorcycle industry. If you haven't got these two, you're missing out. – Oli
Tales of Triumph Motorcycles and The Meriden Factory
Hughie Hancox
IN CONTRAST TO Rosamund's story, this book by Triumph tester Hughie Hancox is suffused with the joy and excitement of building motorcycles in the 1950s, 60s and 70s.
Hancox worked in Meriden's experimental department, road testing, the toolroom and service repair shop and dealt with dealers in the UK and abroad. It's a delight.
Hancox has a light and easy writing style, the book is scattered with anecdotes and amusing tales about his time at the display team the White Helmets; the camaraderie in the factory and the frankly outrageous behaviour of some of the testers that would never be allowed today.
There are many rare and exotic pictures, and he doesn't pull any punches on the products Triumph were turning out. His chapters on the Tina scooter and the problems that arose in the dying days of the BSA Triumph group are shocking and hilarious.
He reveals that at one point Triumph shipped at least one Daytona to a dealer without an oil pump because the bike had been put in the wrong queue at the rolling road, a move that caused consternation at the dealers as they did the pre-delivery inspection and couldn't work out why the oil wasn't going back to the tank.
He also tells of the day he changed a fuse for one of the typing pool and nearly caused a strike because he hadn't called for an electricians union member to do it; and of spiriting clutch centres from the stores destined for production bikes for the USA after everyone had gone home, then discreetly sending them to British dealerships so they could do warranty repairs.
The book should be on the shelf of anyone with a passing interest in British motorcycles. Hancox clearly loved his job, and it really comes through in his writing.
■ Veloce Publishing www.veloce.co.uk. £19.99
■ Amazon Kindle £10.04
■ ISBN: 1 874105 57 X
Whatever happened to the British Motorcycle Industry?
Bert Hopwood
NOW OUT OF print, 'WHTTBMCI' could have been subtitled "Bert Hopwood Sticks the Boot In".
Hopwood comes across as opinionated, irascible and blunt, but then he did design several of the classic engines that kept the British industry on top for decades, so perhaps he was more than entitled to his opinion.
The first half tells of Hopwood's early career, switching between Ariel, Triumph and Norton and AMC and BSA and back to Triumph. The latter part deals with the actual collapse, and his conclusion that the biggest problem was that BSA management didn't actually like motorcycles.
Interestingly, it was written in 1981, two years before Meriden finally closed and at the time his critiques raised a few eyebrows there. There's a lot of score-settling, with trade unions, management and Bonneville creator, Edward Turner, all getting the treatment from Hopwood's acid-dipped pen.
In retrospect most of his criticism looks to have been entirely justified. He didn't seem to like many people, except perhaps Triumph engineer Doug Hele.
There are lots of interesting details about prototypes and unbuilt designs. A 650cc Bonneville engine in one of the frames from the cancelled Bandit/Fury 350 looked promising, and the early Wankels also get a look in, with BSA branding and what looks like an A65 Spitfire petrol tank before they became Nortons.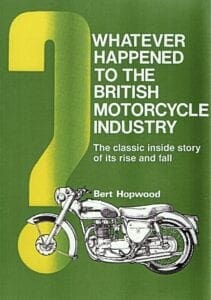 Hopwood's own designs for a modular range that never made it off the drawing board also make an appearance.
The designs range from a 200cc single to 1200cc V5 and their style is very much like the T160 Trident.
Hopwood's descriptions of his own working practices are fascinating, as was his habit of getting into furious rows with famous senior managers ranging from Edward Turner to Joe Craig at Norton, from the entire board at AMC, to NVT boss Dennis Poore, then writing detailed and angry resignation letters, reproduced in the book, and then instantly walking into another top position at a rival.
The book has been out of print for many years, and commands huge prices on the internet selling sites, where £60 plus is not unusual. Perhaps a reprint might be in order.
■Haynes
■Out of Print: try Amazon.co.uk for secondhand examples
■ISBN: 1 85960 427 7
Read more Reviews, Letters, Opinion, News and Features online at www.classicbikeguide.com and in the July 2020 issue of Classic Bike Guide – on sale now!

Enjoy more Classic Bike Guide reading in the monthly magazine.
Click here
to subscribe.