Our world of old bikes mainly evolves around engines. Just as well, as the brakes on many of our favourite machines are woeful; the suspension, if we have any, is an afterthought; and the electrics are, well, minimal. But what about tyres?
So many bikes that have been beautifully restored or wonderfully original are on scarily-old tyres, which if asked upon to brake or steer quickly, will stick two fingers up and throw you and your beloved machine on the floor.
Yet put an old bike onto modern looking tyres and the purists have a field day – so what to do?
My 1989 BMW R100RT came wearing old Continentals that were so poor the parts that were not cracked felt so hard I guessed they were pre-pneumatic, so had to go.
This was confirmed when, at a steady 40mph, I let go of the 'bars and a death weave started like I've never experienced.
I like Continentals (when they are not old and misshapen), but for the sake of journalism, I had heard Bridgestone were releasing the new BT46, the replacement for the BT45 (can you see what they did there?) and as I'd used these for years when I had a training school (learners ask a lot from their tyres…) I thought I best give them a go.
I've been on enough tyre launches to know the technology, while important and very, very clever, is as interesting as reading the memoirs of a local council accountant.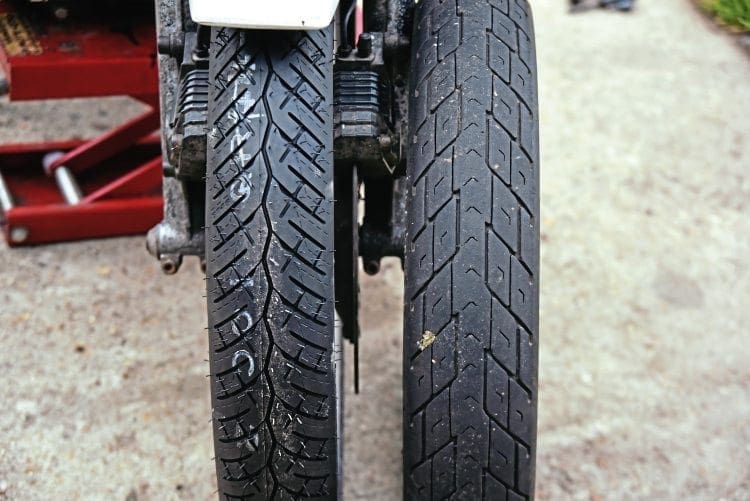 What I know is the compound of the rubber is the latest technology and will be a compromise between dry grip, wet grip and longevity. The pattern is reassuringly familiar, but the designers have worked hard to improve uneven wear between the blocks of tread that cause weaving and less grip.
Comfort is superb. They make the bike feel like it has got new suspension fitted. The centrestand is taking to its new role as dangleometer!
Even on an old bike, wet weather (I got caught out recently) riding is confidence-inspiring, even on the heavy-ish BMW, and even two-up.
Only time will tell if they last as long as the BT45s, but with the R100's smooth manners and slightly more sedate touring speed, they stand a good chance of lasting as long as the BT45s did. I'm glad I tried them.
Matt
■ Bridgestone Battlax BT46 ■ Sizes: F – 90/90 18; R – 120/90 18
■ RRP: F – £85, R – £105 + fitting
Read more News and Features online at www.classicbikeguide.com and in the August 2020 issue of Classic Bike Guide – on sale now!