A BRIGHT BUT chilly ride piloting the mighty BSA Starfire on slippery Somerset roads was an invigorating start to the Carole Nash Bristol Classic Motorcycle Show weekend for me.
The show was bracketed by torrential downpours and storm-force winds, but for once the actual show weekend was blessed with February sunshine – and a stiff breeze whistling across the site.
There are many things that make Bristol – well, Shepton Mallet actually, around 20 miles from Bristol – worth the trip, not least the elbow room.
Clubs get big pitches to play with and though the wind kept most folk indoors, apart from those queuing for a pasty or a bacon sandwich, there was still enough room and variety to satisfy jaded winter palettes.
The best thing about the Bristol Show, as always, was the sheer variety of bikes on show. There's next to no duplication, and a veritable horde of the scarce and the unusual.
In the big sheds the organisers had managed to pick out some real rarities, including a James scooter, a Velocette Vogue and two prewar Matchless V-twins.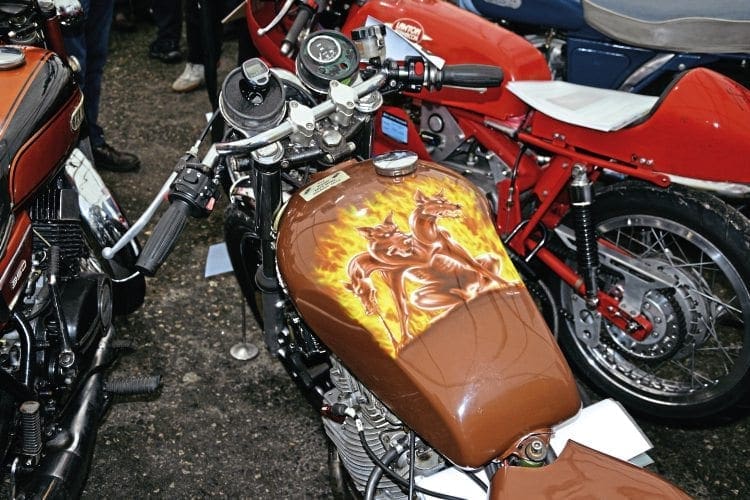 The VMCC was well represented with multiple stands and Wells Classic Motorcycle Club picked up best stand again, this time for the creation of a period lay-by complete with strawberry seller and tea shack.
Panther V-Twin
Geoff Stray's Panther V-twin has been under development for some years and took pride of place on the Panther Owners' Club stand, where the reaction from visitors was usually punctuated with gasps of admiration.
With two M120 barrels grafted onto a hand-made crankcase dropped into a Dresda-made Featherbed-type frame, the attention to detail and delicious hand bent pipework is nothing short of a work of genius.
1904 Humber Trike
Colin Chambers' 1904 Humber Olympian Forecar was originally used by Siegfried Sassoon, later to find fame as a poet, whose family owned it until 1952. It was bought by a member of Colin's family for £40.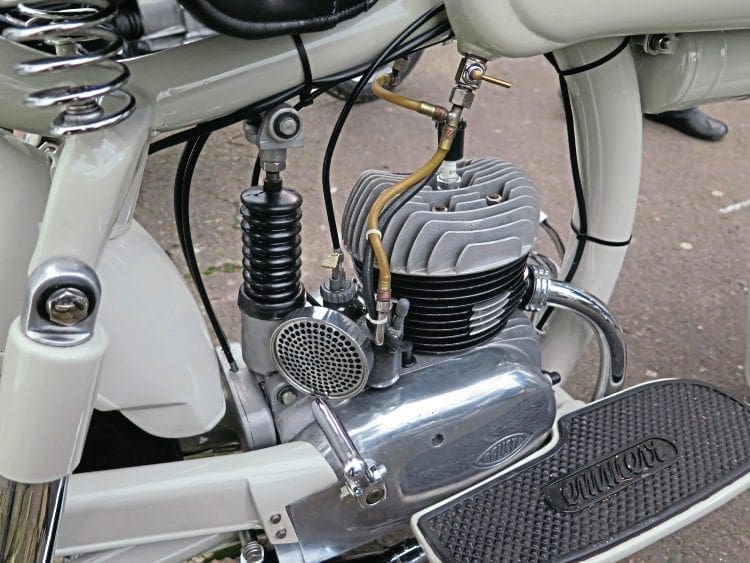 A runner today, the trike regularly takes part in runs with the Bridport Classic Bike club. It has the original frame, which was made with Russian steel – something of a mark of quality for buyers before the First World War; the original mudguards; with the only major changes being the fitting of a larger 1903 radiator.
Suspension is limited to the use of two long curved steel strip springs holding the front seat on and providing a modicum of comfort for the exposed passenger.
Colin says the primitive braking system, featuring a set of bicycle type wheel rim brakes at the rear and a small drum on each of the front wheels, with leather straps that tighten around the drum when the brakes are applied, can be a little challenging on the road.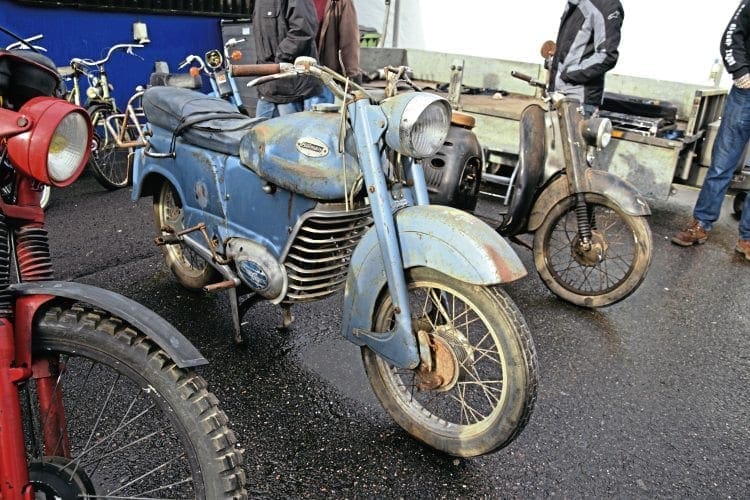 Velocette MAF
There is always a good selection of Velocette singles at any classic show, the marque being popular with restorers and owners.
But you won't see many like Brian Chidgey's 350 MAF.
In 1939 a Velocette MAC and an MSS were purchased by the War Office for testing its suitability for military use.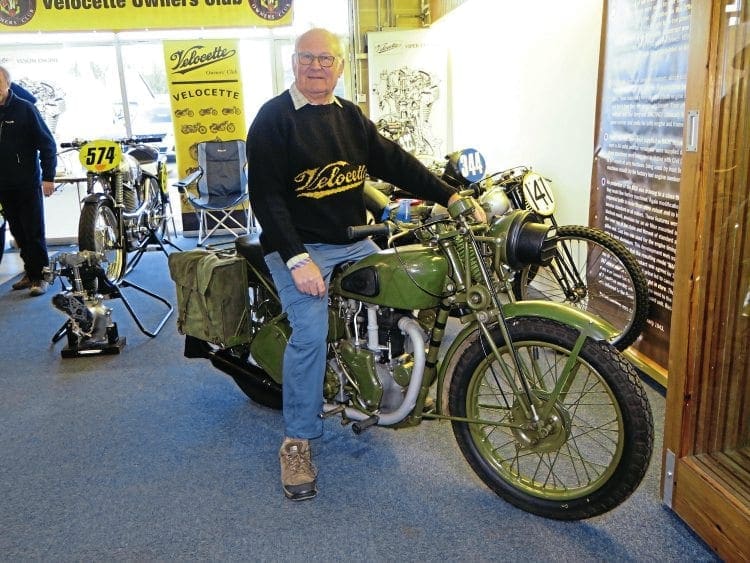 A modified version of the militarised MAC, the MAF was developed with a tank-mounted air filter and a bigger headlight, with a cast iron timing cover used to save valuable aluminium, and steel footrests and controls to save on the use of rubber.
Brian got his MAF through a friend in the Velocette club and bought it as it was otherwise going abroad. Registered for civilian use in 1946, it was repainted red, before being restored with a military paint scheme.
Brian says it handles just as well as his 1952 MAC and has a revised gearbox with the change sequence reversed to allow it to match other service bikes, and with a special low first gear.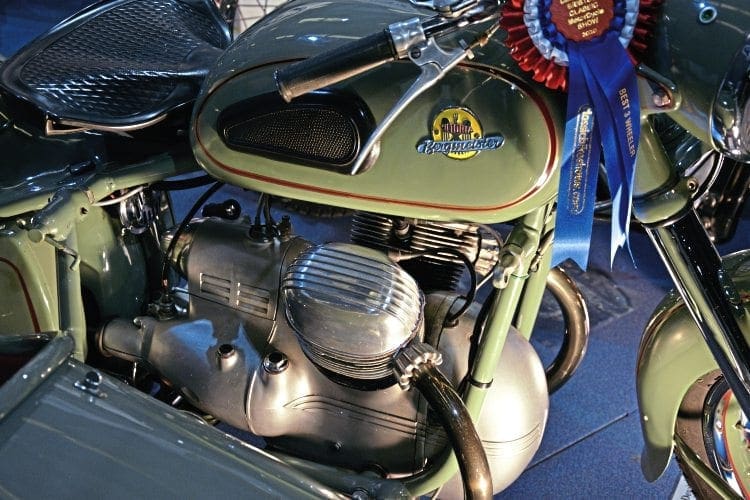 There are bump stops on the front forks to help it cope with off-road riding, the toolbox is mounted upside down so the flap opens providing a useful parts tray, and there's a hole in the rear mudguard stay to hold a two-piece spare spark plug.
Mototrans Ducati 350
Another rarity, in the UK at least, was Mike Larcombe's Mototrans Ducati 350.
When Ducati stopped making their famed bevel drive singles in the late 1970s the plant was shipped to Spain where the older design was built under licence.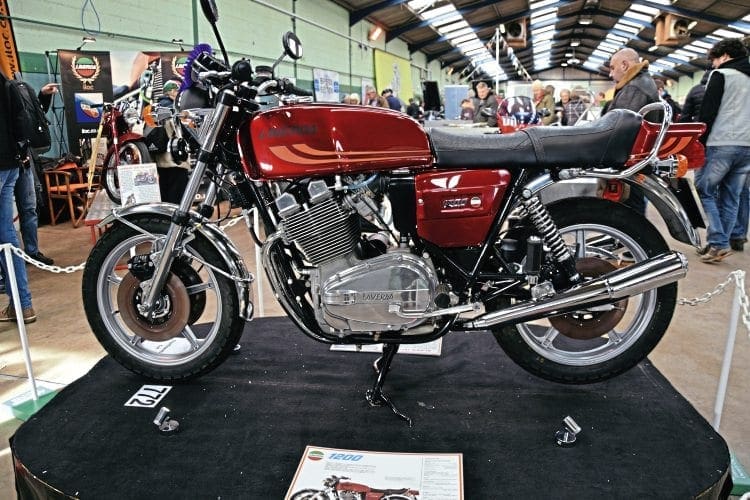 Mototrans Ducati made 250, 350 and 450 versions of the wide crankcase singles.
This smart example was bought for just under £2000, and is, he says "a cheap way of getting into OHC Ducati singles".
Alterations from the original are limited to a kph-mph speedo converter, an uprated 12v electric system and replacement headlight.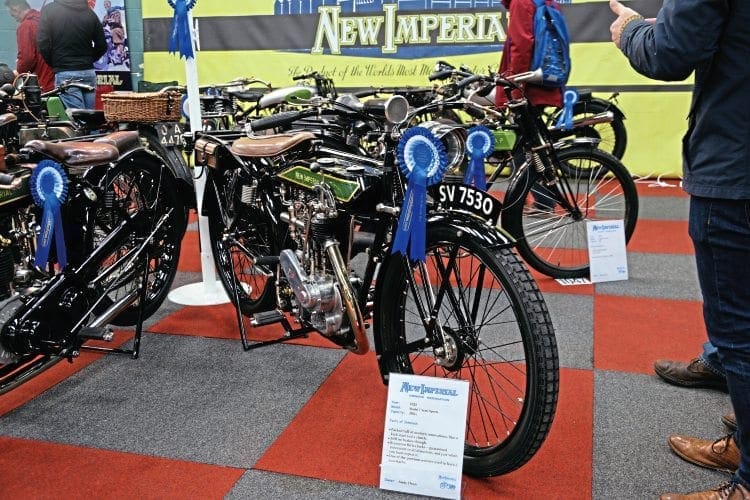 Mike says the 350 was originally used by a Ducati expert as a flying testbed, with the original Spanish engine regularly ripped out and replaced by a series of Ducati engines following rebuilds, hence the non-standard exhaust and Dell'Orto carburettor.
Victoria Bergmeister
While on the hunt for the unusual, we spotted this splendid Victoria Bergmeister, the immaculate winner of the best three-wheeler trophy.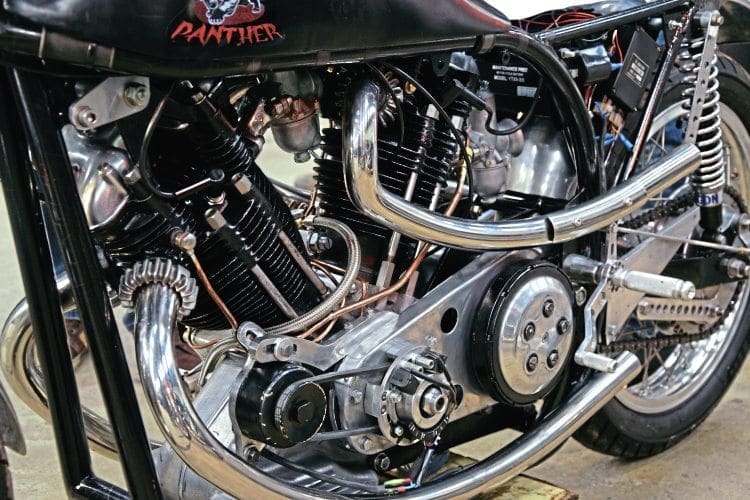 The 350cc V-twin is rumoured to have bankrupted the German Victoria company, thanks to its complicated design.
The carburettor is mounted under a cover to the rear of the cylinders, with the intakes hidden in tunnels cast into the rear of the cylinders.
It is also blessed with designer Richard Kuchen's personal passion, a gearbox that used duplex chains to connect everything up.
Although this does require a lot of moving parts it is actually very simple with the box using dogs to engage the correct gear. Kuchen also designed an updated Zundapp 601 and the Hoffman Gouverner, before creating the Bergmeister.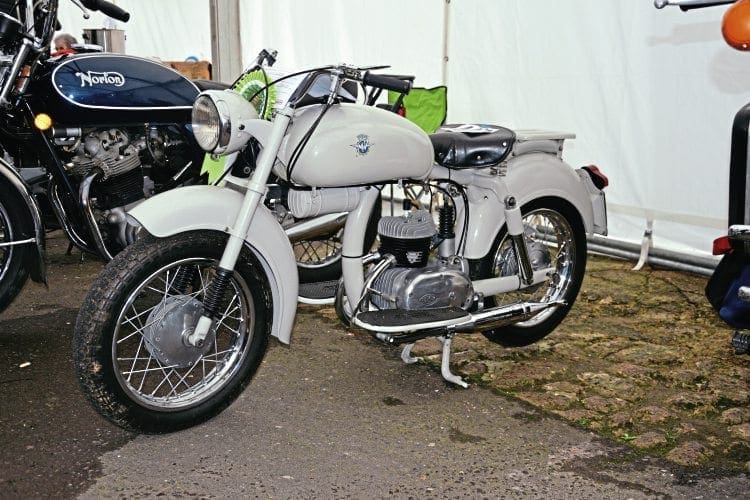 Just as British manufacturers were becoming obsessed with enclosures, so the Germans decided that the most important design consideration was clean lines, hence the desire to hide away so many parts.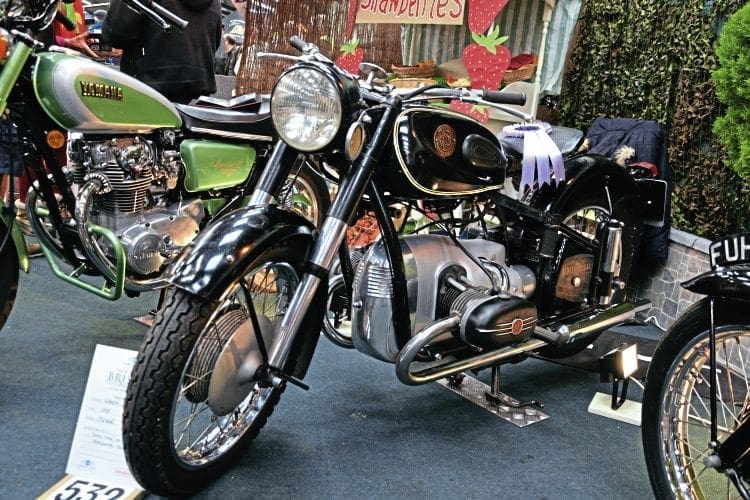 There's a shaft final drive, plunger suspension and a QD Steib sidecar that can be removed rapidly, turning the combo into a solo in a matter of minutes.
Owned by Roger Burge who got it from restorer Bernie Stevens, the combo was the loveliest of things, and a challenge to re-create from a pile of boxes found on German eBay in Wiesbaden.
Universal 570
To look at it you wouldn't think that this rare Swiss-made Universal has nearly 100,000kms under its wheels.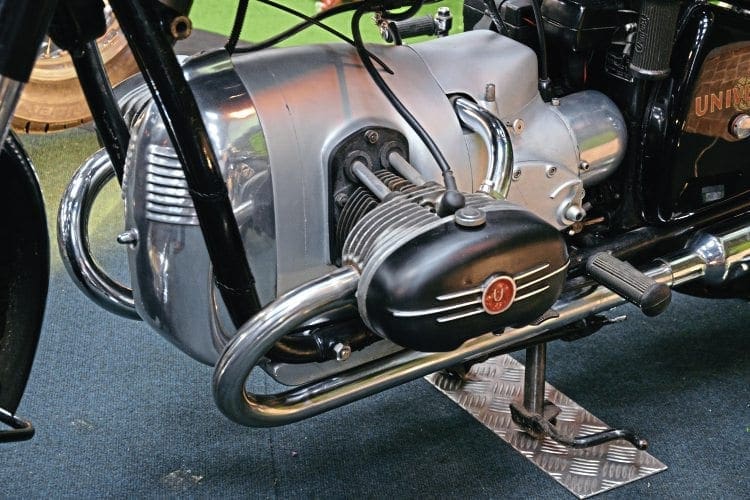 Made in 1959 the 570cc flat twin was made entirely in the Swiss factory and although looking like the German machine they were careful not to copy any parts in order to avoid licence fees.
The model was not produced in large numbers and only five others remain worldwide with this shaped tank.
Owner Gareth Burnard said: "My father bought this some 20 years ago and it was used by both of us until the clutch finally gave up. The engine and gearbox came out in 2017 and new parts were made.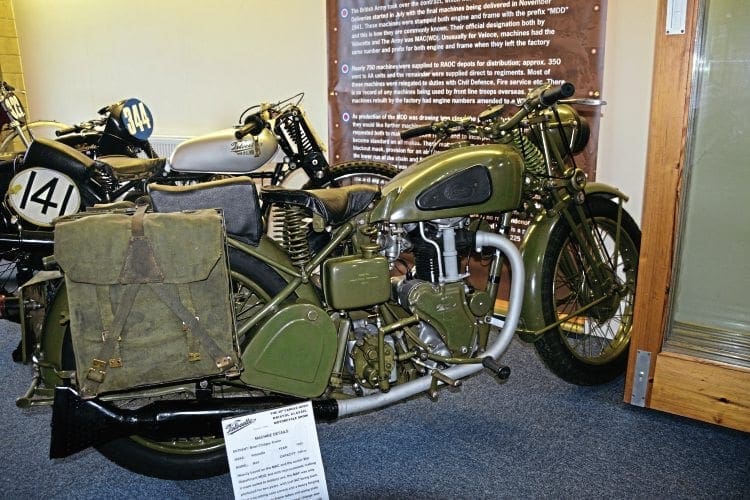 "I have been using it on various club runs over the last few years after my father passed away and the bike became mine. The bike has now covered 98000km and still plods along nicely."
MV Agusta Pullman 125
Another bike from a Bridport Club member was this MV Agusta Pullman, which proves you don't need megabucks to own an MV.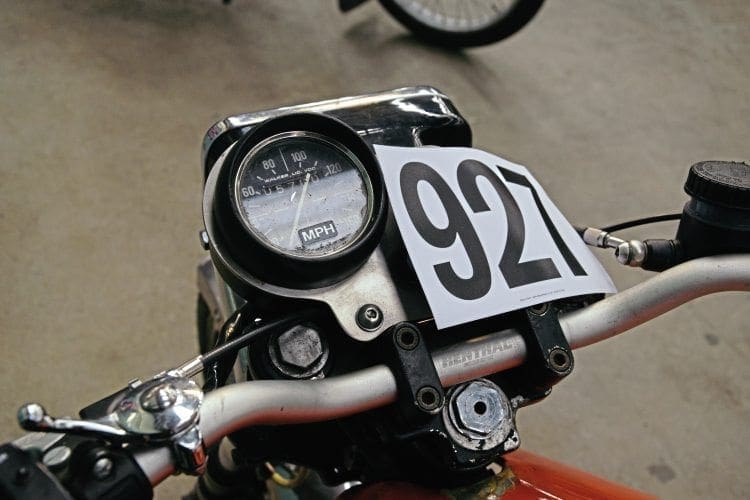 The 1954 125cc twin port single was built into a scooter frame, with one damper behind the engine, and two more shocks to the rear. It has small scooter sized wheels.
The engine and rear fork are one unit, while the frame moves up and down.
The gearchange is a scooter-style left-hand twist grip.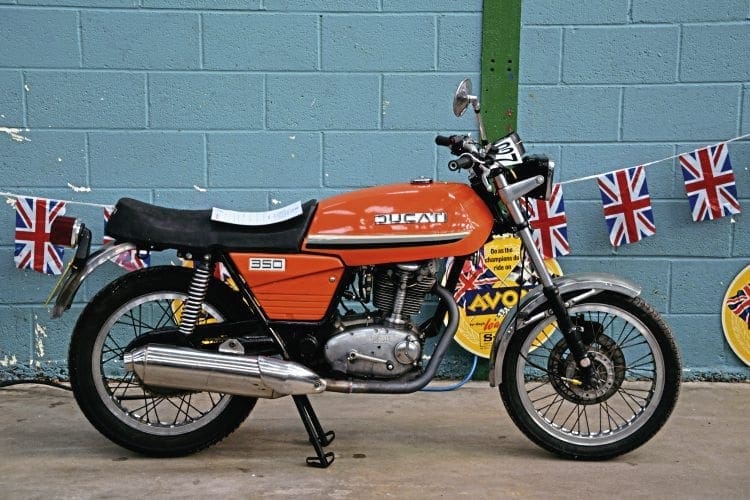 In production for four years, the Pullman was imported to the UK from France and sold to Paul Cleaver for £2000 at the last Stafford show.
Despite the unusual suspension set up, Paul says the MV is beautiful to ride, with a heady top speed of around 40mph.
Read more News and Features in the April 2020 issue of Classic Bike Guide – on sale now!