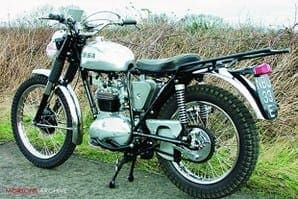 Derek's riding goes back a long way, to before 1953 and emerging racing ambitions with a Mark Five 350 Douglas twin: "Not a proper racer like the 90 Plus, which was faster, but it handled beautifully, with all the weight of that flat twin low down," he remembers. In those days you raced wherever you could get an entry and was within reach. For Derek that often meant Esholt Park on the outskirts of Bradford, where they had path racing. Not road racing, which means a hard surfaced track, but races on a circuit using whatever paths were available. The fact that one of them was a woodland path with a wire fence to keep the deer in their place simply added to the test of skill.
A time-served painter and decorator, he made and saved enough to buy a Clubman's Gold Star in 1955, planning to ride in the TT – until his wife Shirley told him he was about to become a dad and racing plans were quickly dropped: "Road racing is 100 per cent concentration, not for a family man." But he didn't quit before he'd had an outing at Brough airfield, where he was drawn on the front row next to a young John Surtees on a Manx Norton. "I was amazed at the start. John just pushed off and must have been four yards ahead when the man dropped the starting flag." In those days of run-and-bump push starts, a quick start was vital if you wanted to win, and nobody who saw him race could doubt that John Surtees wanted to win.
"The 1967 B40 is an ex-Army model, identified by engine and frame numbers with the prefix B40GB…"
Derek took up less aggressive sport, riding trials on a Greeves 'Scottish', but was inevitably drawn to other disciplines. The little Greeves was clearly very versatile and served him on grass tracks, up the daunting freak climb of Post Hill and in scrambles. "I rode in every sport except speedway, which was strange for someone who followed the Odsal speedway team at Bradford when he was a lad," he remembers. He found another change forced on him as the growth of DIY meant less business for a proper painter and decorator in the 60s, in the blessed days before they all found alternative employment transforming houses on TV. Derek was a useful man with the spanners, and old pal Jack Hart, who'd helped out as his mechanic in his road racing days, asked him to work in his growing motorcycle shop in Birstall, where they had agencies for Ariel, Greeves and Royal Enfield, plus Busmar sidecars. Whatever happened to Busmar sidecars, I wonder?
He's never been without a bike, even when in 1989 he decided to open his own Jack Lane Garage in Batley, concentrating on servicing and MoTing cars. Shirley was a constant support in his hobby, and when Derek reached 60, in 1993, her present was the 1967 B40 that is his regular transport these days. It came from Steve Rhodes' shop in Cleckheaton, partly converted to trials trim and sold for Castleford British MCC member David Vaughan. "Three weeks after I got it home, David phoned and asked if I'd sell him the bike back, but the answer was a definite No!" says Derek. If you have a keen supporter like Shirley, you don't offend by selling on the birthday present she's just given you. What David did do was persuade Derek to join the Castleford club, an obvious good move for a man interested only in British motorcycles and one he's never regretted: "The great thing is all the people you get to know and the help that's available," he explains.
The 1967 B40 is an ex-Army model, identified by engine and frame numbers with the prefix B40GB, and its history between being signed up in Her Majesty's Service and becoming a civilian in the early 90s is a mystery. It's a fair bet that it was one of the thousands of these neat little Beesa single sold by the Men from the Ministry at auctions in Nottinghamshire, where canny dealers could pick up some absolute bargains. One well-known face around the jumble scene bid for a batch of tyres at one of these sales and found that he'd bought the lot, lorryloads of the round, black things. As he only had a Transit, it was a smart move to chat to a big time operator and pass the rubber wear on at a decent profit before it had to be moved.
Mechanical wind and limb
Derek's bike was sound in mechanical wind and limb. His detailed record of work lists replacements as only a new clutch drum and plates and the RM21 stator in the 14,000 miles he's covered riding out with the Castleford lads and to shows. Not that he's a fair-weather rider; club president Ron Wood admits that when he was entered for an Andrew Greenwood show at Aintree one January, he woke up, took a look at the weather and rolled over for a lie-in. Not Derek – he rode the B40 from Batley to Aintree and back again.
The bike has evolved in Derek's hands, refined to his taste. All nuts, bolts and washers are in stainless steel, as are the mudguards, wheel rims (21in front, 18in rear) and spokes. The frame and other cycle parts have been powder coated and other bits have been to the chromers for a little sparkly attention, like any proud owner does as he brings a bike up to show standard. Looking at the bike he rides all year round, it's amazing to see everything looking so good and fresh: "Every time I get home from a ride I clean it before it goes back in the garage," says Derek. There it shares spaces with a Bonneville T140 Executive that suffered from oval valve guides until club mate Eugene turned up replacements and cured the problem ("There's the advantage of belonging to a club," emphasises Derek) and there's a 1954 Beesa M21 side valve with a Briggs sidecar. Briggs chairs used to be made in Redditch, a town Derek remembers from his days in the trade, when he'd drive down there to collect parts from the Royal Enfield factory.
The bike in its developed form is extremely slim. The fitting of a Sammy Miller oil tank helped that process and made kick-starting much easier, with more room to swing without fouling the filler cap with your knee. The lubricant capacity was reduced by that mod, so Derek has fitted a full-flow filter, which both keeps the lifeblood of the engine clean and slightly increases the system's volume at the same time. The exhaust is tucked inside the offside rear down tube, trials style, and the air cleaner is another Miller product, and a weight saver in alloy.
There are lots of neat little home-made touches, from what looks like a competition number plate holder on the forks top yoke (but actually holds the card when the B40's on display at shows) to a plate covering the gap between the standard rear chainguard and the nearside engine case, which helps to keep oil fling down. The engine breather feeds through a grommet in the rear chain guard to lubricate the final drive a little. The sump plate was once a spare piece of alloy plate and the tax disc holder looks like an expensive professional product. In fact it was another piece of scrap put to good use. Mr Mann is clearly into mechanical recycling. And that luggage rack, where did it come from, Derek? "I need to carry my luggage safely when I go over to the Isle of Man for the TT and there was this old ironing board…" he smiles…
Time together
How has it performed for him during their time together? "It's been very reliable since I fitted the Boyer ignition," he summarises, then speaks well of the customer service at Boyer when he had a setting up problem. He proves his point with a first kick start, blipping the throttle to keep the cold engine thoroughly stirred. And you're in no doubt that this engine is working, the small silencer taking the sharp edge off the exhaust note, but definitely not silencing it completely. Well, a bike needs an audible warning of approach, and Derek has thoughtfully provided a permanent one. You just hope the local constabulary appreciate his contribution to road safety and give him a medal some time. You can but hope.
The bike is slim and light, and everything is just where I expect it to be when I throw a leg over that single saddle and take it for a ride along damp Yorkshire lanes. The gearing matches its trials appearance and first gear is low enough to make the bike sound busy at less than jogging speed. The lever clicks its way smoothly up the range of four speeds and the bike settles down to comfortable cruising pace around 45mph. At more than 50 it feels hurried, so 45 it is.
It has instant appeal, simply because it's so easy to ride. Light and low, so easy to move around, with a competent BSA chassis and suspension that copes with potholes and back road broken tarmac with surefooted ease. The brakes aren't impressive to look at, they certainly wouldn't cause a sharp intake of breath among your mates as you pulled up at the cafe on club night, but they work well with such a light bike to stop, even if the back one did squeal a touch. Given Derek's reputation for careful and competent maintenance, I can't believe it was a dry operating arm, so I'll put it down to the return springs vibrating.
It doesn't cost even half an arm, never mind a leg, to buy a B40. But if you pick up one in sound mechanical condition and you're competent in the workshop, you can turn it into a handy bike that's suitable for all weathers and still able to come up for more. Subject to you fitting Boyer ignition, that's what Derek Mann's experience suggests. Prices seem to start around £800 – though I've seen the SS90 ersatz Gold Star at over two-and-a-half grand – and you have the basis of a very interesting motorcycle. Derek spent a smidgeon over £1100 to get his to this very appealing state, including the few mechanical replacements we mentioned earlier. Just one other thing you need to make one as good as this – a lifetime's experience of British quality.
It gets out on club runs regularly and picks up concours trophies along the way. In fact, on the East Coast Run from Hull to Bridlington Derek collected a nice cup for the B40 and proudly carried it home in convoy with his mates. Until he ran out of petrol and had to find a way of getting precious juice from other bikes to his. It was a good job he'd won that cup – it came in very useful for that.