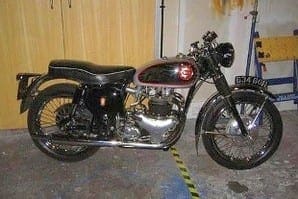 The BSA Rocket 3 is a physically big machine, not that that is a problem for me. Reaching the ground on either side of it is easy enough but at almost 500lb, it's not the lightest of motorcycles and the prospect of riding someone's pride and joy in the snow is a bit daunting. To be fair, few road bikes react well to snow and ice, I just don't want to drop it. I could live with the surgery, been there and done that, it's the utter embarrassment of taking a once pristine bike back to the owner in a less than pristine condition that I couldn't hack. All these thoughts are going through my mind as I head down to Norfolk in a blizzard. Even photographer Martyn Barnwell has phoned to question the wisdom of continuing.
So why am I planning to ride this stunning triple in the snow down in Norfolk one January day? Because the owner, retired health service manager, Roger Hinton, offered CBG the chance to get out and about on it and was OK with the idea of a crisp winter's day ride out. Strangely enough, this is Roger's first classic, despite a motorcycling career going back to the early 60s – he passed his test in '62. "I had scooters back then," he laughs. "Then, when I got married, I got hold of a 175 Voskhod which served well for a few years. After that, I went through a few of the mainstay of the despatch scene, the ubiquitous CX500 Honda, then a CB750, which was a really nice bike."
Roger packed bikes in for a while after that and only really got the riding bug again when he retired. Unsure of what to go for, he started looking around and settled on the Rocket 3. "I wasn't actively looking for a British bike, but this one seemed so nice," he tells me. "It's not original but the dealer selling it – Conquest Motorcycles in Dorset – didn't try to pretend that it was, so I was happy enough to buy it."
This non-originality is limited to a later 5-speed engine but, while substituting a 1971 engine into a 1969 bike is a major transplant, it doesn't look out of place. And yes, Roger is aware that the engine should be a four-speeder, but the swap was completed many years before he came on the scene, so don't give him grief, OK? In fact, Roger actually knows very little about the bike's history before he bought it seven years or so ago.
"What I do know," he says, "is that it's a USA export model that went to Baltimore and subsequently ended up in Chicago. Conquest Motorcycles took it in one of those complicated deals that seem to be the norm for old vehicle dealing these days and they tried to find out about it from the original importer, Clarke Classics in Kent." Roger adds that the bike had been re-imported from Chicago in bits and been restored here by someone who knew what they were doing. "I can't fault the work and the only troubles have been caused by some poor quality pattern parts. As the restoration itself was done to such a high standard, I can only assume that the offending parts were fitted in good faith – possibly they were the only option available. Triple specialist Phil Pick told me that he's done some work on the engine – or at least parts of it – and there are little signs that only he leaves, but he can't for the life of him remember who it was for or exactly when he did it."
Naturally enough Roger is a member of the TR3OC club and, soon after purchasing the Rocket, he used the club technical help serrvice to try and establish exactly what he had bought. Thanks to the club's help, he now has verification that the bike originally left the works as a four-speed model in 1969 and has discovered the engine is one of the 200 five-speed A75 MKII units built for 1971. How the engines got replaced is a mystery to him, but they did and it happened in the States. "I would like to know," he says "and I'd also like to know who did the rebuild in this country as the work is so impressive. Everyone I speak to seems to have something about the bike lurking in the back of their mind. I keep hearing similar things to what Phil Pick said – 'yes, it's familiar, but I can't quite place it.' It's very frustrating."
Roger tells me that the bike has been socially very rewarding since he moved to Norfolk from his native Berkshire. "Yes, they're fairly rare in the county and the Rocket provides a talking point when I'm out and at BSA owners club nights. Though I'm a member of the TR3OC, it's a bit of a trek to the nearest meeting place, but the BSA Owners Club meet a bit closer to home."
As we're chatting in Roger's kitchen, the weather takes a turn for the better and Martyn is itching to take advantage of it in case it turns bad again. Though cold outside, the ice has gone and it doesn't look like the ice dancing potential of that up and coming duo Beezer and Britton will be rivalling Torvill and Dean, something that I'm mightily grateful for. Anyway, I can stand the cold… I'm from the north, so off we go. Despite the cold weather, the bike fires up very quickly, though it does need the choke on for a while. That engine is a big lump to warm up.
So, bike off the stand and ticking over nicely, a quick check of the lights – headlight, main and dip beams, are fine, tail light and brake light excellent, indicators working fine and… hold on bit… indicators? On a 1969 Rocket 3. "Yes," says Roger, "Berkshire traffic was becoming increasingly unforgiving and after all, I was used to indicators on all my other bikes, so I fitted them." I have to say his positioning of the indicator switch was awkward for me to use, though Roger has no problem with it. It's another case of 'if the bike were mine, I should have to move the switch.' But it isn't mine and the owner is happy, so for the couple of hours I'm on it, I have to grin and bear it. Not that that is difficult as there's a lot to grin about with a BSA triple. They've got much of the character of the twins but few vibrations, plenty of grunt and good acceleration allied to road hugging handling. I just wish it wasn't so Godawful cold.
Getting under way is easy, the clutch is light enough, certainly nowhere near the sinew-stretching example fitted to certain Italian triples I could name, the gears select positively and the drive engages without any snatch. I don't think I'd have paid any attention to this had it not been for the potentially icy conditions – it's amazing how certain things can heighten your senses. Whatever, it's certainly easy to flash round roundabouts just dipping the clutch and changing gear with a toe either under of over the gear lever. Very satisfying.
Before I'd set off Roger had pointed out that the brake shoes in the tls plate on the front were nearly new and "…might be a bit grabby…" So it proves, to a point, though things become easier when I slacken the cable adjuster off to get a bit more free play. By the time the test ride is finished, the brakes are working fine. This whole brake question is an interesting – and probably puzzling – one for modern riders used to six-pot callipers and twin discs able to haul up motorcycles in nano-seconds. Disc brakes had been around for quite some time before they were widely adopted for two-wheelers and even the father of modern superbikes – the CB750 – was reputedly originally going to fitted with a drum brake at its launch. The problems facing the manufacturers were two-fold. Firstly, the disc brakes of the time were not actually that good and, secondly, there was the buying public's conservatism.
Even the false environment of a photo shoot, where we ride back and forth along the road for a photographer, doesn't fluster the manners of this smart triple. I must admit though, it is nice when Martyn announces he's happy with his shots and we can head back to Roger's via the dual carriageway and I can revel in the performance of the 750. Boy, it doesn't half go. Tweaking the throttle as I run down the slip road from the roundabout and getting the revs up into the upper end of the scale really makes the bike shift and with five gears, it gets up to a serious speed rapidly. Certainly I don't think any of the drivers of cars I pass are conscious of the fact that the shiny red and silver bike thundering past them is the thick end of 40 years old – did you, Mr Beemer sports car driver?
But as I thunder my way around the bypass and follow Roger back to his house, it is easy to see why he enjoys this bike so much. At high or low speed the carburetion is faultless, I don't know how easy, or difficult, it is to balance the carbs on a triple – the most I've ever juggled are two on a twin – but when they were out of synch… oh dearie me, teeth slackening vibration. But there's none of that here as I roar up the slip road and the revs drop to town levels as I weave my way round the streets to Roger's place, just clean running at whatever throttle opening I choose. Back in his garage with the salt hosed off the bike, Roger reckons this is probably due to the fact he replaced the carbs last year. "The originals were past their sell by date, by some considerable amount and once the new ones were fitted, oh, what a difference," he says. "Oh, and I always use 97 octane fuel and a shot of Tetraboost each time I fill up. In an emergency I'll use 95 octane fuel, but only in an emergency."
Roger likes to do his own maintenance on the bike, though he classes himself as a 'parts fitter' rather than an engineer. "I can replace like with like and make sure that everything is scrupulously clean before assembly, but I don't experiment. I do like to keep my bike in tip top condition," he says. "Mind you, ease of maintenance wasn't something the factory considered high on its priorities."
So what sort of problems has Roger had to deal with I wonder. "About six years ago I replaced the valves and guides," he recalls. "They were the poor quality parts I mentioned earlier. I pulled the clutch down a bit ago, too. There was an annoying oil leak on the splines that needed curing. Apart from that, all I've done is to turn the rotor round on the alternator so that the timing marks face outwards and carried out general routine servicing."
The styling of the Rocket 3 didn't appeal to everyone, Doug Hele himself was less than impressed with the square, boxy look. And, in the all important American market, the triple was a poor seller until the hasty addition – for Triumph models at least – of a beauty kit to round off some corners. Just looking at Roger's bike in his garage, I think that a lot of the resistance to the new styling must have been because it was just so different.
Thirty five years on, the Rocket 3 still grabs your attention. But, sitting here in the garage, its Royal Carmine Red colour scheme and raygun silencers glistening as they dry, I have to admit it's a nice looking machine. Roger laughs at that and says; "my wife and daughter have forbidden me to sell it, they reckon it's so comfortable and it has a mattress for a saddle."