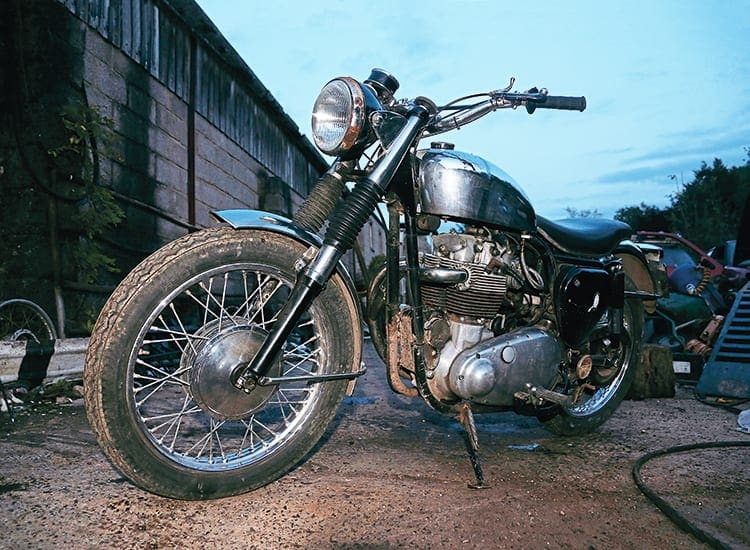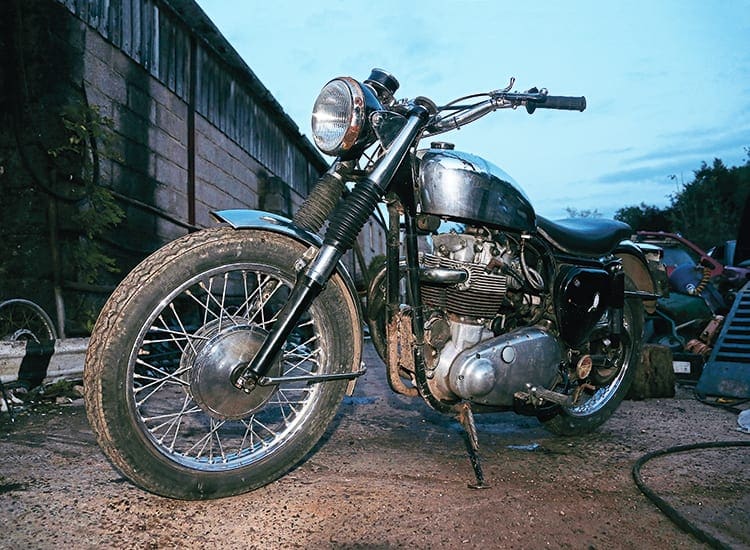 Words by Oliver Hulme Photography by Jason Bryant
AS DUSK FALLS on a farmyard somewhere in the south west of England, Ray Loxton is tinkering with the oil pump on his pre-unit Triumph Bonneville. "I'm not getting the pressure through, brother." Ray calls everybody brother. "It should be coming through the end of the crankshaft, but it isn't. I've got a new pump coming. I hope it'll fix it but if not I'll just keep replacing things till it's sorted out."
Ray has been riding motorcycles since he was a child and among his earliest memories are the trips to the coast on his father's BSA A10 Super Rocket, coupled to a Steib sidecar. "I've got the frame of one of those Steibs somewhere," he says, waving his hand at a pile of scrap steel and welding cylinders.
The reason for my visit is to see Ray's own BSA A10 special. Although the 650cc twin has the specification of a later Super Rocket, it was registered in 1954 and would have started life as a Road Rocket.
The Road Rocket was BSA's flagship sports bike when launched in 1954. It was designed to take the wind from the sails of Triumph and Norton, who were sweeping the board and cleaning up in the market for big fast twins; Triumph had their engine and Norton the Featherbed frame. Sold as "Undoubtedly the world's greatest motorcycle," the BSA A10 Road Rocket was released to the world in 1954. The Road Rocket had an A10 engine with an alloy cylinder head, high compression pistons and a high lift camshaft giving 40bhp and a top speed of 109mph. The bike became more powerful as the decade went on, being relaunched as the Super Rocket for 1958.
Ray's bike has been upgraded over the years to Super Rocket spec, with higher compression pistons, lumpier cams and uprated cycle parts. US magazine, Cycle World, tested the Super Rocket at 116mph.
The Road Rocket was the first A10 to use BSA's new swinging arm frame where the range had previously used a plunger design. This housed the engine up until the end of production in 1962. The same basic design principles allowed for frames of a similar style to be used on many other BSA machines, including the Gold Star and the 350cc and 500cc B singles. Even when BSA replaced the pre-unit twins with the slinky A50/A65, their new frame's geometry took some of its styling cues from the A10, retaining a similar duplex frame loop and rear subframe which lasted until the advent of the Oil-in-Frame design of the early 1970s.
BSA was justifiably proud of their frame and made a point about its construction in their advertising, stating: "All BSA frames have a cradle frame which is self-contained and does not rely on the crankcase to give it strength. The engine is therefore relieved of all frame stresses and thus operates at a higher standard of mechanical efficiency." All of which is either a description of sound engineering practice or a way of justifying the use of the same frame design across the range; while at the same time having a dig at those manufacturers who used their engine as a stressed member, or possibly all three.
Read more in the March issue of CBG – on sale now!