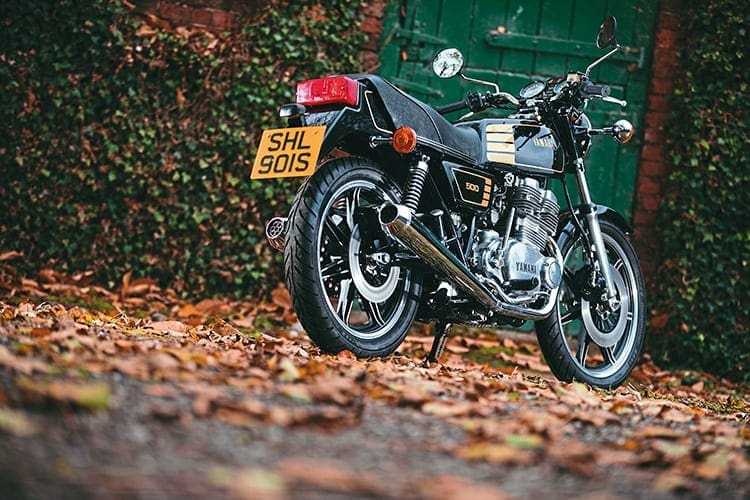 1973 was a funny old year for motorcycling. The British industry had almost completed a decade of self-immolation, the Italians were bumbling along in their usual chaotic fashion, and as for the Japanese…
Words by Oliver Hulme Photography by Gary Chapman
Honda's range was a combination of updated designs from the mid-Sixties and their ground-breaking fours, but these were already starting to look a bit dated in the face of Kawasaki's DOHC fours and Suzuki was still firmly wedded to the two-stroke, especially in the middleweight capacity. Yamaha, meanwhile, were also in two-stroke heaven, yet they had dipped a toe into the four-stroke market with the XS-1 650 twin, which was tough, simple and highly popular. And then things went a little strange…
In 1973, Yamaha introduced a 500cc eight-valve DOHC twin, the TX500, with an elaborate counter-rotating balancer to control vibration. Park a TX500 next to a Triumph 500 Daytona from the same year and they are clearly worlds apart. The only machine that came close to the Yamaha was Honda's CB450, which was getting a bit long in the tooth. The styling was a little strange too – having come up with this high-tech and square-edged engine, it was almost as if Yamaha lost their nerve when it came to styling as they clothed it in similar curvy British style threads to the XS650. The look also mirrored that of their unsuccessful big twin, the TX750, which never made it to Britain.
The 500 twin arrived in the UK as the XS500B in 1975. The bike wasn't a huge hit, most potential customers going for the 650, a more conventional twin, or if they were desperate for a 500, would go for a Honda 500/4. There was a major redesign in 1976, and the XS500 lost its curvy look in favour of something more angular, which suited the engine better. With a square-edged petrol tank and side panels, a glass fibre front mudguard and a slab-sided rear mudguard that was unnecessarily large and looked as if it had been fabricated from a cereal packet, the XS500 now saw Yamaha create their own 'look'.
It had speed block paintwork, like that on the new XS250/400 twins, and on the updated RD range. The XS500 soon found itself competing with Suzuki's GS400 twin, and GS550 four, Kawasaki's Z400 twin and in 1978 Honda's new 400 Dream twins, all of which had copied Yamaha's balancer shaft concept.
One issue for British riders was the actual capacity of the XS. Most riders would be insuring through the famed Norwich Union Rider Policy. Insurance prices were set on a machine's capacity, so you would pay the same insurance for an XS500 as you would for a 650.
The engine on the XS500 has features that range from the sublime to the ridiculous. The camchain was handily slipped onto the end of the crank, which made it easy to get at and to adjust, which was just as well as it needed checking every 2000 miles or so. On the later UK-spec bikes, it came with an automatic tensioner. By keeping the twin-row camchain out of the centre of the engine, the crankshaft could be short and compact and the plain bearing in the middle could be substantial.
Read the full story in the December issue of Classic Bike Guide