You can pick up a second-hand set of barrels and pistons, but how do you check what you've got?
Words By HUTCH, HTE MOTORCYCLES (01328 700711) PHOTOGRAPHY BY SHELLEY
It's starting to look like my faithful old T140 is going to need a top end refresh.
I think the exhaust pushrod seal is starting to weep and I can hear some piston slap when it's cold.
It's not done badly; it must be 10 years or more since I last saw inside the engine when I fitted new rings and guides.
I have some spare barrels and pistons (and a cylinder head) I've had stored and thought it'd be a quicker job if I prepped these to swap.
Measuring up cylinders to see if you need to rebore the barrels and fit new pistons or just new rings is fairly easy if you approach it right.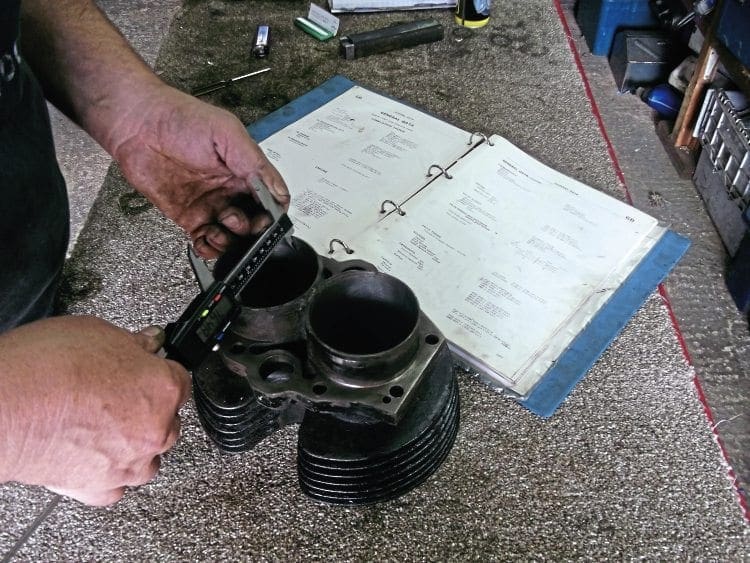 Cylinder bore tolerances are not that tight in engineering terms and metrology type equipment and temperature control is not needed to get the necessary measurements.
Firstly, I parts washed and cleaned all the old grease and oil from the cylinders and cleaned the gasket faces.
The cylinders were then visually inspected for wear, scratches, gouges, pitting and to see if the honing marks were visible or glazed/polished; fortunately in this case the cylinders looked good with a little oxide from storage and the honing was visible over the whole surface of the bores.
Read more in the October 2019 issue of CBG – on sale now!