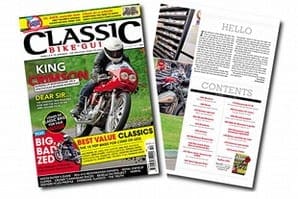 • Archive
The birth of the adventure bike
• News
Stafford preview, new classics and more
• Dealer special
Military spec Royal Enfield
• Mould Breaker: Triumph's 1949 Trophy 5T
Triumph's new-for-2012 Trophy is a heavyweight, full-dress tourer. But the original bike to bear the name was the daddy of all adventure bikes
• Products
Books, tools, carbs and riding kit tested
• Letters
You write, we listen
• Rickman Bonneville
Tritons? Pah. Okay if you just want 'better' handling for your Bonnie, but if you want something truly exceptional, only a Rickman will do
• The Good Guys
Norvil Motorcycles is not only Britain's and possibly the world's biggest supplier of Norton parts and restored Norton motorcycles, but also one of the UK's biggest motorcycle manufacturers
• Best value classics for £3000
The 15 bikes we should all buy now
• Ariel Square Four
Martin Conachey's 1957 Ariel Square Four was the subject of a very unconventional factory restoration in the early 1960s. It would never happen today
• Kawasaki Z1-B
Second generation Kawasaki Superbike revisited
• Crosby's Z1 racer
Big, brash and baby blue. No one who saw it will forget Graeme Crosby's Moriwaki Z1-B. Alan Cathcart tracks it down in Wales
• Benelli project
Alan Arnold wanted to build a Benelli 900SEI that looks like a modernised 750. So he did. And now it's almost finished – time for a shakedown run
• BSA A10 Restorer's guide
Got a Beezer in bits? Halfway through a project and getting a bit stuck? Need some decent parts, useful help and considered advice? Hopefully this lot can help. Spares, services and hundreds of years' combined expertise on everything Small Heath
• Ultrasonic carb cleaning explained
Constipated carburettors are very bad things indeed. Thankfully, help is at hand. Just take them to an ultrasonic specialist and give 'em a little (high-pitched) whistle
• Bikes and bits f
or sale
Your next winter project here?
• Famous last words
Frank's take on emerging classics
• Louise Limb
A true Bollywood heroine always rides
the coolest bike
Plus all the usual regulars. On sale now!
? Search Classic Bike Guide back issues
? Subscribe to Classic Bike Guide
? Classic Bike Guide – from JAP to Japanese, the practical guide to classic motorcycling

Enjoy more Classic Bike Guide reading in the monthly magazine.
Click here
to subscribe.