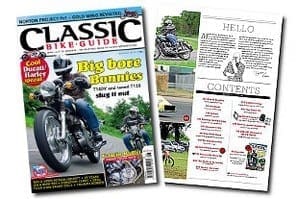 • Mould Breaker
Honda's radical Gold Wing
• Products
What's new on the market
• Letters
You make your points
• Moving Swiftly Along
Thoughts from our resident Scot
• American Idle
We've all heard about holiday romances that aren't so romantic once you're back home, well our man across the pond has a summer infatuation, which looks like it just might last…
• The Good Guys
Maldon Shotblasting and Powder Coating
• The Big Question
This month – a quiz!
• Retrospective
The Bonneville's finest hour
• Bonneville Burn Up
It began as a throwaway comment. "I wonder how it compares with a T140." The 'it' was a T120 Bonneville uprated with a Morgo big bore barrel. There was only one way to find out. Ben Wilkins rode them both
• The Perils of Sprinting
Bill Bragg profile
• Shakin' All Over
Part two – getting round the vibes
• Bobbin' along
Only made in 1939 and 1940, Triumph's 5S is a rare machine, certainly not what you'd expect as a custom bike. Steven Myatt is amazed
• Fire Eatin' 50
Some people are left money, or houses but Robert Freeman inherited something far more valuable – a passion for motorcycles. His pride and joy is the BMW R50S he's owned from new
• Giveaways
Win lots of goodies…
• Norton engine freshen up
After 60 years and no little neglect at certain times, an ominous rattle from inside the cases on acceleration let editor Clark know that perhaps it was time to have a look at the bottom end of his venerable Model 18
• BSA A65 Restorer's Quick Guide
All the specialists you'll need
Plus all the usual regulars. On sale now!
? Search Classic Bike Guide back issues
? Subscribe to Classic Bike Guide
? Classic Bike Guide – from JAP to Japanese, the practical guide to classic motorcycling
? See Triumph Bonnie burn-up video