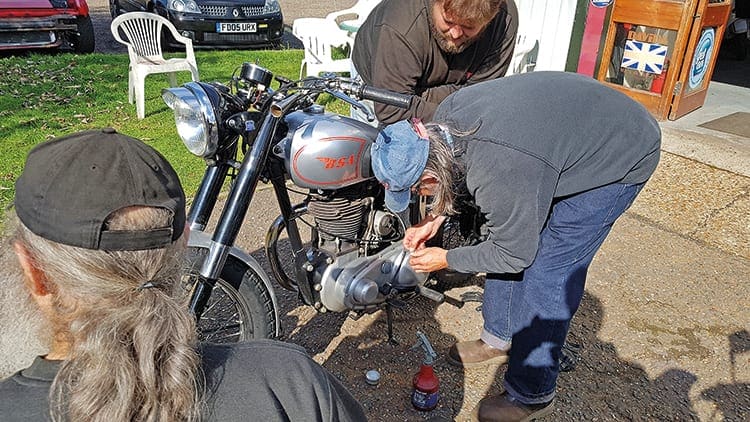 Before the interweb, dreams couldn't be realised quite so easily. When I started riding, my evening 'blast' (as much as you can on a Suzuki ZR50, albeit with a slightly tired 80cc big-bore) would take me down the B-road, via potholes, roadkill and farm detritus to the small town of Wymondham, Norfolk. Wymondham (pronounced Windh'm round these parts) wasn't as big as Dereham, there wasn't the other bikes to chase that you had in Norwich and the girls weren't as pretty as up on the coast, but it had Chris Clarkes Motorcycles. By the time I got there it would be closed, but the Ducati and Aprilia dealer had large, full-height windows for me to stare through, just like an enormous computer screensaver. It was my equivalent of surfing a Ducati forum, but without trolls.
The main focus would always be the Ducati 851, though the newly released 900 Superlight was always going to be the more realistic option. Over the years my blast became a ritual, this small manufacturer started dominating World Superbikes (in the era WSB was more important than Grand Prix), hire purchase became a rite of passage and the reason I went to work and so began a love affair with this quirky Italian marque. A 600SS was the first – N98GVF (still around?) and seven more have followed – so far. If I had been born earlier, I dare say I would have ridden to Hornigolds, the local bike shop in Dereham, where I would have fallen in a similar way for something British. But for me, Ducati was my affordable exotica. There are many parallels to the trials and tribulations of Ducati and the British bike companies, I hope you enjoy our look at the eight-valve history in its 30th year.
I found myself on that same B-road last weekend, but this time aboard a 1950's British 350cc single. The road is still a cart track – even by Norfolk standards – but the ride was just as fun and just as thrilling as those formative thrashes. If anything, the thumper adds to the experience. From the satisfaction of judging the starting procedure, to timing the downchanges, to adjusting the ignition, it's as engaging as my 888 SP3 was at three times the speed. The latest iPhone release may steal the headlines, but for me getting an old bike set up just right and getting to know what it likes best is much more satisfying than a phone app. We've got three perfect such bikes this month for satisfying such pleasures from Norton, Royal Enfield and Matchless.
But technology is still exciting. It allows more reliable mag windings, allows you to find a part for sale 250 miles away and has helped British company CCM create a wonderful, new, lightweight, yet classically styled bike, the Spitfire. Traditional frame-building is safe in the knowledge that the stresses and materials are up to the job. The Spitfire is a corker, rides as well as it looks (It would be perfect for my B-road) and your CBG was really privileged to be the first people outside of the Bolton factory to ride it – see page 52. At CCM I found a great bike and a passionate team, seamlessly blending traditional methods and style with modern technology.
Right, I'm off to steal some mag spanners from my friend, Stu. Have a good read and let us know what you think and what you've been up to. Be good.
Matt Hull