Organisers have praised the efforts of all the riders in this year's AMCA/CDB British Classic Motorcross Championship, calling it a real 'mud plug'.
Co-ordinator Dave Gittins said: "The series was long, involved a good few miles on the road up and down the country and the final round… a real mud plug."
He especialy thanked all the clubs involved – Bath, Acorns (Stafford), Northampton, Westmorland, Moseley (Birmingham) and Llanthony (Gwent).
This coming year will be the 25th anniversary of the championship. The first round was held at Ameys Copse, Bennetts Hill, Burghfield, courtesy of Mortimer Classic and the club has agreed to host a round again.
Dave said: "The format has changed over the years and I welcome suggestions for next year's series. Please contact me at davidgittins65[email protected] or bring your ideas to the Classic AGM in November."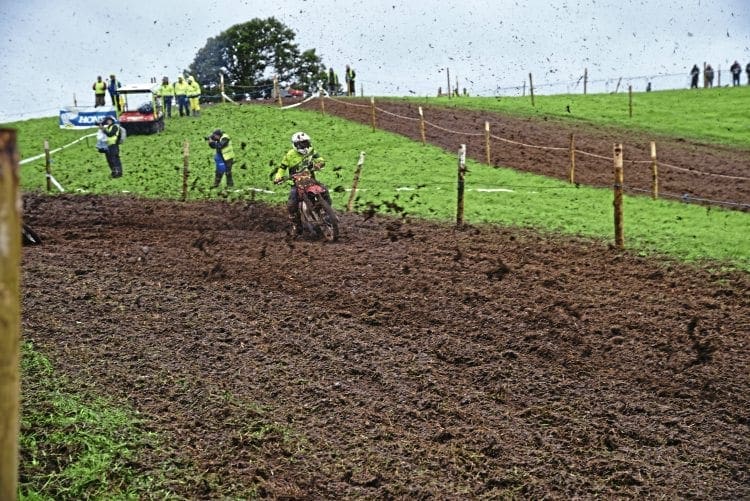 Suggestions so far include:
1 It remain the same – three classes racing together (two eight-lap championship races per programme) the riders selected by Dave based on previous performances.
2 Everybody in the three classes be included and individuals opt in or out. A downside of that is it may mean six championship races per meeting which would be very time consuming, and not fair to those who opt out.
3 A series based on age –for example age ranges, types/age of bikes etc, rather like the ECMO arrangement.
The final positions in each of the three classes look like this:
Pre-65
(1) Gene Womack 185 points
(2) Robert Twigg 146 (best Pre-60)
(3) Tim Austen 131
(4) Will Bateup 114
(5) Lee Kelly 40
(6)= James Thompson 37
Ricky Pedder 37
Pre-68
(1) Greg Speed 186
(2) Mitchell Harris 150
(3) George Gorvett 124
(4) Luke Womack 122
(5) Chris Collins 103
(6) John Cash 77
Pre-74
(1) Kris Winder 186
(2) Keith Rice 183
(3) Andy Hinchcliffe 128
(4) Nathan Jones 111
(5) John Fleming 100
(6) Gary Warr 71
Read more News and Features in the Winter 2019 issue of Classic Dirt Bike – on sale now!