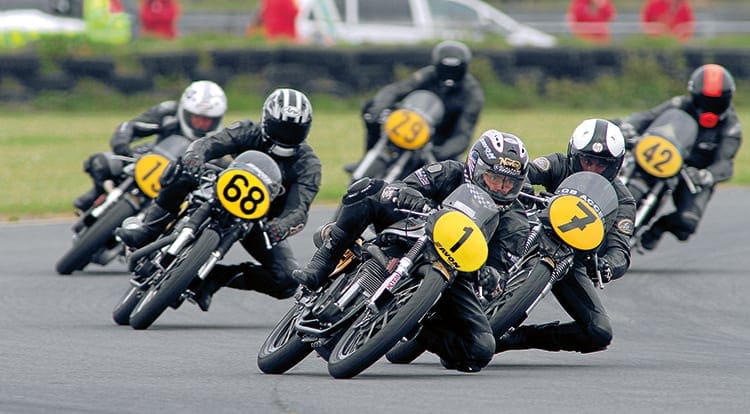 THERE IS A FEAST for the ears and eyes coming this month as the Lansdowne Classic Series takes to the tracks.
Named after James Lansdowne Norton, founder of Norton Motorcycles, the Lansdowne Classic Series sees riders compete on classic era machines from the 1950s and early 1960s. Series organisers aim to create and "maintain a level playing field" for those wishing to race genuine and faithful replicas of pre-1963 Group 1 and 2 machines without having to compete with modern short-stroke, lightweight faired machines that predominate in classic racing.
The intention is as far as possible to recreate the sight, sounds and spirit of racing in the 1950s and early 1960s for both rider and spectator alike, while at the same time maintaining a viable event for the host club/circuit – and keeping those classic racers running rather than gathering dust. Both riders and machines must be registered and approved by the organisers. There are classes for pre-1963 and pre-1954 500cc and 350cc Grand Prix racing motorcycles, either original or replica, but in a very period original specification. Bikes have to have original sized wheels, exhaust systems, carburettors. The appearance of the bike must be very much in keeping with bikes raced in the period.
There are two meetings in May and one in June. On May 12–13 the series will be at Donington Park and on May 19–20 at Snetterton. On June 10 they will be at Mallory Park with further meetings later in the year. So if you want to see Manx Nortons, Matchless G50s, AJS 7Rs and more in in all their glory, the Lansdowne Classic Series meetings are the place to go.
Article continues below...
Advert
The Lansdowne Classic Series is sponsored by Bonhams, The National Motorcycle Museum, Avon Tyres and The Classic MotorCycle magazine.
Read more news in the May issue of CBG – on sale now!

Enjoy more Classic Bike Guide reading in the monthly magazine.
Click here
to subscribe.
Article continues below...
Advert