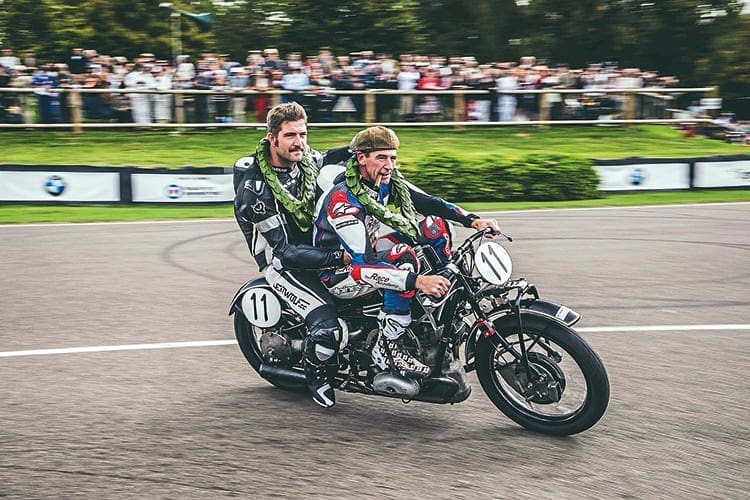 AN 89-YEAR-OLD SUPERCHARGED BMW and an Australian Superbike Racing legend were the stars of the show at the Goodwood Revival.
Troy Corser piloted the 1929 BMW R57 Kompressor to victory in the second heat of the Barry Sheene Memorial Trophy double-header, combining 21st century knee-down style with mastery of the 125mph hand-change, supercharged, rigid-framed flat twin.
Glen English and John McGuinness claimed the spoils in the opening instalment in a Norton dominated first heat. The duo, sharing a Manx Norton, starred in a thrilling 25-minute encounter, snatching victory over Duncan Fitchett and Jeremy McWilliams. Corser, who was sharing the 500cc BMW with the motorcycle's owner Herbert Schwab had taken an early lead and tore through the pack following a Le Mans start. He was in the lead inside four laps and stretched his advantage until handing over the bars to Schwab with just over 10 minutes to go. The bike's owner couldn't match Corser's death-defying riding style and slipped back down the field. English and McGuiness came home first 1.437sec ahead of another pair of Manx Norton riders, Ian Bain and James Hillier. Corser and Schwab finished third.
Corser starred again on Sunday afternoon as he and Schwab won the second instalment of the Barry Sheene Memorial Trophy. Glen English dominated the early running in the race aboard his Manx Norton and was leading by 2.6sec at the end of the first lap. He had extended this to 5.47sec by the end of the third tour, and to an incredible 13sec by the time he pitted to hand over the bike to 23-time Isle of Man TT winner, John McGuinness. Herbert Schwab pitted in second place, handing the bike over to Corser. The Australian was clocked at 125mph, holding the throttle wide open with his right hand, while reaching across the tank to change gear with his left as the BMW bucked around beneath him. He streaked past McGuiness with five minutes left to run, eventually winning by nearly 12 seconds. English and McGuinness were second from Ian Bain and James Hillier.
Article continues below...
Advert
Want to read on? Then subscribe to Classic Bike Guide and read our magazines online!
For more content, why don't you like our Facebook page here, or follow us on Instagram for a snippet of our striking pictures!
---
Advert

Enjoy more Classic Bike Guide reading in the monthly magazine. Click here to subscribe.
---