Dean May wanted a board tracker and found a BSA 21/4hp Model B, or BSA Round Tank as they are often referred to, that had the look he was after. But after 80 years in pieces, was this a wise choice for his first restoration?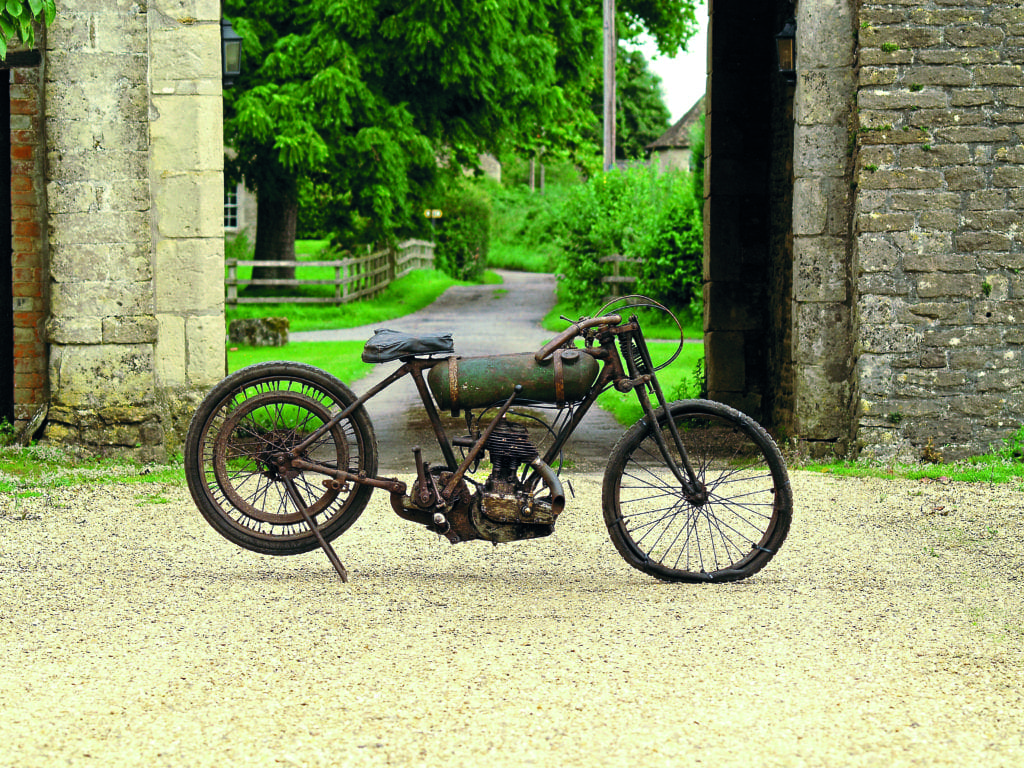 Just where you first dip your toe in the world of bygone motorcycling is very much a personal thing. Once upon a time the interest was spurred by the desire to ride the kind of bike you owned, or more probably wanted to own, years ago, when passion was abundant but cash was in short supply. More recently, it has been the challenge of breathing fresh life into something rather sad and neglected. Now, for an increasing number, it is the desire to explore new and unknown territory.
For more content, why don't you like our Facebook page here, or follow us on Instagram for a snippet of our striking pictures!
For Dean May, that territory is the days of board track racing. He first discovered this peculiarly American form of motorcycle sport through the "Wheels Through Time" programme on the Dave television channel. It was something totally new to him and he soon realised he was spending more time on the internet hunting down board track bikes than he was looking for VW Karmann Ghias and split screen panel vans which, up to then, had been his passion.
Unsurprisingly, Dean was unable to find a board track bike at a price anywhere close to the low side of affordable. In fact, he couldn't find a board track bike for sale at any price. He would have loved an Indian, but a Harley-Davidson, an Excelsior or a Thor would have sufficed. What he did find, however, after many weeks scouring the internet, was a machine of roughly the right vintage with the right lines and with most of the essential bits still in place. True, it wasn't a board track racer by any stretch of the imagination, but it had the potential to become one, or at least look like one, with a modicum of careful titivation, hadn't it?
What Dean had found was a 1925 BSA 2¼hp Model B, the machine that has come to be known as the 'round tank' due to the cylindrical shape of its fuel tank. Previously, motorcycles had been fitted with slab-sided tanks, hence the term 'flat tankers', now applied to veteran machines in general. A humble 250cc single cylinder side-valver, the Model B was the BSA's entry-level model for the period. Think of it as the FS1E of its time, although in truth it could never have been that exciting a ride. A more accurate comparator would be a D1 Bantam. In terms of performance the two machines are about equal, although the Bantam does have the advantage of front and rear drum brakes, a luxury that early Model Bs did not offer. It was, after all, an entry-level machine.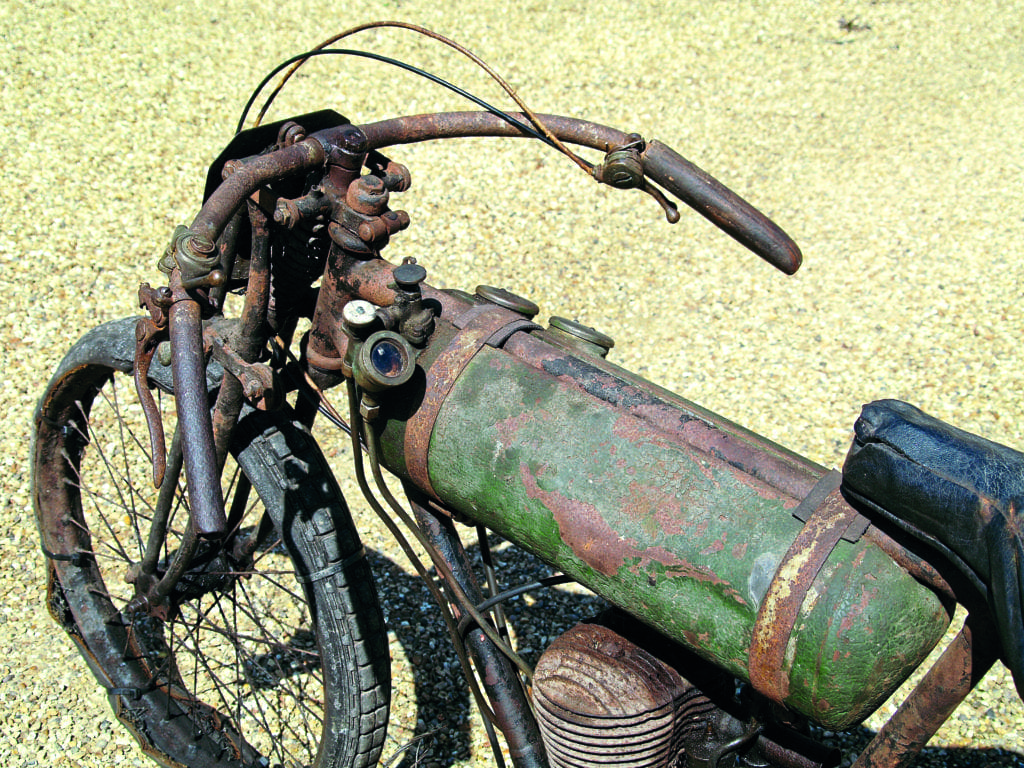 But this is no run-of-the-mill round tank BSA. It is neither an oily rag condition Banbury Run contender, of which there are quite a few, nor a pristine museum exhibit, which are quite commonplace too. Due to circumstances not recorded it had been abandoned while still in its original, well-used, 1920s form and has survived without so much as a spanner being laid on it for maybe the last 80 years. That is quite some achievement and one that Dean is not about to undo. The fact that the bike has been stripped back to basics, hence its lean and hungry look, is intriguing. A cardboard box containing sections of the original mudguards, the rear carrier, chainguard, primary drive cover, silencer and brake pedal linkage suggests a rebuild was on the cards and then abandoned. But what to make of the slash-cut exhaust and racing numberplate?
Dean had been all set to get the motor running and do the minimum amount of work necessary to make the bike rideable, but not necessarily roadworthy. He appreciates more than anything else that it has taken many, many years for the BSA to acquire its current state and that to blitz it back to bare metal would be to ruin everything. The motor turns over on the kick-starter and has compression, and remarkably there's a spark at the plug, so add a little oil and some petrol and perhaps it would fire? Erring on the side of caution, he thought it wise to seek advice before going any further and that's where he ran into his first major problem.
Trying to find out just how the lubrication system worked raised the issue of technical information – or rather the paucity of it. Making what he thought would be the obvious right move, Dean joined the BSA Owners' Club, but they could only come up with a copy of the original specification sheet that covered the whole bike (fascinating to read but of little practical value) and a schematic of the lubrication system. It is here that the Model B falls into a void between the old-style, hand-operated oil pump that demanded the rider's constant attention, and the mechanical-type of pump that was soon to become commonplace.
For more content, why don't you like our Facebook page here, or follow us on Instagram for a snippet of our striking pictures!
Engine oil is contained in the front section of the petrol tank. The lubrication system consists of a gravity-fed mechanical pump on the right-hand side of the engine, linked to a variable drip feed with sight glass on the left-hand side of the tank, which, in turn, supplies oil back down to the engine. And for good measure there's an auxiliary hand pump for hard going – all a little confusing for a novice whose experience to date has been riding junior motocross and a Honda CBR600F road bike.
The owners' club online forum urged extreme caution in all respects and a complete mechanical strip and rebuild above all else, which was wise advice under normal circumstances, but tricky without a workshop manual and decades of accumulated oil and grease would have to be cleaned away. Taking the bike to a local motorcycle show, the Calne Bike Meet in Wiltshire, raised a lot of interest, but no practical help. One guy offered Dean almost twice what he had paid for the BSA with the intention of having it restored and another just wanted to buy the straps that secure the fuel tank to the frame top tube because they were originals and the ones on his own Model B were reproductions.
I met Dean just after the show and we discussed his options. His biggest problem, aside from the lack of technical information, was that nobody he had spoken to could understand why he didn't want to clean and restore the bike – the whole point was that he liked the 'barn find' originality, but it would be nice if it ran too. I can understand that – right now his Model B is unique and if he were to restore it, it would be one of many round tank BSAs that may or may not be painted with the right shade of green paint, may or may not have the correct profile reproduction mudguards. He most definitely didn't want to go there. Was there anything I could do?
I made a phone call to the Vintage Motor Cycle Club headquarters in Burton upon Trent (01283 540557) that brought positive news from the library team of Vicky Frost and Peter Bennett. In their vast archive they hold copies of the BSA parts book covering all models for 1925, which visitors are able to access and copy. Failing that, if you have areas that are of particular interest, they will copy them and mail them to you for a charge. Also in the library is a book entitled 'Riding Instructions for the 2.49hp BSA Motor Bicycle' that contains details for adjusting the tappets and timing the magneto, together with various cross sections of the engine, gearbox and clutch. If something isn't clear and you still need help, marque specialists are available by prior arrangement to speak to you person-to-person over the telephone.
Next, avoiding the full-on approach of Dale Walksler at the Wheels Through Time Museum in Maggie Valley, North Carolina (current projects totalling about 25 different makes and models from 1912 to 1950 – already I need to sit down) I drifted through the internet and settled on the Bonhams auction house site where I found a 1926 round tank BSA, replete with toolkit, bill of sale, running-in instructions, EIC magneto instruction book and a document headed 'Details and Hints of the System of Mechanical Lubrication as employed in the BSA 2.49 Motor Bicycle'. The bike had been sold at Stafford seven years ago but the details and a comprehensive collection of photographs, including one of the lubrication information sheets that Dean so desperately needed, were still there.
So what is his next move? Together with the bike and the box of bits came an old-style logbook stamped by the Taxation Department of Shetland Islands Council in Lerwick. It bears the original two letters and three digits registration number, while a 25-year-old V5 registration document accompanies a letter from the Shrewsbury office of the DVLA, regarding the granting of an age-related number. Why this had been necessary is unclear, but at least the documentation carries the correct engine and frame numbers, so Dean won't have to jump the first hurdle that's often encountered when dealing with an old machine – authentication of its existence.As for reviving the motor, it seems unlikely it will miraculously burst into life before the carburettor receives a little love. For starters, the choke slide refuses to budge, which may be down to nothing more than a corroded cable, but it would be as well to ensure none of that 80-year-old patina that adheres to the outside of the machine has worked its way into the delicate jets and air passages of the carb. The Amac model, a forerunner of the more familiar Amal, is straightforward and easy to work on. The same applies to the EIC magneto, manufactured in Birmingham by the Electric Ignition Company before it was absorbed into Lucas. The contact breaker points are inside the cover on the left-hand side and that coil of cable should be connected to a handlebar lever that controls the ignition advance and retard settings. Accurate ignition timing is a boon to easy (and painless) starting.
For more content, why don't you like our Facebook page here, or follow us on Instagram for a snippet of our striking pictures!
For help, advice or spare parts there is a wealth of information and services on the internet or through the trade advertisements in this very magazine. And don't forget the VMCC library. For a seriously good read, treat yourself to an early copy of 'Motor Cycles and How to Manage Them', written by the staff of 'The Motor Cycle' and published by Iliffe & Sons. The 22nd edition, which I picked-up in tatty condition for £10 at the Popham Autojumble this year, covers the period of the BSA Model B and the technical idiosyncrasies of the period comprehensively. Just check out V-block brakes (the BSA has two of them, both on the back wheel) and you'll see what I mean.
So, for the time being, we have to leave the saga of Dean May and his round tank BSA, but even if he is content to keep the machine as it stands for the moment, I'm sure many people in his position would be tempted to push the project along, at least to the point where the bike moves under its own steam. Take heart at the fact that there are many similarities between this and a bike of the late 1940s – just look at an Ariel VB, a BSA M20 or a Norton 16H to appreciate you're not facing a quantum leap backwards in motorcycle engineering technology here.
However, some things are different. On the Model B the cylinder head and barrel are cast in one piece (an archaic manufacturing practice that made de-coking interesting but eliminated the bothersome head gasket) and the valve springs and tappets are exposed. The exhaust valve lifter is missing on Dean's bike but all the handlebar levers are in place awaiting new cables, as is the clutch arm on the gearbox. This is a two-speed machine (a three-speed Deluxe was introduced in 1926), gear selection being made by the long lever on the right-hand side, which is held in place by a spring-loaded ratchet on the end of the gearbox. As I've already mentioned, a primary drive cover came in the box of bits – fitting this would tidy things up and keep oil fling and flailing chains away from the rider – all terribly contrary to the board track racer concept, but then much in life is a compromise.
Close examination of the rear wheel sprocket will reveal that it is beyond redemption (as is the gearbox sprocket and, of course, there is no drive chain). You are now standing on the edge of the Money Pit, so be warned. In the likely event that new sprockets are not available, The Chain Man (01299 403688) in Bewdley, Worcestershire, can re-tooth the old ones for you. You will have noticed that the tyres are in 'for display purposes only' condition and no doubt the tubes are too. The snag here is that suitable tyres are, what in modern parlance is euphemistically referred to as, 'on back order'.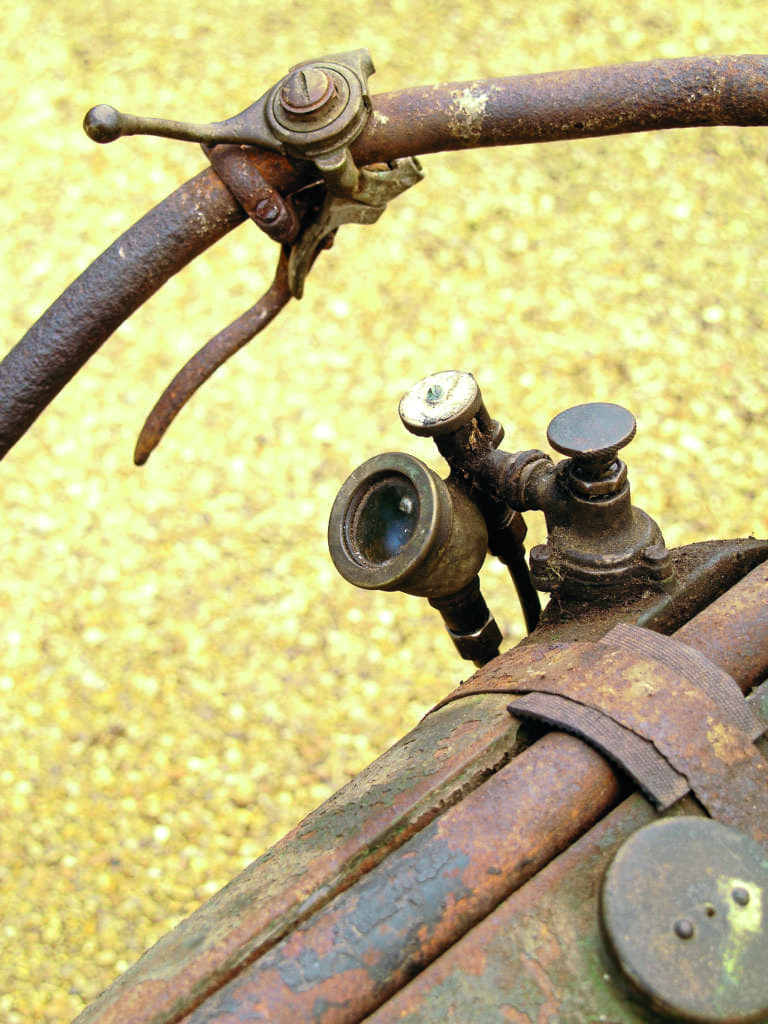 The Vintage Tyre Company, based at the National Motor Museum in Beaulieu, is currently out of stock due to a change of suppliers and don't expect to have 24 x 2¼ tyres back on the shelf until early next year. That gives some breathing space in which to decide whether or not to refurbish the wheels themselves – the VMCC can supply rims and Draganfly Motorcycles (01986 894798) have bearings in all shapes and sizes.
More importantly, having invested so much effort into getting the BSA to go, paying a little attention to ensuring that it stops would seem appropriate. Motorcycle brakes were very much in their infancy in this period and here the learning curve noticeably steepens. BSA may have progressed from belt drive to chain drive with the Model B, but a dummy belt rim has been laced into the right-hand side of the rear wheel into which V-blocks are pressed to slow the plot down.
The law required two independent brakes, so logically there should have been one on the front wheel and one on the back to achieve a degree of balance. In their wisdom, BSA chose to mount both the handlebar lever actuated V-block and the foot pedal actuated V-block alongside the rear wheel. The brake blocks are available from the VMCC but the dummy belt rims, should you require one, are a different matter. The only supplier I could find is Bert Pol Vintage Motorcycles ([email protected]) in The Netherlands who, incidentally, supply wheel rims and (possibly) tyres too.
If anybody has come this far they may at last be able to impress and entertain onlookers as they putt-putt around the car park. They could go mad and invest in a pair of mudguards and a hooter and take to the road, but that would very much depend upon how deep the vintage bug had bitten. If a bike like the BSA Model B takes you way out of your comfort zone, don't worry, you will have learnt something of our motorcycle heritage in the process and there will always be somebody else keen to make something of it. After all, it is often said that we are only ever temporary custodians of these things – just don't breathe a word about abandoned projects!
For more content, why don't you like our Facebook page here, or follow us on Instagram for a snippet of our striking pictures!