Sunbeams! Supercharged record-breaker! Rebuilding a two stroke! This month's CBG has got everything you need to buy, sell, ride and restore your classic bike!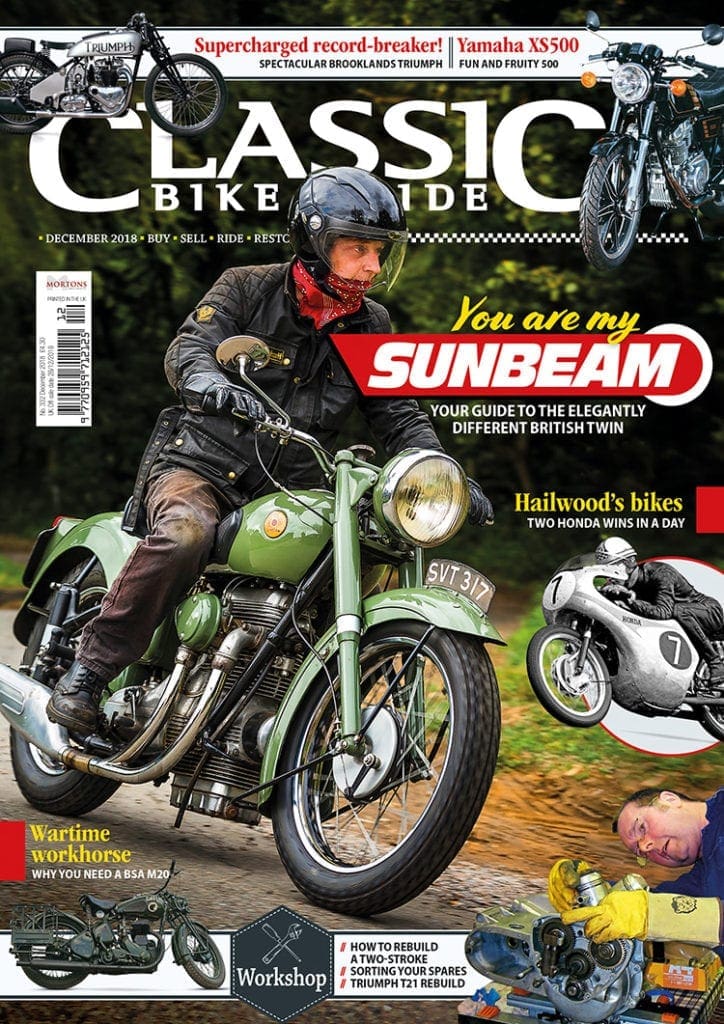 As ever, this month's issue of Classic Bike Guide magazine is packed with rebuild guides, wonders in the workshop, elegant British twins and a fun and fruity 500.
If you'd like to read December's CBG, then you can cut to the chase and download the digital version, order the print magazine, or better yet save those pennies and subscribe to Classic Bike Guide. Here's what to expect this month…
SUPERCHARGED RECORD-BREAKER – TRIUMPH
The intriguing story behind two young men's battle with a speed record at Brooklands!
BSA M20
This side valve slogger just keeps going and can be a great classic buy. We look at what it's like to live with one!
ROYAL ENFIELD 500 CLASSIC
A truly modern classic, does the 500 Classic give you the best of both worlds?
YAMAHA XS500
It was quick, it handled well and looked great. But we look at why Yamaha's XS500 wasn't the biggest seller!
RESTORING A TRIUMPH T21
A couple find a 'barn find'T21 is more work than originally thought
PLUS! National Motorcycle Museum open day; Rachel looks at 1961 and Mike the Bike winning at TT; we look at some great bike products; and we look at Sunbeam S8, which comes with a brilliant poster…
Classic Bike Guide magazine is on sale in UK newsagents and supermarkets, and you can buy the current issue in digital and paper formats here!
You can also buy stacks of back issues of CBG, but it's cheaper to subscribe. Subscribers save money, get their copies delivered to their doorstep, never miss an issue and also gain FREE membership to ClassicBikersClub.com…