We have a cracking BSA Lightning special in the December issue of Classic Bike Guide magazine as we find out if it really is the perfect Café Racer!
Yet again, Classic Bike Guide magazine has everything you need to buy, sell, ride and restore your classic bike!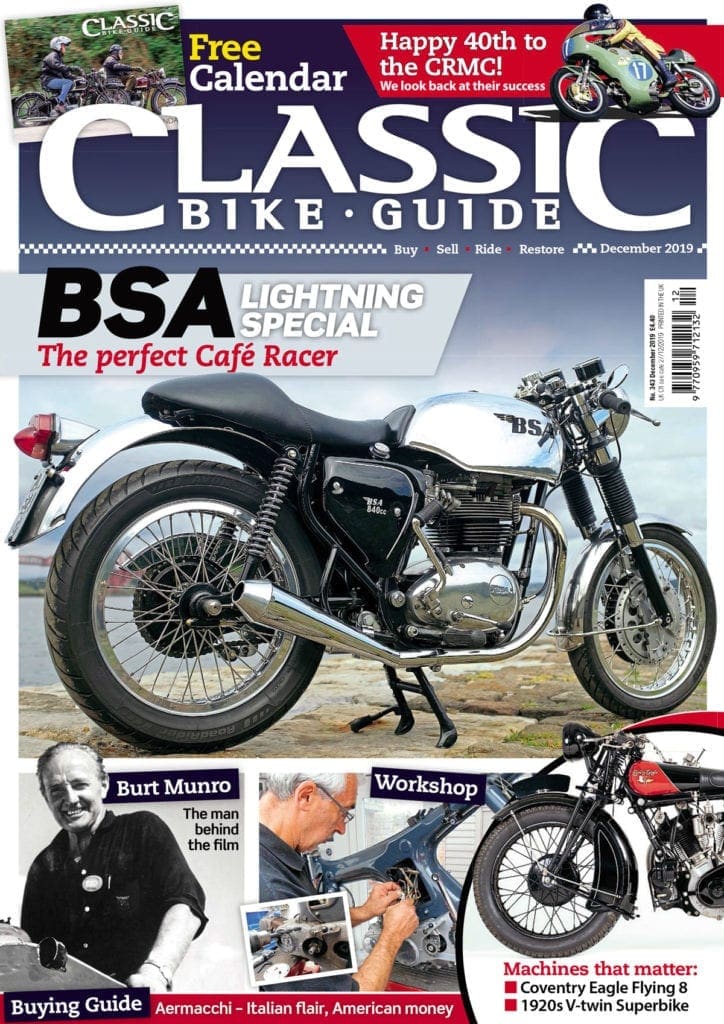 To read the November issue of Classic Bike Guide, then cut to the chase and download the digital version, order the print magazine, or better yet save those pennies and subscribe to Classic Bike Guide. Here's what to expect this month…
A special BSA A65
One couple's idea of the perfect bike – an we're quite jealous!
Burt Munro: Offerings to the God of Speed
We look at the great Burt Munro through the eyes of his family.
Machines that matter
Coventry Eagle Flying 8, the big JAP-engined range-topper from the little-bike specialists.
Editor: Get your thermals out, there's plenty to do
With the last classic shows packed up here in the UK, we've got tinkering time ahead! Few like taking their pride and joy out in the depths of winter; and yet some of the best fun can be had, especially if you like dirt-riding, which we do here.
Here at Classic Bike Guide Towers, the Benelli is getting stripped down for some new crank seals, while the Norton ES2, which has been left unloved on the bench while the weather has been treating us to some good riding, is now in full swing again. Hopefully the engine will go back together next month, and the metalwork straightened, primed and painted.
Neville's Beeza is flying now and could do with an oil change and the TriBSA needs a service; all good dark-evening jobs, but he's been suckin' fuel to get an old Daimler V8 going.
Boy's getting on well with his Oset trials bike, but my old car lost its brakes the other night, so I've been on my back trying to fix that. If you don't like the idea of working on bikes in the winter, try cars…
It can be hard to get out into the shed/ garage/pig sty when it's warm and light inside the house but cold and dark outside. Even your tools don't warm up! So here's what works for me. Plan your jobs so you know what you need in advance. Dress up – multiple thin layers work better than nanny's knitted jumper. Wear a hat. If working at a bench, get an old bit of carpet from the tip to stand on. Pop a radio on to make you feel more at work. Friends help, so see if someone like-minded wants to share a workspace. And drink plenty of tea. Simple!
We've been working on the The Carole Nash Classic Bike Guide Winter Classic, held every year at Newark Showground. For 2020 it's on the weekend of January 11/12 and is a great way to walk off all that excess from Christmas.
This year, World Superbike hero, Pierfranchesco 'Frankie' Chili will be there; which I personally am really excited about, as Frankie was one of my heroes! Meanwhile, the CBG stand will have some great bikes to see, plus we plan to have some experts on hand to help with any restoration issues you may have. So bring your questions!
And talking of help, please keep sending in your old bike-friendly bike shops. We've got a few, but we need more, if we're to encourage more to use their old bikes. So next time you're passing a local bike shop, ask if they'd like to work on something older and if they like the idea, let us know about them at [email protected]
Right, I'm off to chop wood and write to Father Christmas for some cycle thread taps and dies…
Be good, Matt Hull – [email protected]
Classic Bike Guide magazine is on sale in UK newsagents and supermarkets, and you can buy the current issue in digital and paper formats here!
You can also buy stacks of back issues of CBG, but it's cheaper to subscribe. Subscribers save money, get their copies delivered to their doorstep and never miss an issue.