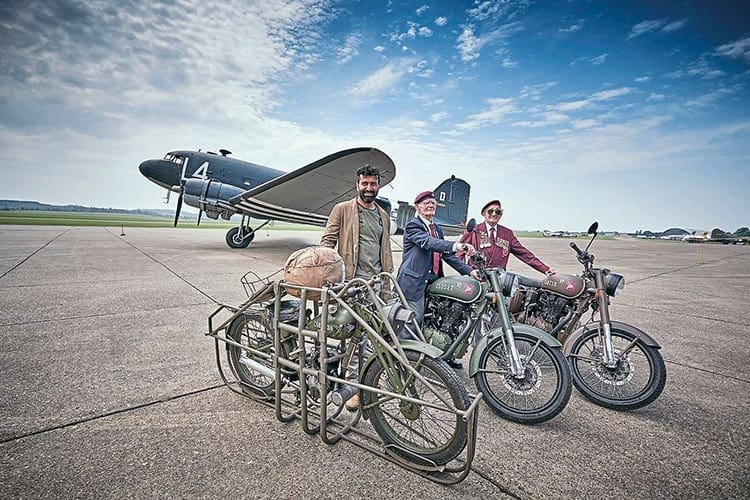 ROYAL ENFIELD HAVE launched a new Pegasus special edition in tribute to Parachute Regiment troops who used a revolutionary lightweight motorcycle at the height of the Second World War.
Royal Enfield made a tough little 125cc motorcycle known to soldiers as the Flying Flea. Officially designated the RE/WD 125, it was designed to be deployed behind enemy lines via parachutes and onboard the Horsa Glider to provide communications support along with acting as a quick mobility platform for the forward units of the Airborne Pegasus Regiment across key operations such as D-Day and Market Garden. This commemorative Enfield Bullet-based model is being manufactured in a limited production run of 1000. Just over 100 of these motorcycles will be sold in the UK.
Adorned with the esteemed Pegasus insignia, the Royal Enfield Classic 500 Pegasus Edition bears testament to the legendary Flying Flea and stories of the men who rode it. This insignia shows the silhouetted image of Bellerophon the warrior, mounted on the winged Pegasus, symbolising a warrior arriving on wings, a befitting representation of the actions of the paratroopers. A period-perfect pair of easy to mount and remove canvas saddlebags add the detail of utility to this tribute. Each of the 1000 individual Classic 500 Pegasus Edition motorcycles carries a unique serial number on the fuel tank, reminiscent of the War Department motorcycles that served during the war.
---
Advert

Enjoy more Classic Bike Guide reading in the monthly magazine. Click here to subscribe.
---