THE Weather's been kind recently, so I hope you've been making the most of it. I've been sneaking out when I can on the B31. It's starting well, running fine and is such a hoot, until the front brake cable snapped chasing a modern CCM. Mental note to self – live within your limits and check your bike regularly…
As many of us do, I get tempted by what I haven't got. The recent Bonhams auction at Stafford had a myriad of fine machines, some of which I could imagine in my possession, listening to the engine while riding and revelling in the admiration from others at a bike meet.
But every time I jump on the Beeza, or am in the workshop (well, I call it a workshop; it's an ex pig sty with a load of unfinished, sad looking bikes and cars with some tools scattered liberally) and look at what I have, I quickly realise how lucky I am.
None are valuable or rare: hell, most aren't even complete. And as for provenance and matching numbers, ha! But they are mine, and fun to ride. When running…
There's something satisfying about making a silk purse from a sow's ear. Take modern, unloved bikes (cheap) then modify to give an older feel. Cheap bikes look cheap, but modify them to give them an older feel and they're no longer just a cheap bike; they're different. Yours.
They're no Trident or Velocette, you may not like the looks, but they give the owners a lot of fun for little money. Have a look on page 100 for some we've put together – not everyone has £10,000 for a bike.
My love of modified bikes saw me rock down to East London for the Bike Shed show this month. It's the seventh year this show has been going, and has become the biggest show for all things two wheels, custom, modified and cool.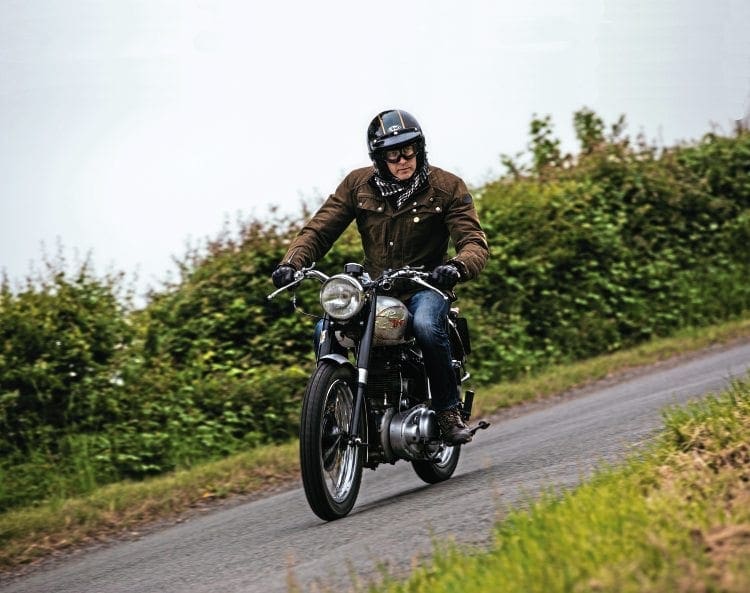 It's not a classic show, but the majority of bikes are styled classically. And they were incredible; every year the bar is raised, both in quality and style. I may not have liked a particular look, but there would generally be some superb detail; gorgeous welding, interesting packaging, creative painting or just something that made you go wow.
You can get away with more in London than other parts of the country, but the organisers pushed the boat out – the listed old warehouse looked incredible, the food stalls were amazing, there were comfortable areas to just sit and chill in a deckchair, you could pop into the cinema and watch 'On any Sunday', the corporate stands didn't overtake the show and it was all laid out so well.
You could easily spend all day there and still miss things. It is a really refreshing show and others could take note.
Personally, the best part of the show was the people that came. I saw younger people than at any other bike show, families, ladies and everyone was getting along, appreciating what they were looking at and getting enthused.
Several I spoke to didn't even own a bike, they just liked the idea and the feel. I've spent most of my life working in motorcycling, trying to promote what we love, and often feel frustrated that nothing ever changes; and we don't help ourselves.
And yet here are a group of bikers that only got together around 10 years ago and are promoting bikes more successfully than anyone in the industry. Thank you.
Back in East Anglia and I was invited to judge at the Brimbo (brimbo.co.uk – brilliant club) classic show. There have been few times I was more nervous! I like honest, used bikes, those a bit dog-eared; but I also appreciate the nut and bolt restorations. So how do you choose?
In the end I decided to pick the bikes that I liked and were within the spirit, but I hope no one was too disappointed – you can't pick 'em all!
Right, sun's still out, so off to the coast for fish and chips.
Be good
Matt Hull
[email protected]