From the archive
A little snowy out there? Look at all the fun they used to have!
Triumph Daytona 500
In 1984, Judith Bonser bought a new Triumph Daytona 500, and still has it. Hang on – 1984?
Subscribe!
Oh go on, no more chasing through the magazines at the supermarket, let us come to you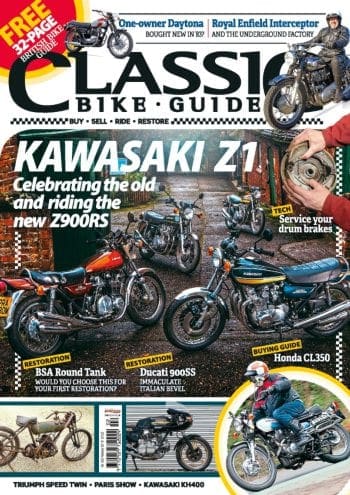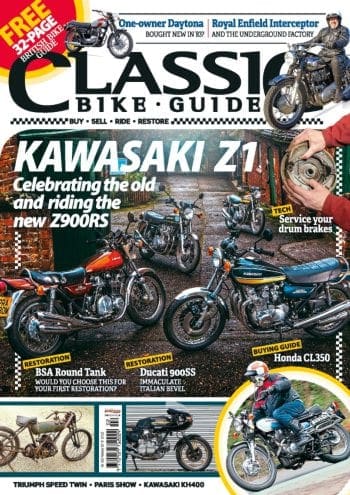 News
We've got new bikes, old bikes, Welsh road racing and so much more. Move over News at Ten!
Salon Moto Légende
We take a look at the Paris classic bike show and find some gems
Buyers guide – Honda CL350
It was never imported over here, but Honda's US market pseudo scrambler makes a great buy now
Buyers guide – Triumph Speed Twin
Charming and dainty, with good acceleration, the Speed Twin even came with a dress to keep you clean
Buyers guide – Kawasaki KH400
From under the shadow of its bigger brother, the KH400 shined with better manners and almost as much performance
Kawasaki Z900RS
Does the new Z900RS make a good modern bike and please lovers of the original Z? We test it to find out
Z1 – The beginning
Is the original always the best? We take a look at the Z1 family and see just why it's so highly regarded
From the Archive
One for the Kawasaki fans – the original marketing poster
Steve Cooper
Our voice from the VJMC asks: Are bikes really a safe investment?
Paul Miles
Paul – what's wrong with you? – you've bought a bike that's not spotless!
Paul D'Orleans
Paul goes right back to the beginning of his riding story
Royal Enfield and the Interceptor
We take a fascinating look at the Interceptor and Royal Enfield at that time. Did you know they had an underground factory?
What's on
It may be cold out there, but we bring you what's happening in the world of old bikes
BSA round tank
Would you dare take a vintage bike as your first restoration? Dean May has – brave man!
Products
Spend all that Christmas money!
Ducati 900SS
A truly magnificent restoration of a magnificent motorcycle
In the workshop – Service your brake drums
It's dirty but easy to make sure you can stop
Letters
What have you been up to over Christmas? Tell us all!
Reader Adverts
How much? Do I really need that kidney?
Frank Westworth
Oh no, someone's told Frank about custom bikes…
Next issue of CBG on sale February 28 – order your copy now!

Enjoy more Classic Bike Guide reading in the monthly magazine.
Click here
to subscribe.