Meet the Triumph twin that time forgot
WORDS & PHOTOS BY Richard Jones
IN 1938 TRIUMPH revealed the engine that would dominate the British motorcycle industry for the next 40 or more years – Edward Turner's parallel twin which powered the 5T Speed Twin. It brought the marque critical acclaim and commercial success.
After the Second World War Triumph was anxious to renew the success it had enjoyed prior to hostilities, and the firm now had the benefit of a new factory at Meriden after the Luftwaffe had destroyed the previous building in Coventry.
In order to fund this resurgence, Jack Sangster, who owned Triumph, sold Ariel Motors and New Imperial to BSA, generating proceeds of £376,000. So in 1945, even before Allied victory and VE Day, Edward Turner announced the new Triumph civilian range.
All the postwar bikes used twin cylinder engines and were equipped with the company's new telescopic forks. A 350cc vertical twin, the 3T De Luxe, joined the two 500cc models.
The 3T had been ready to roll before the outbreak of war and shared similar styling to its larger siblings. It was intended for low-cost production as a 'starter' twin for riders who aspired to the 5T Speed Twin or Tiger 100.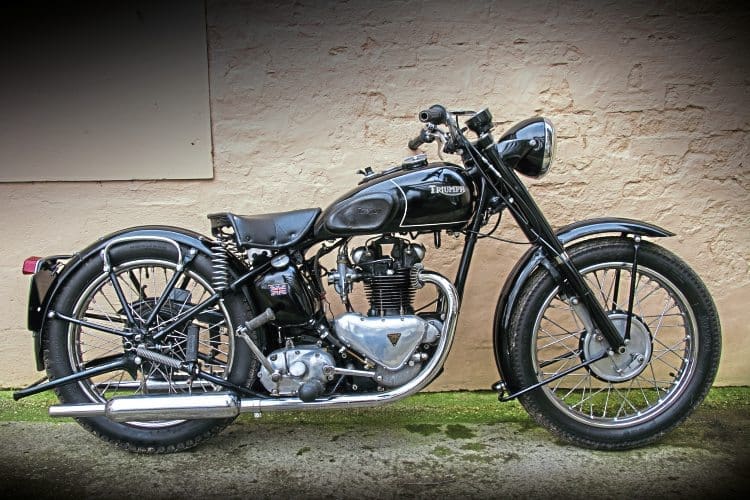 But the 3T wasn't simply a smaller version of the 5T, and many engine and chassis components differed between the models.
The 349cc ohv engine employed a smaller bore and stroke (55mm x 73.4mm) than the big twins, and 7:1 pistons (lowered to 6.3:1 for 1951).
The crankshaft was of a simpler design than the 5T, utilising clamped crankpins and one-piece conrods. Crucially, and unlike the 500cc engine, these conrods were formed of high tensile alloy steel and not forged aluminium – Turner opted for the aluminium rod on the bigger twins to avoid the vibration inherent at higher revs with the 180° firing pattern.
The 3T's less substantial bottom end assembly proved sufficient for its modest power output and relaxed, long-stroke delivery.
At the top end, the iron cylinder head and rocker boxes were cast in one piece with a positive oil feed to the valves from the dry sump lubrication system.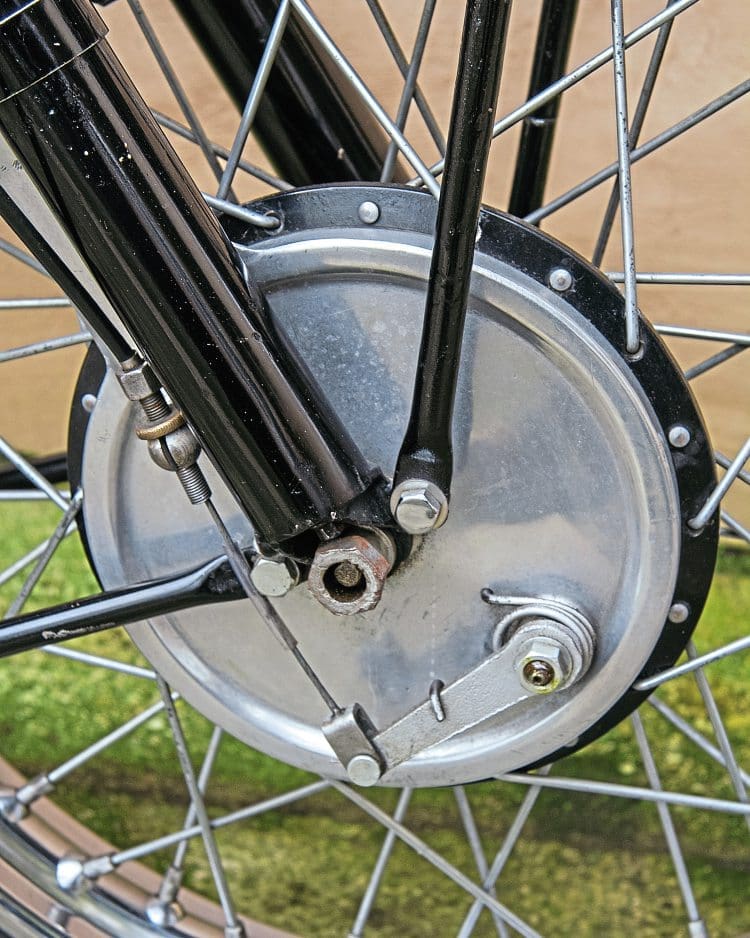 Long through-studs with exposed bolts secured the block and cylinder head – different again to the big twins, and this arrangement was changed for 1949.
Power was fed by a primary chain running in Triumph's polished, cast aluminium oil bath case to a four-speed gearbox, featuring a large diameter multi-plate clutch, to a 'positively lubricated' drive chain.
The Amal 275 carb was fed from a 3½ gallon fuel tank. The 6V electrical system used a separate, gear-driven dynamo and a BT-H auto-advance magneto.
The instrument panel was set into the petrol tank and incorporated an oil pressure gauge, an ammeter and an optional inspection light.
The 3T's steel alloy cradle frame was closely related to that of the prewar single-cylinder models, adapted for Triumph's patented new tele forks.
While the single downtube frame was never over-specified for the heavy twins, it was perfectly suited to the 3T's performance parameters.
The rear end was rigid, although Triumph's new and ultimately infamous sprung rear hub was available as an option.
This latter innovation provided two inches of vertical wheel travel at the cost of additional pounds sterling and pounds in weight. Few 3T customers would have chosen to spend extra on the sprung hub – any additional budget would more likely have gone towards buying a bigger bike…
The 19in wheels were fitted with 7in drum brakes. Other equipment comprised a large capacity toolbox that included a grease gun, special Triumph design knee grips, an adjustable sprung saddle (when a dualseat was made available for the 500s, it didn't fit the 350), and low level exhaust pipes unique to this model.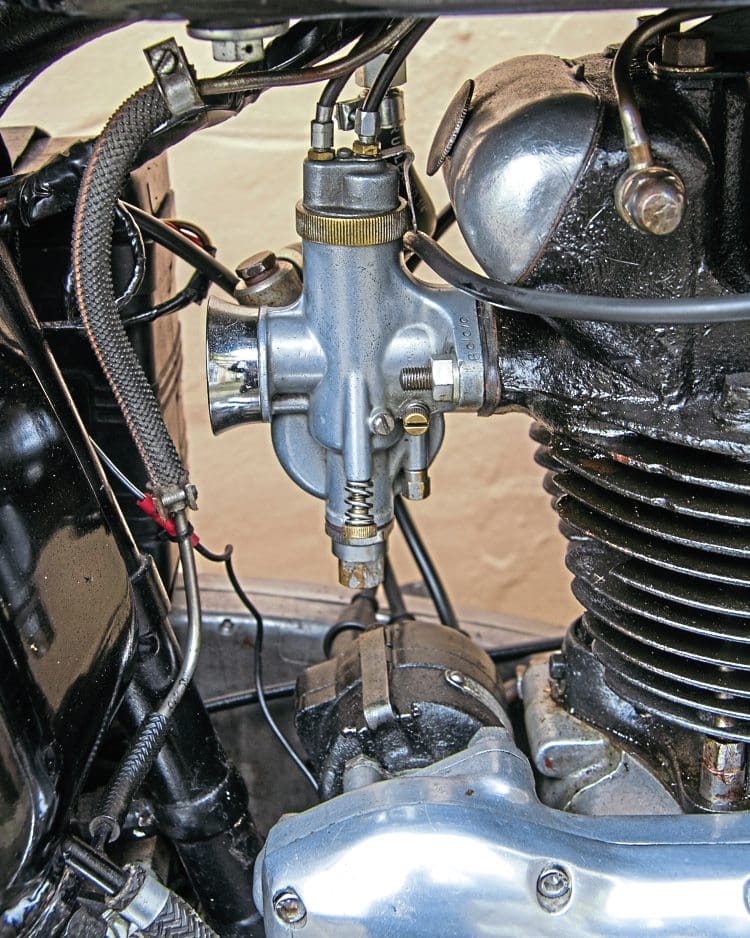 The 3T's finish was of the school of Henry Ford – any colour you want provided it's black – highlighted by ivory pin-striping on the tank, mudguards and wheel rims and 'the highest quality chromium' platework.
In use, one tester commented that the 3T "fulfils almost every requirement of the tourist and, in addition, it supplies a performance worthy of a sports specification".
Although its riding position was too cramped for tall riders, the 3T created "an outstanding impression of a performance satisfying in the extreme, the more so because it was usable".
That usable performance came from the combination of 19bhp in 1947 (which fell to 17bhp in 1951) and a 335lb dry weight.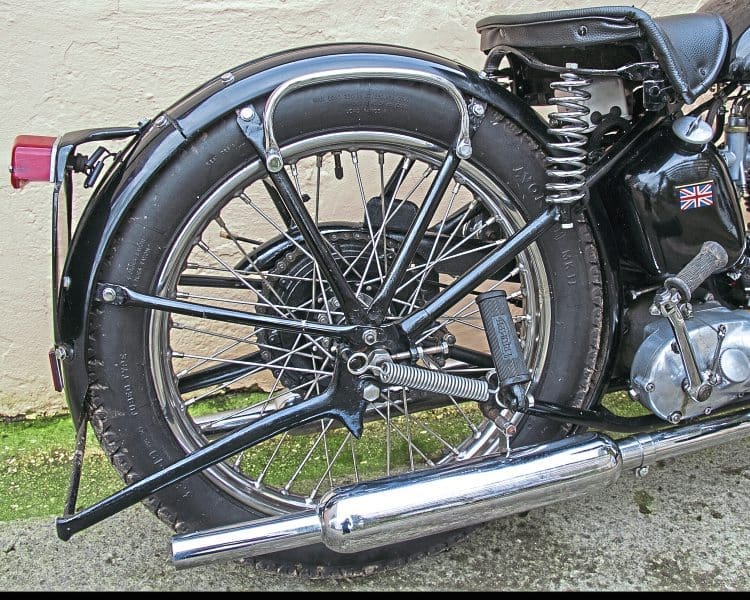 Contrast this with the 5T, which produced 32 horsepower and weighed only 30lb more. You get the sense that the 3T was not the fastest thing on the road.
Yet when timed in 1946, a 3T reached 74mph, so 55-60mph cruising would have been feasible.
At those speeds, and with the 3T's minimal mass, the fabled Triumph handling gremlins wouldn't have been too significant.
On the more powerful, heavier twins the slim, good-looking forks tended to flex and eventually leak. Combined with a worn sprung-hub at the other end they could make riding life rather too eventful.
Even so, the 500s were a roaring success and were soon joined by a 650.
By contrast, the 3T never sold in the same numbers, despite being tweaked a couple of times, and its last year in the lists was 1951.
Rumour has it that during its production life, only three 3Ts were imported by TriCor to Triumph's key American market.
The USA wanted bigger bikes, and the 3T's unusual specification made it tricky to build alongside the other twins. Even its spark plugs were different: Champion, instead of Lodge.
All of this means that today the 3T is a relatively rare Triumph with much to recommend it to the classic rider. It's a lightweight bike with well-matched engine and chassis performance, easy to start and straightforward to maintain.
As Roy Bacon explained: "Its smoothly delivered, if limited, power gave it a charm to those whose riding style matched it."
Parts supply is an altogether different matter, because so many of its components can't simply be swapped from other Triumph twins.
Finding an older restoration in good working order – rather than a basket case, missing parts – would seem to be sensible.
PRICE GUIDE
£3800 to £6000
(Lots more in America. $18k at auction this year)
FAULTS & FOIBLES
Do not confuse the pre-unit (separate gearbox) 3T with the unit construction 3TA and Tiger 90 350s (1957 onwards). Be wary of brand-new rebuilds as you don't know what components have been used: try to find one which is in use or at least completely run in (1000 miles or more since rebuild)
ALSO CONSIDER
Later unit 350 Triumph twins (less ££, similar performance, better spares supply). Norton Navigator (similar price, better steering and stopping). Triumph Tiger 80 (prewar single with girder forks). Triumph Tiger 85 (you'll be lucky: they didn't go into production)
SPECIALISTS
Ace Classics:
aceclassics.co.uk
TriSupply:
trisupply.co.uk
OWNERS' CLUB
Triumph Owners' MCC:
tomcc.org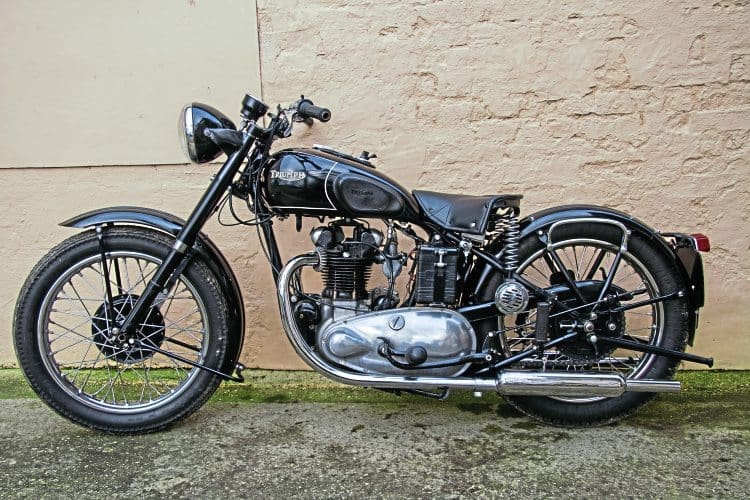 MANUFACTURED: 1946 to 1951 ENGINE: Air-cooled ohv parallel twin BORE / STROKE: 55mm x 73mm CAPACITY: 349cc COMPRESSION: 7:1 POWER: 19bhp @ 6500rpm CARBURETTOR: Amal type 275 TRANSMISSION: four-speed to chain final drive FRONT SUSPENSION: Hydraulically damped tele forks REAR SUSPENSION: Rigid (sprung hub optional) TYRES: 19 x 3.25 BRAKES: 7-inch drums SEAT HEIGHT: 28 inches WHEELBASE: 53 inches WEIGHT: 325lb dry TOP SPEED: 74mph
Read more News and Features online at www.classicbikeguide.com and in the latest issue of Classic Bike Guide – on sale now!