There was nothing much wrong with BMW's baby boxer. There was just too much of what there was
PHOTOS BY Rowena Hoseason
IT'S NOT A new problem. You introduce a 'modular' range of bikes based around a standardised engine and chassis.
This package is optimised for the flagship which steers and stops superlatively and benefits from an optimal power-to-weight ratio. Inevitably, then, the entry-level, lower-powered, smaller capacity machine – which must motivate much the same mass as its supersports sibling – suffers by comparison.
Think Norton Model 50 compared with Dominator 99 and you're on the right lines.
That's the R45 in a nutshell. It and the R65, introduced in 1978, form a model family all of their own, separate and distinct from the bigger boxers.
When the R80 and R100 were introduced, the smaller twins arrived to fill the middleweight gap vacated by the old R60.
The R65 was intended to offer a smaller sporting ride suitable for BMW's traditional customers, while the R45 was more of an economy model.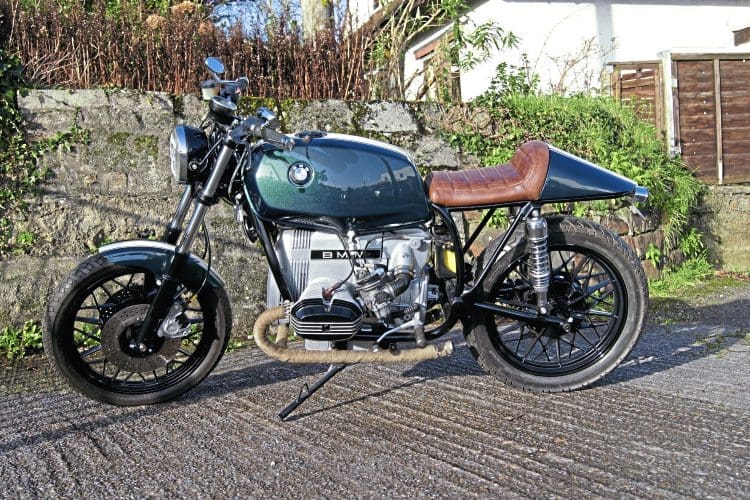 The home-market version ran 8.2:1 compression with a pair of 26mm Bing carbs and could cope with unleaded petrol. While the R65 gained bigger inlet valves to push its power output to 50bhp, the R45 had to make do with just 27bhp.
The export model R45 fared a little better, running 9.2:1 with 28mm carbs, which gave it 35bhp. But it still weighed around 450lb when fully fuelled.
The sleeved-down to 473cc twin did offer a genuinely sophisticated package for its time and capacity.
Any rider accustomed to British 500 parallel twins couldn't fail to be impressed by the R45's shaft drive, five-speed gearbox, smooth power delivery, audible indicators, huge fuel tank, 60mpg touring economy, electric start, cast wheels and disc brake. (Okay, the disc brake wasn't that impressive. More of that, later.)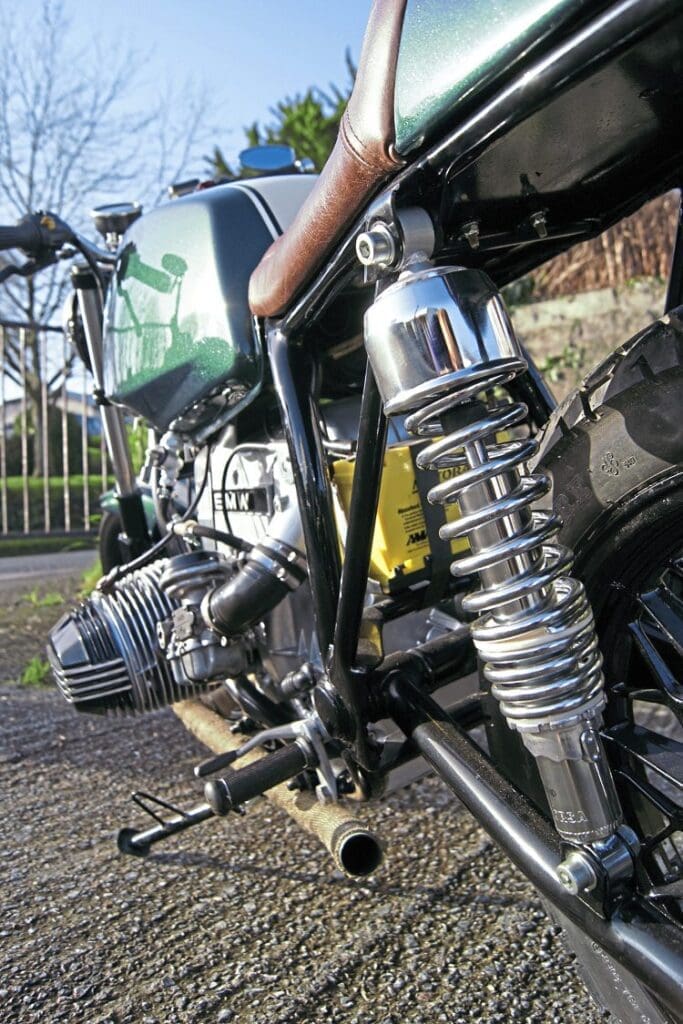 The export models could achieve 95mph, given a while to get there. The short-stroke baby boxers were narrower than other BMWs so had better cornering clearance.
They used smaller wheels which speeded up the steering and lowered the saddle height and centre of mass.
The R45 and 65 employed a shorter swinging arm than those fitted to the /7 BMs which, combined with revised geometry up front, gave the smaller boxers a wheelbase which was three inches shorter than that of the R80 and R100.
They were immediately more compact and wieldy than their chunky cousins.
However, the R45's engine struggled to cope with the R65's chassis. Even in 'full power' 35bhp mode, the R45 needs to be revved in a most un-BMW-like manner to make reasonable progress.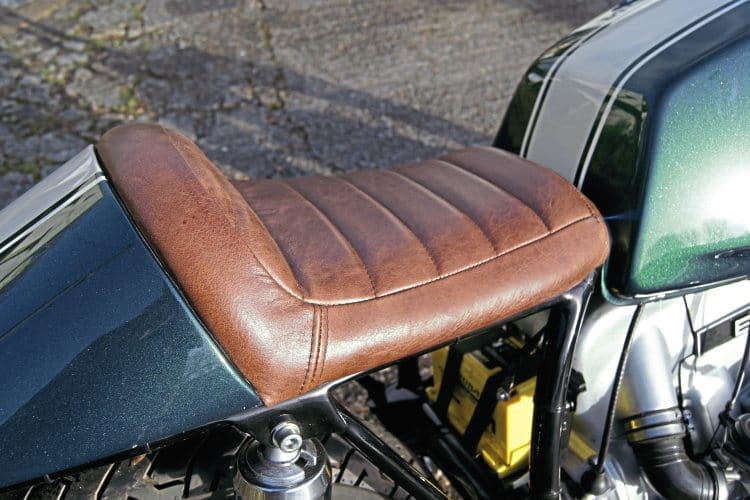 Once over 3000rpm it could be wound up to autobahn cruising speeds, generating very little vibration on a day-long haul.
It remained smoothly reliable during an absurdly long service life – but the R65 was the model which inspired enthusiasm.
The R45 was considered 'pleasant, but expensive'. By today's standards, its looks are a touch underwhelming, too.
All of which explains why a weary R45 makes a great basis for a custom classic.
The bobber seen here was built by the team at North Cornwall Motorcycles, who've given a 1980 example a new lease of glittering life.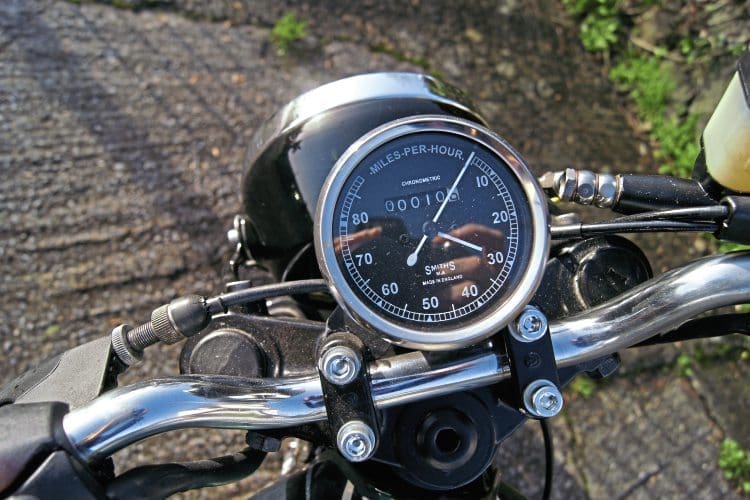 The rear end has been adjusted to suit a solo rider, with a hand-made cowling and stitched leather single saddle. Wheels, shaft, fork legs and cylinder heads have been refinished in black with the fins on the rocker boxes highlighted to show off the original alloy.
Inside the refinished engine cases, the motor's been completely rebuilt.
This R45 also benefits from second-generation ATE callipers on BMW's own dual-disc conversion – a useful improvement over the R45's original single disc.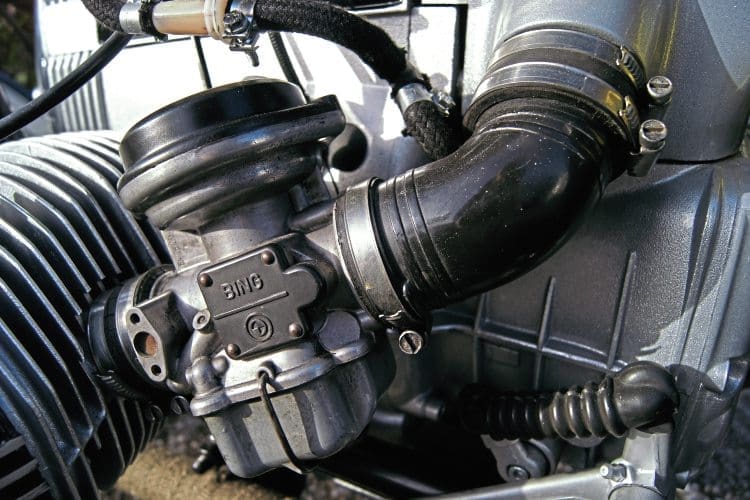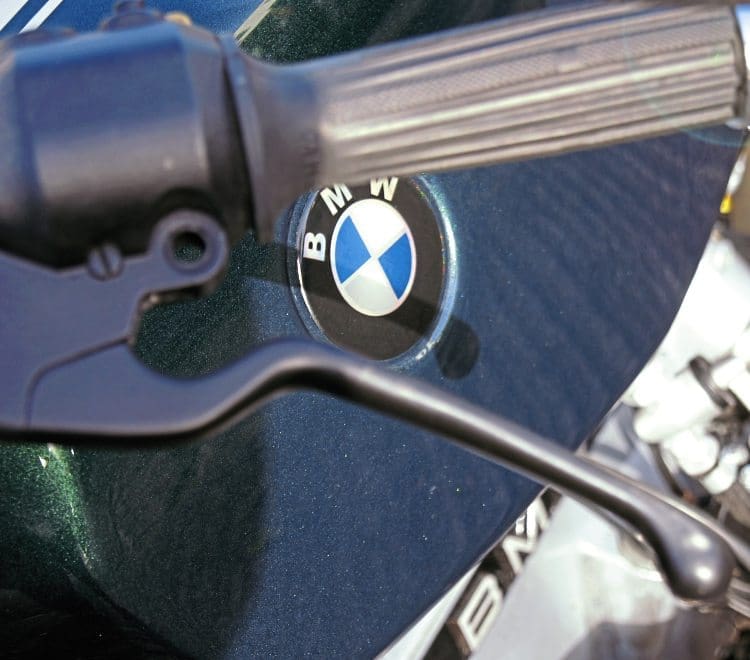 In the same way that a standard R45 didn't accelerate too rapidly, they weren't exactly famed for stopping like lightning, either.
If you grip the brake lever very hard on dry roads then the single perforated disc can just about lock the front wheel, but even when new its performance would fade under repeated use.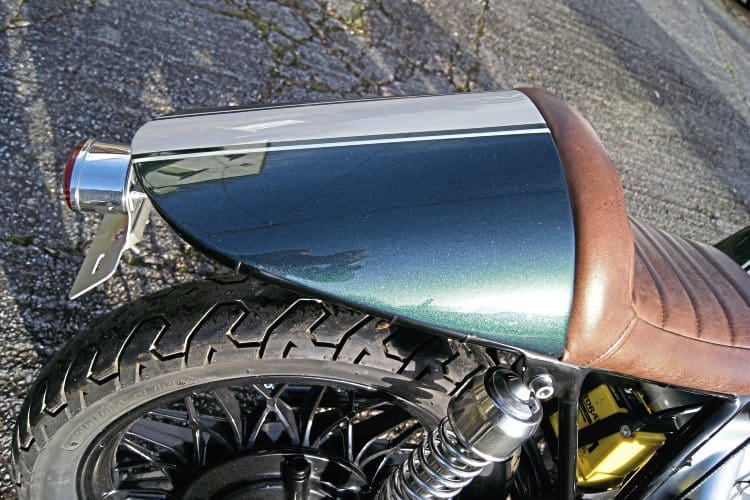 BMW's caddy plating tends to corrode around the edges of the disc and its holes, too, which doesn't improve braking efficiency.
The NCM bobber has been lightened by losing heavyweight kit including the mainstand, indicators, substantial silencers and full-size mudguards.
The plastic instrument binnacle is gone, replaced by a single Smiths chronometric speedo. The fusebox has been relocated from its central position and the sidepanels removed to expose the belly of the beast.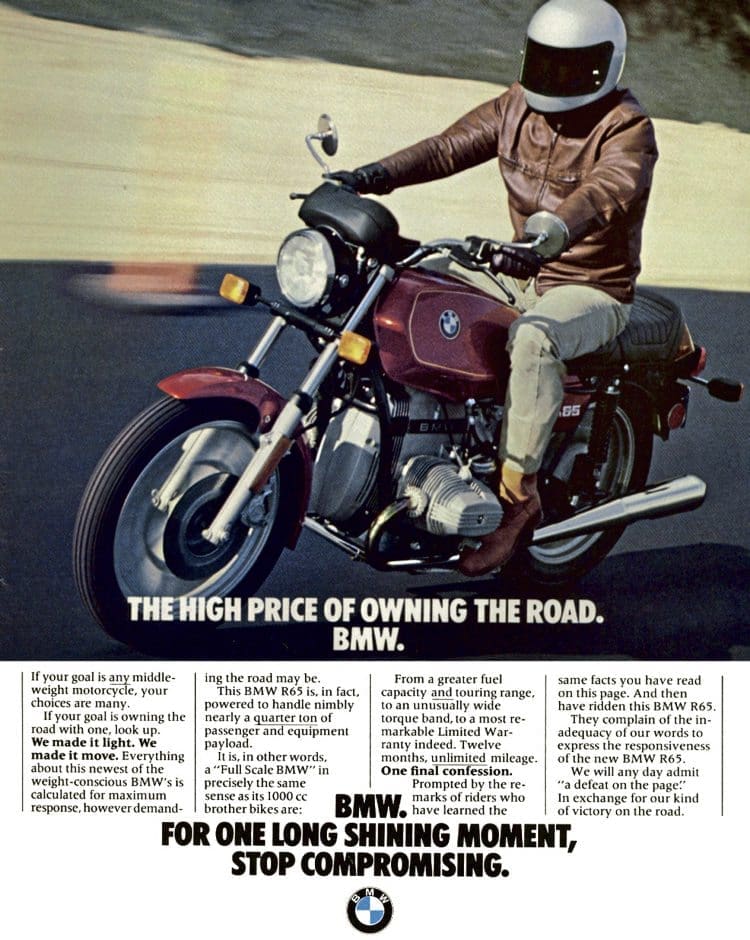 New shocks have been fitted (black springs might've suited it better), and the whole lot topped off with deeply dazzling, emerald green metalflake paintwork.
If you're thinking of doing something similar, then you'll find a donor bike which needs some TLC to bring it back to life for around a grand.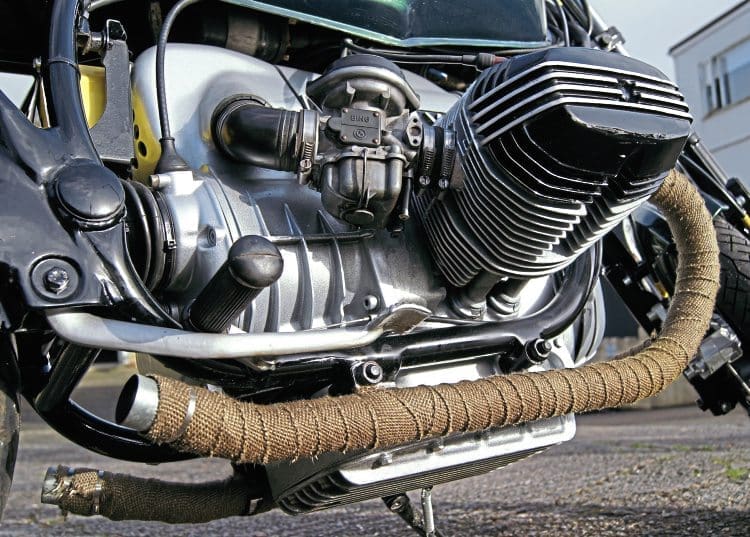 The very earliest R45 and 65s were known to drop a valve, but any example which has clocked up reasonable mileage should be safe.
Speedos can fail and, like the frame, forks and wheels, they're particular to the 45/65 and not shared with other boxers.
The gearbox is common to the R-range however, and the forks and tanks were used on the later R80ST.
The front brake master cylinder loses its ability to seal properly with age, but you can fit the later, square-type replacement – and, of course, specialist expertise and spares supply for all airheads is generally excellent.
Or you could just hit the ads, where you'll find a wide variety of airhead brats, bobbers, trackers and café racers, with all the hard work done for you.
Each one of them is a slightly different interpretation on the 'less is more' theme. It's a cliché, cos it's true…
PRICE GUIDE
£900 to £3000
(standard R45)
ALSO CONSIDER
Moto Guzzi V50 (more sprightly, less reliable). R65 (similar prices, oodles more performance)
SPECIALISTS / INFO
Motorworks.co.uk
bmbikes.co.uk
James Sherlock
MotoBins
OWNERS' CLUB
BMW Airhead Fellowship:
theairhead.co.uk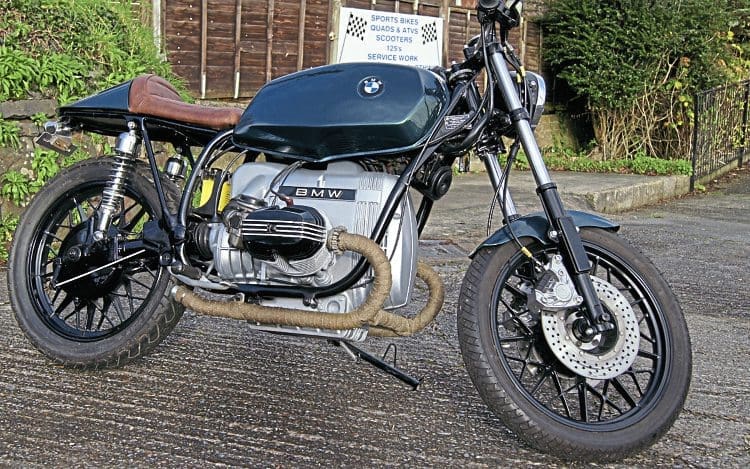 MANUFACTURED: 1978 to 1982 ENGINE: Air-cooled horizontally opposed ohv twin BORE / STROKE: 70mm x 61.5mm CAPACITY: 473cc COMPRESSION: 9.2:1 MAX POWER: 35bhp @ 7250rpm CARBURETTOR: 2x Bing 28mm IGNITION: Bosch electronic TRANSMISSION: 5-speed to shaft drive FRONT SUSPENSION: Hydraulic tele forks REAR SUSPENSION: Swinging arm, twin shocks FRONT BRAKE: 260mm disc REAR BRAKE: 200mm drum FRONT TYRE: 3.25 x 18 REAR TYRE: 4.00 x 18 WHEELBASE: 1390mm SEAT HEIGHT: 770mm DRY WEIGHT: 185kg FUEL CAPACITY: 4.8 gallons TOP SPEED: 95mph
Read more News and Features online at www.classicbikeguide.com and in the latest issue of Classic Bike Guide – on sale now!