WORDS & PHOTOS BY Nigel Shuttleworth
THE CAROLE NASH CBG Winter Classic kicked off the new year at the Newark Showground in bright sunshine, with lots to see and do and with a large number of visitors.
In fact attendance was well up year-on-year, so perhaps it's a good omen for the rest of the classic biking calendar – or it could just be that after a fortnight of eating, drinking and listening to the rain on the roof, it's a good way to spend a few hours looking at nice motorcycles.
A lot of shows are themed nowadays.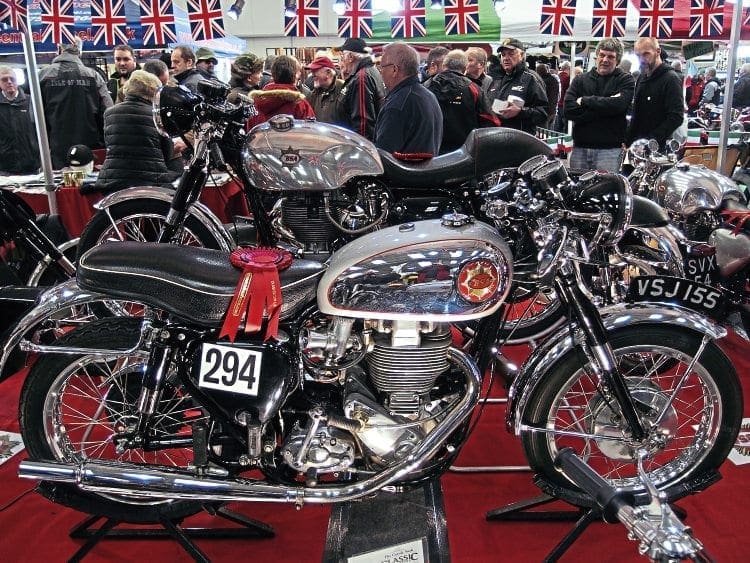 The Classic Dirt Bike Show and the OBM Eurojumble both do what they say on the press release.
The Classic Motorcycle Mechanics Show at Stafford in October concentrates on Japanese motorcycles, but Newark's 'USP' is to give over two of the four exhibition halls to 'scooter world' and all things scootering.
The bike half offered something for everyone: pre- and postwar, technical excellence, Japanese, restored and unrestored, mud-pluggers and track racers and sprinters and motorcycles representing a baker's dozen other classes.
From this eclectic mix of machinery – which included Brough Superiors and Vincents, through all the DBD variants, the 1980s strokers to the half-finished Bantam D1 project; road bikes, sprint bikes, race bikes, trail bikes, scramblers and modern – we've selected our own eclectic collection.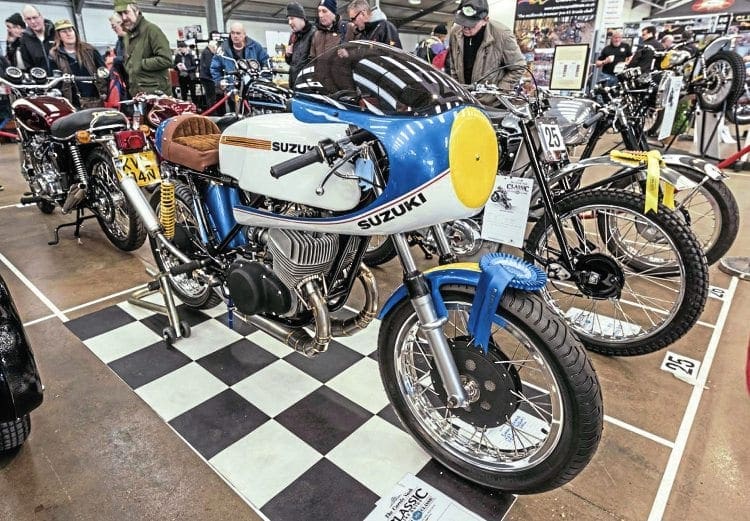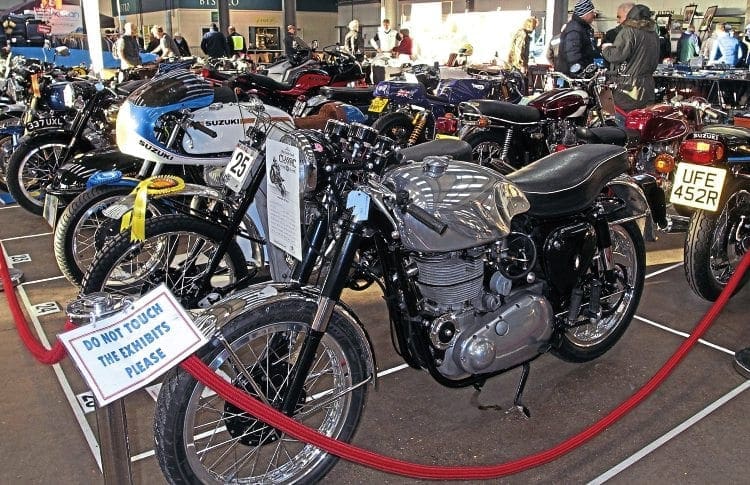 All of the bikes we've highlighted are road legal 'users' rather than concours contenders, although a couple of them did win prizes.
Some are old, some even older, but all are affordable and within reach of anyone with a shed, a modicum of technical knowledge and a lot of enthusiasm.
The various trade stalls offered every conceivable accessory which you might ever need… plus some you probably don't.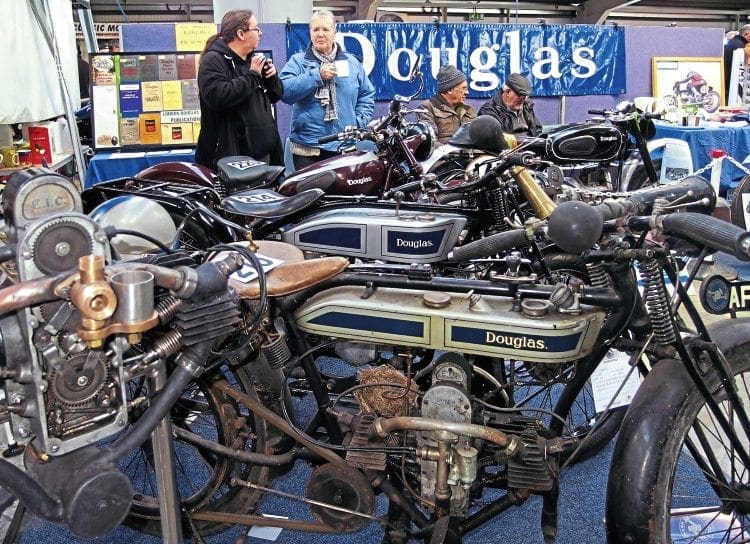 I'm not sure how many people go to a bike show looking to buy a non-stick frying pan or a cast concrete Buddha, but those items were on offer should the impulse overcome you.
Newark is a great show for meeting old friends, making new ones and getting the classic biking year under way.
RELIABEAM 850
A WHAT? It's a bored-out Reliant engine with an Allard chain-gang mower cylinder head in a Sunbeam S8 frame, since you asked.
When DavidW bought this wonderful example of shed engineering (that's not in any way meant to be pejorative, merely a description of where the very best things happen to motorcycles), the Sunbeam S8 frame had already been adapted to take a Reliant Robin engine by the previous owner, but it needed a lot of reworking.
David has taken it several steps forward, turning the Reliabeam into a proper tourer.
The engine has been bored to a full 850cc (hence the Mini logo on the bars), and David fitted the motor mower head at the same time to lower the compression, thereby enabling first kick starting and increased tractability.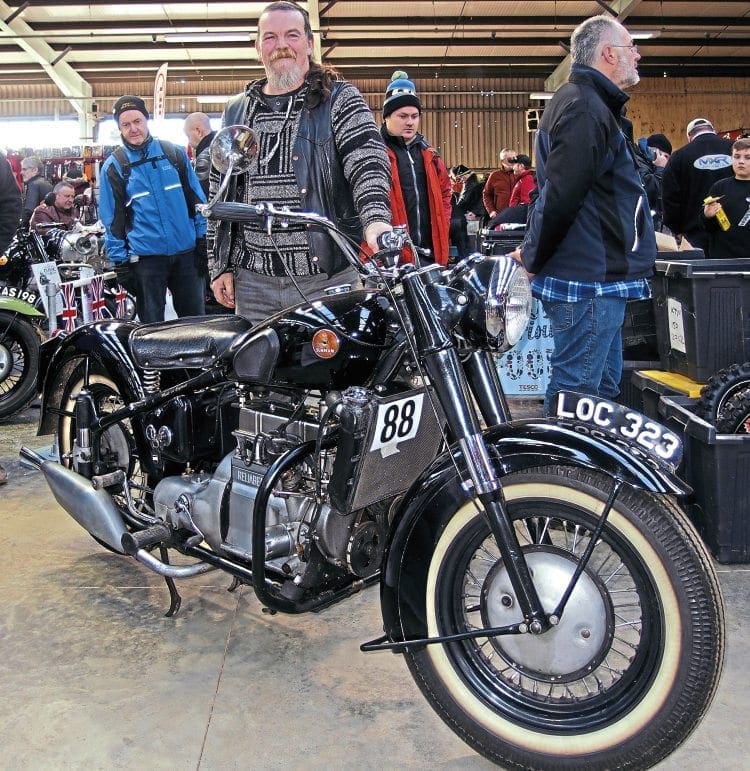 The standard Sunbeam produces 25bhp and the 850 Reliant outputs around 40bhp, but with S8 brakes more power is not a priority. However, even with water-cooling the Reliant engine is lighter than the original air-cooled 500 twin, so the brakes have less work to do now.
David fabricated a new engine plate so that the engine drives straight into the Sunbeam gearbox, although he did have to modify the clutch for the marriage to be consummated.
The seamless tube crashbars are an integral part of the frame, adding strength to the front end, and the rubber engine mounts were retained to remove any residual vibration from the already smooth four-cylinder unit. No off-the-shelf motorcycle rad was sufficiently large or efficient, so again the ubiquitous Mini supplied the necessary item – mounted on its side with the filler cap relocated.
The SU carb and manifold are Reliant but the air cleaner is K&N, housed in an H-D filter with a Mini backplate. As David says: "The bike is basically made of bits and pieces," and the carb float bowl is again from a… Mini (what else?).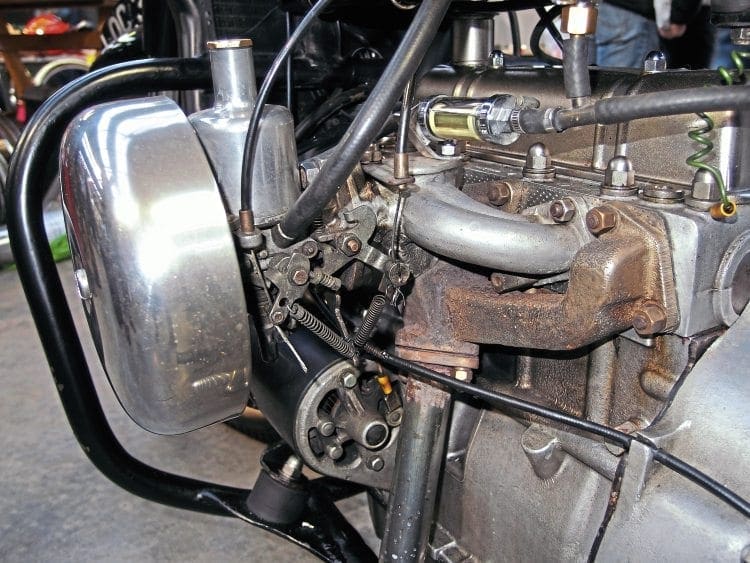 Electrics are 12V and, adhering to the bitsa philosophy, the Lucas Altette is made up from three donor horns. The headlight is a very powerful Vanden Plas sealed beam unit. David has also worked in several nice touches, such as the rare tank badges with the white enamel Sunbeam lettering.
The Reliabeam hasn't done a huge mileage since it was finished but it is proving to be the ultimate touring motorcycle. Its first long distance test will be with the Sunbeam Club's visit to Germany this summer. No doubt it will be the centre of attention wherever they stop as well as an ambassador for good old-fashioned English engineering.
SPEEDING BULLET
"YOU DON'T HAVE to spend a lot of money…" said Trevor Duckworth, chief timekeeper for the UK Timing Association, as he caught me inspecting the record-breaking 1989 Royal Enfield Bullet on the Straightliners stand.
"It belongs to Tom Armitage, builder of the world's fastest Postman Pat van," he continued.
"Apart from a few bits and bats from Hitchcocks, such as the high compression piston, high lift cams and 43mm exhaust valve, that's all he's done on the Bullet."
At some stage in its previous life, someone fitted some Woodsman parts including the rear mudguard, the high-level exhaust and megaphone silencer, complete with fashionista wrap which Tom saw no reason to change.
The Bullet came into Tom's hands via his dad, who took it in part payment for some engineering work. It sat in the garden under a tarp for three years until Trevor persuaded Tom to bring a bike as well as the Postman Pat van to the Elvington sprint weekend last year.
There was no time to acquire another bike so the Bullet was brought in from the cold, got a quick clean up and service, the racey bits were slotted in and it was wheeled onto the trailer.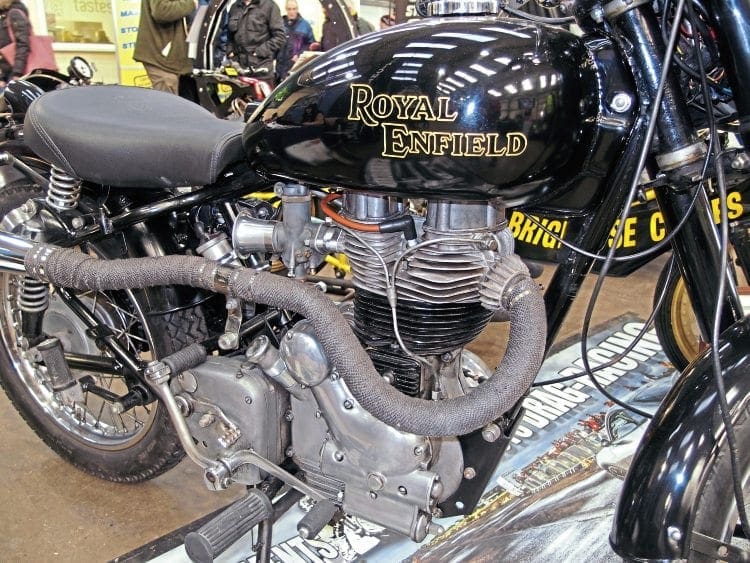 With standard Albion-type gearbox, centre and side stands in place, pillion footrests and the standard carb, Tom went through the traps on his first run at 95mph and then set the speed records for the Production Pushrod 500cc km flying start and standing start mile.
Tom's Royal Enfield Bullet ticks all the boxes: cheap to buy, simple to work on, qualifies under the VMCC 25 year old classic rule – let's go racing!
SUZUKI SB125 COLLEDA
WHEN HEIDI AND partner Andy came across this little jewel of a bike some 10 years ago, it certainly wasn't in the condition you see here. In fact it was Rough, with a capital R.
It was a barn-find, in with a load of Bridgestones which a friend of theirs had brought into the UK. The Suzuki was not only very, very rusty but it had also fallen over in the container and suffered major damage, including a smashed headlight and badly bent forks.
It got worse. The pistons in the little two-stroke were completely seized in the bores and there was a mouse nesting in the airbox!
The engine had obviously been immersed in water at some stage – evidenced by tide marks in the crankcases. Andy had to put the barrels in a press to get the pistons out, and the crank was sent away to be skimmed and rebuilt.
Although the tinware was in a very rusty condition, it is so over-engineered and so thick that, with help from Andy's father Allan (a skilled metal worker and panel beater), they didn't need to replace anything.
Allan took it all back to bare metal, leading and filling where necessary, and prepared it for painting by Paintwork Express of Wisbech. A friend, now aged in his 80s, laced the wheels with new rims and spokes and – eventually – Heidi got the Suzuki together again as the pieces came back to her.
The Colleda model was never imported into the UK, but it did sell well in its home market and south-east Asia, even getting to Australia.
The four-speed 125 two-stroke twin with electric start and semi-enclosed body work must have seemed so à la mode in 1959 when the Brits were producing Bantams based on a 1920s DKW engine design.
Heidi had no idea what her Colleda is worth because she's never even heard of another one here in the UK. As something of a classic Japanese specialist – she and Andy own another 30 Suzis – she should know a good machine when she sees it.
AERMACCHI SPRINT
ROBERT BOUGHT HIS 350cc Sprint 20 years ago and promptly ran the big end. Although the 1972 Aermacchi (badged as a Harley-Davidson for commercial reasons which made sense back then) was already well into middle age, that's still surprising.
Despite faults such as vibration at high revs, this engine has a reputation for being unburstable.
The knocking sound from down below started as Robert joined the A1 on a 90 mile trip to the Harley Rally. He decided to press on, and things continued to get worse and worse all the way there.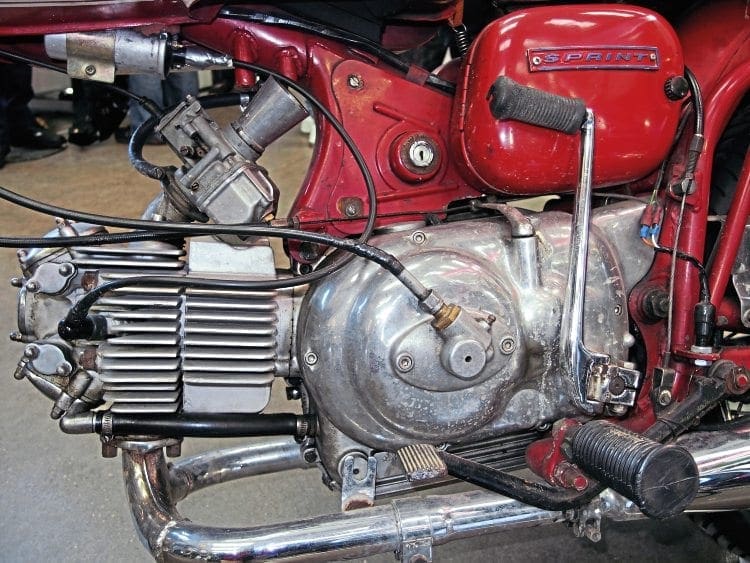 On his return home, Robert was faced with the inevitable major rebuild. He kept it fairly standard, reconditioning the 344cc 25bhp engine with just one concession to bling: chromed nuts on the rockerbox.
There was nothing wrong with the four-speed box or drive train so they were left untouched, as was the running gear and brakes – the 2ls front brake was always a strong feature of the little Aermacchi.
Ten years on and Robert met Clive Brightman, well known in classic racing circles, and bought enough spares from him to make up another five Aermacchis.
The Sprint was promptly rebuilt once again, this time with a five-speed gearbox and a complete repaint. It's showing its age now as Robert still uses the bike as his daily commute. But as he says; "It just keeps running and running."
RUDGE ULSTER
THIS LOVELY UNRESTORED 1939 500 was bought by owner Steve eight years ago, and all that's been done since then has been normal maintenance and servicing.
It was one of the last batch of nine Ulsters produced by the factory before owner EMI went over to war production, manufacturing radar equipment for the military.
Rudge experimented with both alloy and bronze for the four-valve head during the model run but didn't find any particular advantage with one type over the other.
The bronze can crack between the central plug and the exhaust valve – luckily that hasn't happened to Steve as a head fetches £1500 today.
Rudge was often compared to HRD Vincent and shared some similarities, such as hydraulically damped girder forks, dual braking and a lever to lift the bike onto the centrestand.
Over the years both makes have gained a justifiable reputation for good handling, excellent reliability and superb engineering.
The Rudge Ulster is equipped with an eight-inch front brake, and Steve says it copes with traffic conditions as well as any modern bike. Each year he takes it to the Automotoclub Storico Italiano Rally at the Varano de' Melegari race track near Parma, to participate in the 'parade' laps (translates from the Italian into English as 'race'), and then sets off on a tour of Italy.
A vintage Rudge that's a tourer, a racer and a show winner: it's what classic biking is all about!
ARIEL ARROW
ARIEL'S LEADER AND its Arrow offshoot were arguably one of the more successful models made by the BSA Group, with more than 22,000 produced between 1958 and 1966.
The pressed steel spine frame containing the petrol tank (the gold bits you can see in the pictures form a dummy tank / useful cubby hole) and enclosed trailing link forks were revolutionary back in the day, and the 247cc two-stroke parallel twin engine gave it a fair turn of speed.
Although BSA was wary of racing the Arrow, legendary two-stroke tuner Herman Meier did prepare a few customer Super Sports, and Mike O'Rourke achieved seventh place in the 1960 250 TT. Peter Inchley raced an Arrow at the Barcelona 24hrs in 1961 and the Thruxton 500 the following year, and owner Ron based his 1964 example around Inchley's racer.
Ron's bike was in pretty bad shape when he bought it a couple of years ago from the first owner, as it had been stored in a damp garage for the last 45 years.
Ron runs Nottingham-based two-stroke racing specialist Fahron Engineering, so he had previous in working on Arrows for clients when he undertook a ground-up restoration on his own machine.
He bought it after riding a borrowed Arrow at the Festival of 1000 Bikes and deciding there and then that he wanted one.
Apart from painting, all the work has been done in-house. Ron built the engine with relined barrels, opening them up to five ports, and fitted Suzuki RG125 Gamma pistons on Kawasaki KX conrods for reliability.
The exhaust system and expansion boxes were beautifully crafted to the original drawings by Stewart Kirkpatrick, who also made the end cans to meet current circuit noise regs.
The rear sprocket is interchangeable with the road item as Ron intends to put the Arrow back on the road eventually, but in the meantime he'll race it in sprints and ride in parades.
The bike was only finished late on the Friday night and taken straight to the show so the engine hadn't actually been started… but we'll look forward to seeing it out on track in the summer.
Read more News and Features online at www.classicbikeguide.com and in the June 2020 issue of Classic Bike Guide – on sale now!