Le Mans alike
You want a bike which looks, sounds and steers like an old Italian. But running a classic as a daily ride might not be entirely convenient…
PHOTOS BY Mike Salamon
BEFORE YOU BUY your next bike, it really helps if you know exactly what you want. Sounds obvious, eh? But that's not how a lot of us roll. We're spontaneous. Risk-takers.
Possibly somewhat soft in the head. We see the pretty pictures, fall hopelessly in lust, hit the buy-it-now button and spend the rest of the summer with a bad case of buyer's regret, saddled with a motorcycle that might be absolutely ideal for something else… but which ain't right for the task at hand.
So you need to know not only what floats your boat from the 'phwoar' perspective, but how that fits with your actual motorcycling and your actual mechanicking ability.
Your heart might say 'Tangerine Dream' but your head and your wallet might prefer a Street Twin – and you could clock up many more miles in the saddle on the latter…
If you can't quite get your head around all the possibilities then it pays to consult a professional. Here's one now – Mike Salamon from 2WheelsMiklos.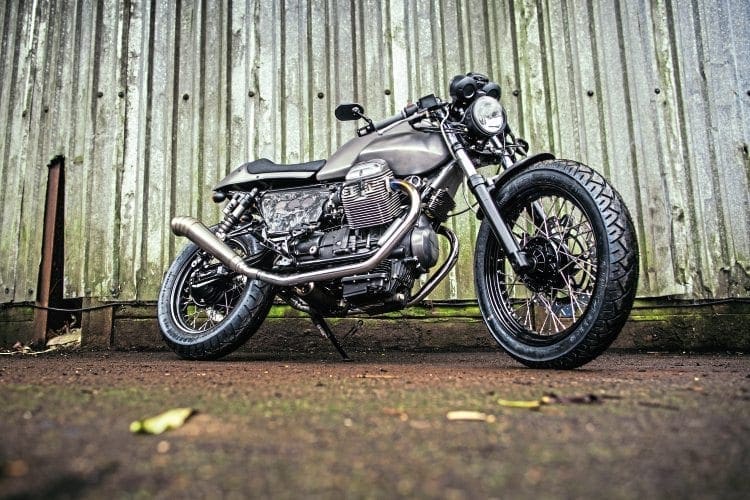 Part of what Mike does is to help riders understand what they actually want from their wheels, and then build the bike to suit the circumstances. Mike takes up the tale of the Guzzi café custom.
"A guy approached us with a load of pictures of old Moto Guzzi Le Mans café racers, beautifully executed versions of the 1970s classic. He wanted us to produce something similar." Not a problem. Good taste, that man… "But he also said it needed to be a practical daily ride in London." Oh. Right.
"That's not so straightforward, considering the Le Mans' penchant for the open road and somewhat uncompromising ride. On top of that: "It must be 100% reliable as he is not mechanically inclined."
That's doubly tricky, given the infamous fragility of 1970s/80s Italian electrics and the realistic mechanical demands of regularly using a 30-year-old motorcycle. Finally: "He was not willing to pay a fortune." So now Mike had a real challenge on his hands.
"With a little prodding it turned out that what he really wanted was the Guzzi V-twin engine configuration. The requirement for the 1970s-style Le Mans was because these were the only images on the web he could find.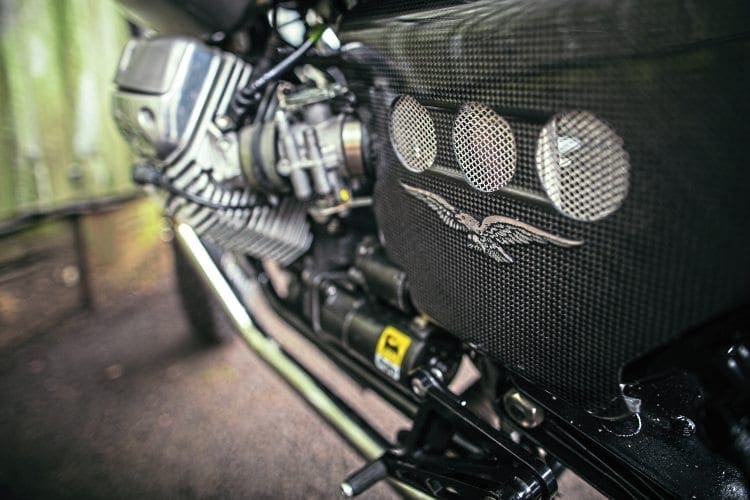 "Once we understood this, we realised that daily 100% reliability would almost certainly push us to a modern donor machine. From there, it didn't take long to land on the basic Guzzi V7 Classic. Standard Guzzi engine layout, spoked wheels and a nice ride.
"Guzzi does a café racer version itself, but this was not what our man wanted. We looked around and acquired a low mileage 2011 bike in great condition.
"The design brief called for a solo seat, rear-sets, clip-ons, good-looking exhausts, a slimmed-down overall look and a plain alloy finish." Good plan. The Mk1 V7 Classic is handsome enough in its own right, but it can look quite stodgy in the original white/black paintwork, and the standard silencers certainly don't do it any favours.
"It always looked like there was a sleek bike buried underneath half a hundredweight of mudguards, luggage racks and the like. The V7's original suspension and braking tended towards the soft end of the spectrum, so there's scope to enhance the machine's stopping and steering, too. Mike set to work.
"The solo seat was made in-house from a cut-down BMW R80/7 unit with the tail-light built into the hump. The tuck and roll upholstery is by P&D Custom Bikes. Clip-ons are by Café Racer and the bar-end mirrors/indicators are by Oberon. Grips are grey Renthals.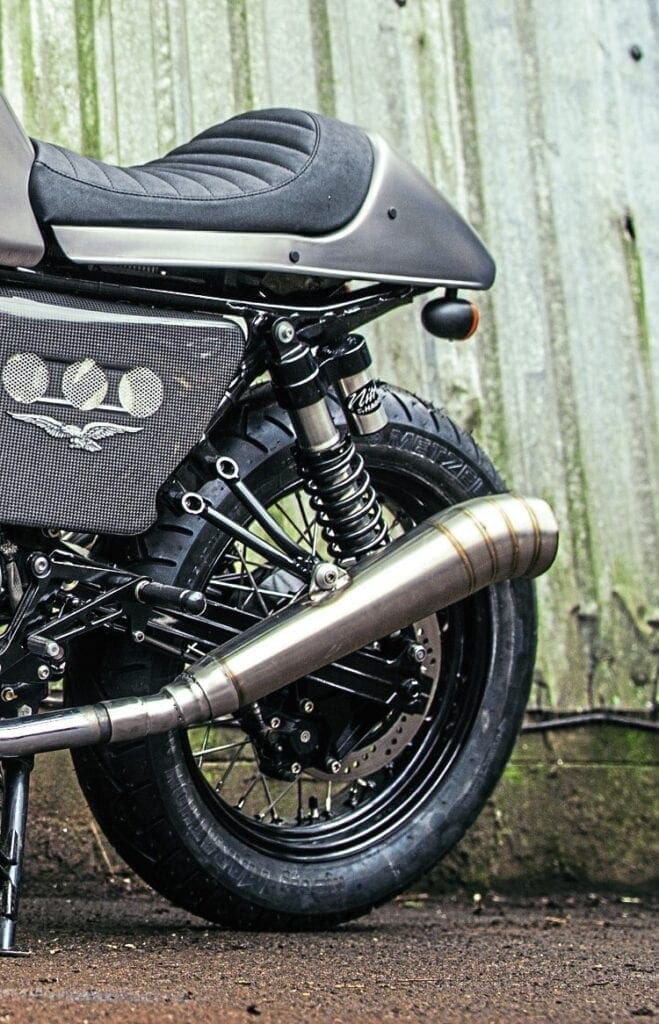 "The headlight is a Bike-It LED unit and the stock instruments have been lowered to directly above the new light to give the top of the bike a clean low line.
"Rear-sets are by Café Racer and the linkages were fabricated in-house. GP Style exhausts are by DanMoto and are hung from the pillion footrest brackets. The rear shocks are Hagon Nitro piggy-back units.
"The stock spoked wheels have been rebuilt by Hagon, with the hubs painted black, the rims powder-coated black and new stainless spokes fitted. The front brake has been upgraded to an EBC wavy disc and the stock front fender has been trimmed down. Tyres are good-looking Metzeler 880s."
Next, the Guzzi needed to lose some of its cumbersome ancillaries.
"The very large original airbox between the V-twin cylinders was replaced by pod filters. A new battery box was fabricated for the small Shorai lithium battery, and that was tucked away under the rear of the seat.
"A stainless collector for the various engine breather pipes was fabricated and placed behind the cylinders. To give the slimmed-down look, we modified and fitted flat, carbon fibre side panels from a Laverda Jota.
"These were drilled to expose the centre of the bike, and now also carry the Guzzi winged eagle logo."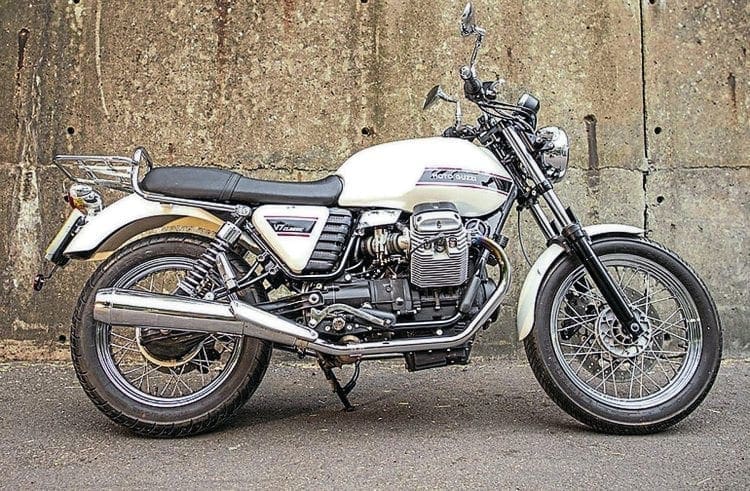 Getting the all-important alloy effect on the bodywork wasn't entirely a piece of cake.
"The V7 Classic has a plastic tank," explains Mike, "so the alloy finish required some subterfuge. A 97% nickel paint was applied by Silvester Coachworks to the tank, seat, fender and some engine covers. The paint dries to solid metal so it really looks the part." It certainly does.
The end result is exactly what the customer wanted… although of course he didn't know that when he first walked through the door.
He could easily have paid much more for an original Le Mans – and if that's what you really want, and you're up to the challenge of riding and maintaining a classic, then seize the day while they're still affordable.
But consider carefully (and take a couple of test rides) before you buy. There is an alternative way to own a charismatic Guzzi V-twin café racer, equipped with all mod cons, and entirely suited to the daily grind.
PRICE GUIDE
£4000 to £5500
for standard 2011 V7 Classic
£8000 to £11,000
for modified café special
ALSO CONSIDER
1980s Le Mans 850 (similar cost, won't depreciate, much more demanding to ride and own). BMW R80 café custom (typically cheaper, just as idiosyncratic). Brand-new V7 Mk2 Special (£8k off the shelf)
SPECIALIST INFO
gutsibits.co.uk
Motori Di Marino
OWNERS' CLUB
Moto Guzzi Club GB:
motoguzziclub.co.uk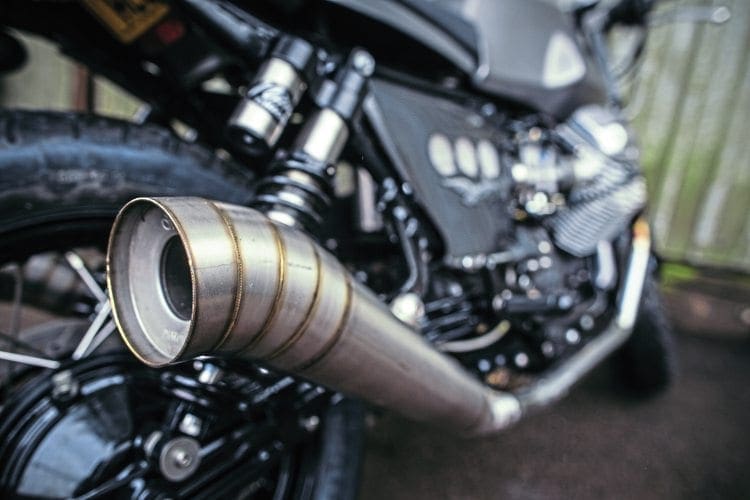 MANUFACTURED: 2008-date ENGINE: Air-cooled 90-degree ohc V-twin BORE / STROKE: 80 x 74mm CAPACITY: 744cc COMPRESSION: 9.6:1 TORQUE: 54.70 Nm @ 3600rpm FUELLING: Weber-Marelli injection CLUTCH: Dry single disc TRANSMISSION: 5-speed gearbox, shaft final drive FRAME: Steel tubular duplex cradle FRONT SUSPENSION: Marzocchi hydraulic teles REAR SUSPENSION: Light alloy swinging arm, preload adjustable twin shocks FRONT TYRE: 110/70-17 REAR TYRE: 130/80-17 FRONT BRAKE: Single 320mm Brembo disc REAR BRAKE: Single 260mm Brembo disc DRY WEIGHT: 182kg SEAT HEIGHT: 31.7 inches (All data for standard 2011 V7 Classic)
Read more News and Features online at www.classicbikeguide.com and in the June 2020 issue of Classic Bike Guide – on sale now!
Build it now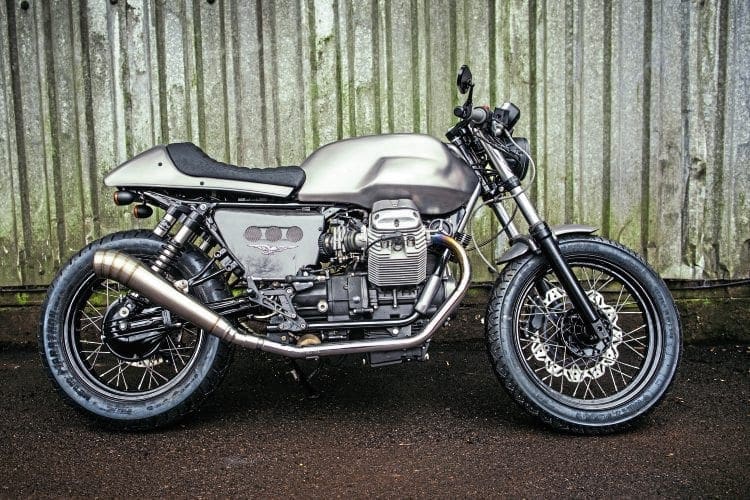 This bike has already gone to its proud owner, but 2WheelsMiklos will happily build another one to your own specification. They also have some stock of ready to roll custom classics if you can't bear to wait. 01483 546157 / 2wheelsmiklos.com