Night life
While UK riders were offered the roadster CB650, the cousins were supplied with an altogether more relaxed ride
WORDS AND PHOTOS by Rob Davies
INTENDED FOR AMERICA and only officially imported to the UK for two years from 1982, the Honda Nighthawk 650 is a fairly rare bird.
With minimal effort you can get hold of a BSA Gold Flash or a Triumph Bonneville, say, but finding a Nighthawk 650, and especially the later dohc model, in good condition can be a real challenge.
The Nighthawk 650 of 1982 replaced the earlier custom 650, but offered much more than a simple redesign to the fuel tank and side panels.
Trying to reduce the time spent in general maintenance and to give owners more hours on the road, the engineers introduced some clever little things in the cylinder head called hydraulic valve lash adjusters.
Acting as fulcrums for the valve lifters, these ingenious little devices take away the need to make any adjustments to tappet clearances.
The hydraulic valve tappet system is designed to give an automatic zero valve clearance setting throughout the engine's rpm range, and clearances remain the same when the engine is cold or hot.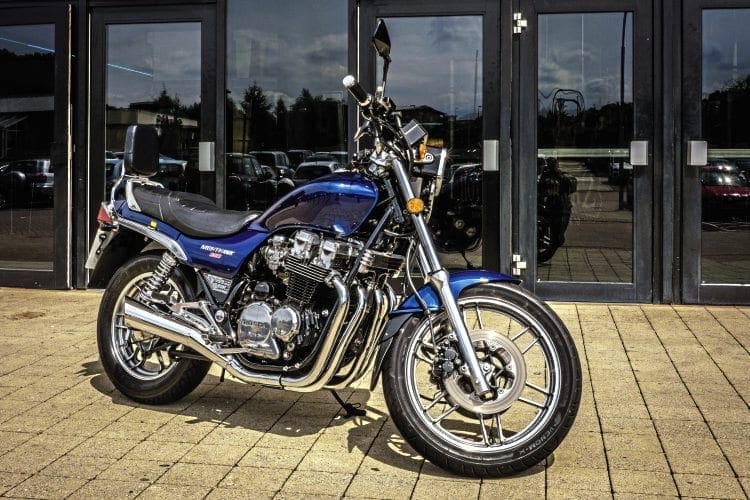 Add electronic ignition and a super-smooth shaft drive, and there goes all that messing about with points, chains, chain tensioning and sprockets.
The engine was, for the 1980s, an entirely conventional inline four, a design that stood the test of time and looked good into the bargain.
Inside, five plain bearings support the forged one-piece crankshaft, while sprockets at the centre, between the second and third pistons, drive the camshafts and generator.
A second sprocket between the third and fourth pistons drives a trochoidal oil pump by another chain. Engine output feeds to a large 92-tooth clutch driven gear, while a twin gear staggered tooth primary drive attempts to minimise noise and backlash.
The engine's short stroke of 58mm doesn't produce the low down torque of some big twins, but get the motor over 6500 revs and you need to hang on tightly as it revs through to the redline at 10,000.
The wet multi-plate clutch actuates hydraulically, giving a smooth, measured take-up at the lever, while the gearshift is always positive and crisp.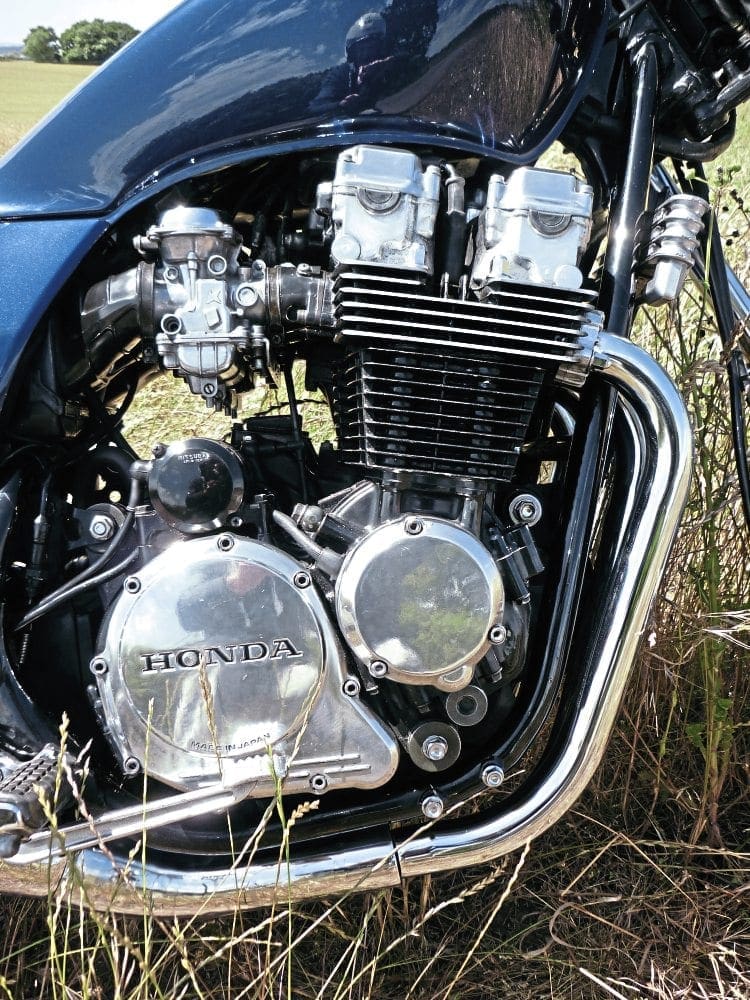 Honda's designers condensed the width of the engine crankcase by mounting the generator and starter motor behind the cylinders.
The resultant narrow engine, which is mounted in rubber to remove vibrations, could thus lie forward and low, putting weight toward the front wheel to aid its stability and general handling.
For sheer riding pleasure, especially compared to earlier bikes, the Nighthawk has really useable rear view mirrors, while on the nicely balanced instrument cluster we find oil warning light, gear indicator, neutral indicator, main beam light and a dead useful fuel gauge.
Most of the regular maintenance jobs are within reach of the home mechanic, from oil and filters, to fairly simple carburettor calibration with a manometer. Just follow the straightforward operating instructions.
Thirty years after the last model left the shop floor, what has this bike to offer to a prospective purchaser?
First and foremost, it looks good. With its high handlebars and curving tank profile, that flows well into the quick-release side panels and then away to the rear mudguard, the balance of frame, to engine, to gearbox, to wheel size, is totally aesthetic.
It's also practical, smooth, comfortable and conducive to simply looking around and enjoying the scenery.
On the downside, it was tricky enough to balance the suspension springing and damping at the sweet spot between 'soggy' and 'stiff' when the Nighthawk was new.
Cycle World reported that, unsurprisingly, the handling was more suited to double-nickel cruising than flat-out thrashing.
"At moderate speeds the Nighthawk's steering is nimble and light. At first we thought it might be a touch twitchy. As speeds increase, however, the bike's steering becomes slower and heavier, just the opposite of what's expected.
At speeds approaching 80mph, the CB650 steers slow compared to other 650s. Switching from fast right-to-left turns takes some effort and forethought."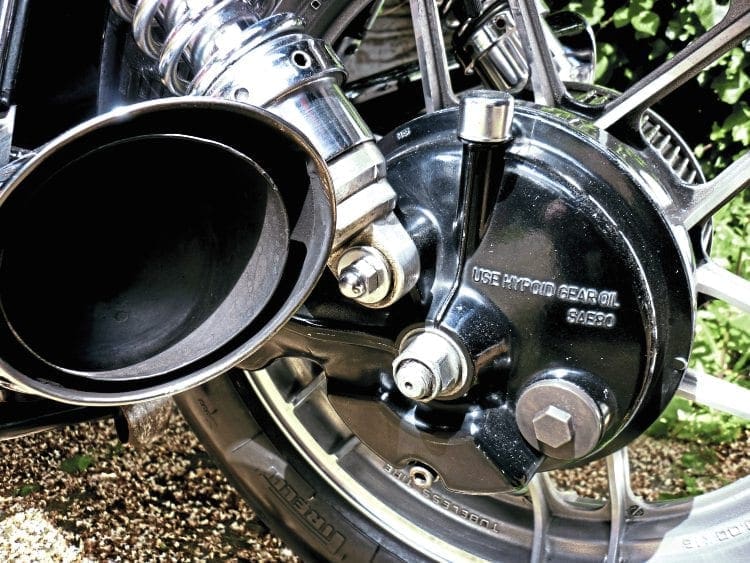 Modern shocks and springs will improve matters, but there's little an owner can do to ease the Nighthawk's driveline lash and shaft reaction. Some things you just have to get used to.
The final 1985 model came with Honda's larger dohc motor incorporating four valves per cylinder. Four Keihin constant velocity carbs echo the four chrome exhausts up front, and help provide the 73bhp that made it the fastest 650 of the 1980s.
In use, that translates to easily accessible potential, as Cycle World reported: "Here is a machine that fulfills the 650 promise: it feels small, smaller than a 750, yet runs with 750s without even breathing hard… first one manufacturer and then another has proclaimed that its 650s perform like 750s; certainly there's been much sound to this proclamation but little real 750 fury. Now the 650 Nighthawk delivers."
Later models were fitted with Honda's TRAC anti-dive front suspension unit. The 'torque reactive anti-dive control' was integrated into the bottom of the left fork leg.
This mechanical/hydraulic system reacts to the forward weight transfer during braking. The left-hand brake caliper is pivot-mounted on its fork slider.
As the brake is applied the caliper tries to move with the disc, thus pivoting the caliper toward the TRAC unit. This action forces a tab on the caliper assembly against a small piston and spring in the TRAC unit.
Then, as the TRAC piston moves, it uncovers the oil control orifice and restricts the fork leg's compression/damping passageway, thus diverting the fork oil through a secondary valve.
The internal damping action increases, the fork resists compression, and the anti-dive action is created.
The secondary valve is adjustable, with four dialled settings that go from soft to extra firm. The TRAC set-up will almost inevitably need a complete overhaul on a 30-year-old bike, and many owners choose to disable it and use progressive springs with heavier fork oil instead…
Given sufficient mechanical attention to keep it in fine fettle, the Nighthawk represents a tempting blend of air-cooled accessibility (a bulletproof engine, excellent gearbox and self-adjusting clutch), and surprising sophistication.
It all adds up to a pleasurable, comfortable and responsive riding experience. If, as we said back at the beginning, you can find one.
PRICE GUIDE£1500 to £3000
FAULTS & FOIBLES
SOHC 627cc machines easier to maintain than less common DOHC 655cc models. Battery discharges below 2500rpm, so trickle-charging is essential when not in use. If TRAC system sticks, results can be truly terrifying. Recent imports from Japan tend to be less worn-out than original UK bikes, so worth similar amounts (despite km speedo). Don't buy a 450 masquerading as a 650…
SPECIALISTS
Oxford Classic Honda
David Silver
Honda Classics Restoration Services
OWNERS' CLUB
VJMC
vjmc.com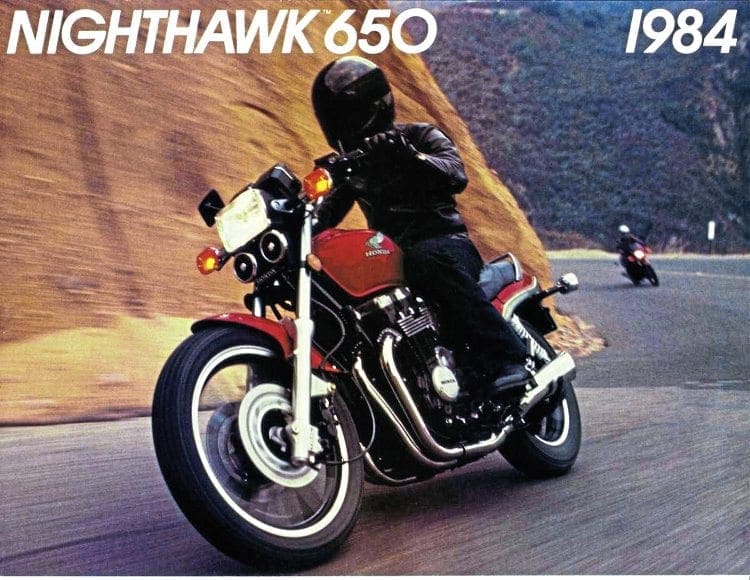 MANUFACTURED: 1979-85 ENGINE: Air-cooled inline four, 4-valves per cylinder
BORE/ STROKE: 60mm x 58mm CAPACITY: 655cc COMPRESSION: 9.5:1 POWER: 63bhp @ 10,000rpm TRANSMISSION: Six-speed, shaft final drive STARTING: Electric CARBURETION: 4x Keihin 32mm CV FRONT BRAKES: 2x discs, twin piston callipers REAR BRAKE: 180mm drum FRONT SUSPENSION: Air-adjusted tele forks, TRAC anti-dive REAR SUSPENSION: Swinging arm, four-way adjustable twin shocks FRONT TYRE: 100/90 x 19 REAR TYRE: 130/90 x 16 WHEELBASE: 1461mm SEAT HEIGHT: 31in DRY WEIGHT: 197kg TOP SPEED: 110mph. All data for dohc model
Read more News and Features online at www.classicbikeguide.com and in the June 2020 issue of Classic Bike Guide – on sale now!
Buy it now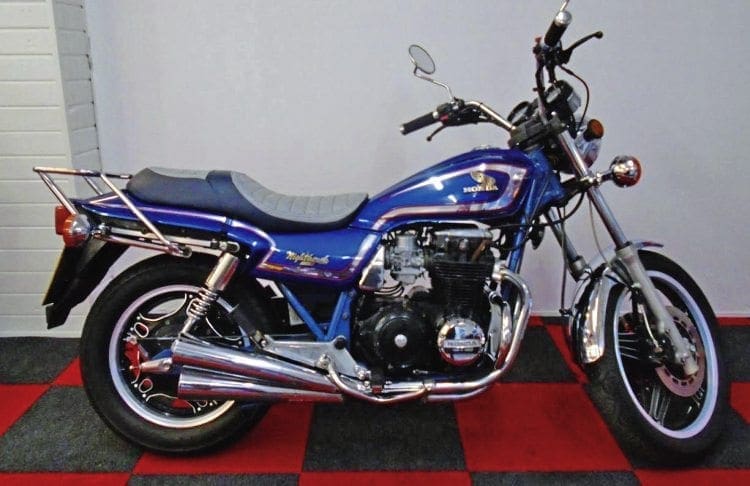 This 1982-era Nighthawk has covered over 90k miles but has obviously been well cared for by its three owners from new. MoT until December, offered for £1400 by Budget Bikes Premium in Swindon