Knight life
Vincents aren't your average classic bikes. Thanks to their curtailed production run, the final big twins are even more unusual than most
WORDS BY Frank Melling PHOTOS BY Carol Melling
IF ALL VINCENTS are expensive, Vincent Black Knights inhabit a different planet in terms of cost. What's so special about Vincent twins in general and the Black Knight in particular?
From their introduction in Series A guise in 1937, the Vincent V-twins were designed to be the best motorcycle in the world. Note the adjective 'best'. Not 'nearly the best' or 'one of the best', but rather designed to be the ultimate motorcycle ever built.
Designers Philip Vincent and Phil Irving often did achieve the apogee of engineering excellence for their time and, for sure, they used the very best materials available.
They were also confident in their talent. Philip Vincent was an engineering prodigy and had a very clear view of his abilities.
He noted: "I myself have ever been an inventive type of designer, always seeking to incorporate details which represent a worthwhile and big advance over previous designs." Yes, Mr Vincent did know he was good.
The heart of every Vincent twin – the company manufactured the single-cylinder Comet as well, of course – is an extremely neat, 47-degree angle V-twin.
To keep the engine compact, the valves are opened by very short pushrods with the valves engaged part way down their stems, which means that rockers and springs could be situated to the side, away from the heat generated by the cylinder head.
The engine's valve clearances were set at zero when the engine was cold and so the motor ran with an elegant quietness. Strangely, many of the engines in use were also famous for being seriously clattery.
In post-war B-series 'Shadow' tune, with gas-flowed cylinder heads, Comet cams, polished conrods and large carbs, the low compression 998cc V-twin produced 55bhp; hugely more than any of its contemporaries.
That power was delivered with the effortless grace of a true king of the road. When new, a Shadow could comfortably run from 30mph to 125mph in top gear, and was just as happy on back country roads as it was on the German autobahns.
The four gearbox ratios were ample to deal with anything from unmade tracks across deserts – and Vincents were regularly found on such epic journeys – to high-speed touring.
The clutch was the most sophisticated design of its day. The unit is effectively two clutches – a conventional design was then supplemented with a self-servo clutch rather like a brake drum.
This ensured reliable performance which could cope with the engine's output, but at a huge manufacturing cost. Vincent's complex mechanical solutions can be quite a challenge for a 21st century owner who's more familiar with conventional engineering.
The cycle parts were just as clever, and equally expensive to produce.
The engine was a stressed member of an extremely advanced frame, in which the top spine held six pints of oil, while the triangulated swinging arm pivoted through the rear of the crankcase, giving an extremely short wheelbase for such a big bike.
To achieve perfect balance, there were twin drum brakes on each wheel. In practice, these worked no better than the best single brakes of their day… but they did cost twice as much to make.
Vincent's own hydraulically damped girder forks provided impeccable lateral stability and good control via the long dampers – but once more the manufacturing costs were horrendous.
All this investment paid dividends on the open road. At a time when even reaching 100mph on a production motorcycle was considered remarkable (hence Triumph's 'T100' moniker), the touring Vincent would burble along all day at well over the magic ton.
The Black Shadow was a genuine 125mph superbike, and a full race-spec Lightning, piloted by Rollie Free, reached 150mph on the Bonneville salt flats.
Vincent owners did remarkable things with this amazing motorcycle. For instance, theatre manager Jim Kentish set off for Brooklands one morning on an early, completely standard Vincent Rapide tourer and ran off a batch of 100mph laps to earn his Gold Star.
He then nipped back to work at Kew Theatre for the evening performance. This was the Vincent legend writ large.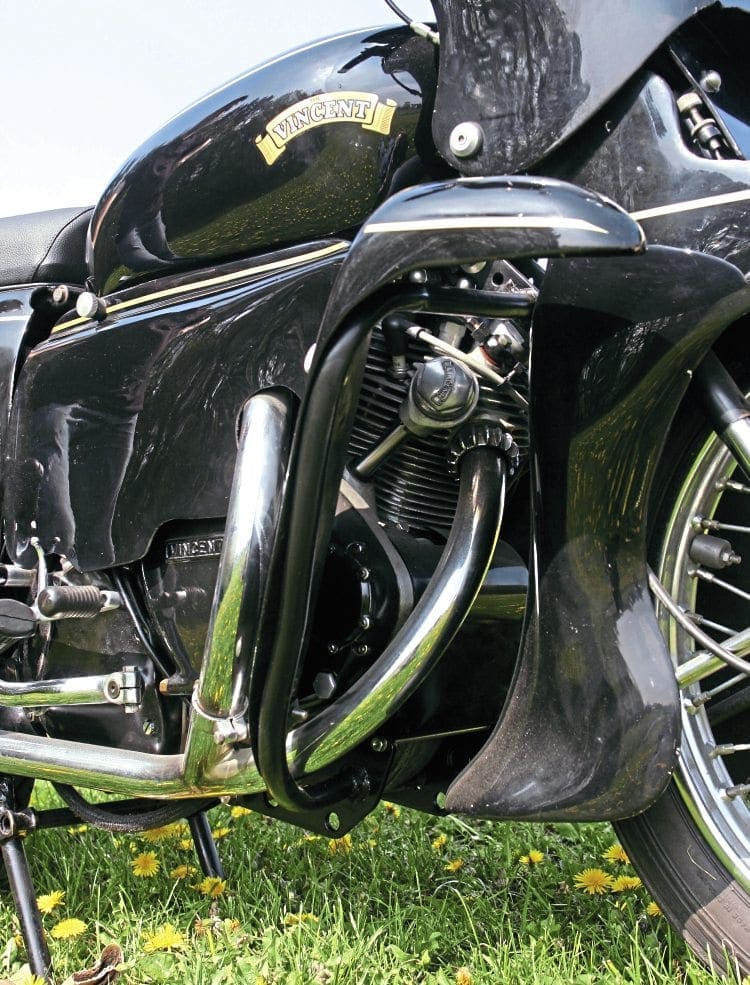 The V-twin's riding position was almost infinitely variable, the bike unusually durable and impeccably finished.
The only downside was the price. In 1951, a Black Shadow was a stunning £402.10s when a BSA Gold Star was a luxury purchase at £253. An average British worker would need 65 weeks' wages to pay for a Vincent V-twin, equivalent to around £30k today.
Not only was the price against the Vincent but so was its unique nature. To the eyes of some motorcyclists, the Vincent's irregular lines were ugly.
And while it might have been a technical tour de force, it also demanded a lot of mechanical sympathy. Anyone could get on a Triumph Thunderbird, start it with one kick and look like Marlon Brando. The Vincent required experience and planning to coax it into life.
The famed 100mph cruising was also very much a paper blessing. In 1951, British magazine road testers reported that: "No airfield or stretch of road could be found which would allow maximum speed to be obtained." Back then, 120mph was reserved for closed roads and race circuits, not the public highway.
Equally, Philip Vincent was well aware that hammering at along the speeds which the Shadow could maintain was a tiring experience. Motorcycling, even Vincent motorcycling, could also be a dirty business.
He fixed these issues by clothing his iconic superbike in a very practical set of protective gear made from the new super-material, glass fibre.
The Series D machines, introduced in 1955, also received a raft of updates and improvements, which included being fitted with identical heads on both cylinders, revised rear single-shock suspension to give seven inches of hydraulically damped travel, and fully sprung seating; Amal Monobloc carbs and coil ignition for improved starting; a hand-operated centre stand, a more robust engine shock absorber, new separate oil tank, a single rear brake, Lucas 60W lighting, and so on.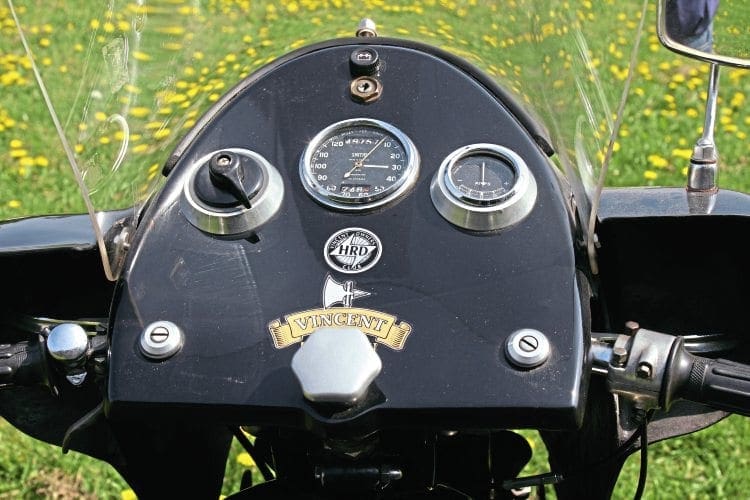 The standard Rapide became the fully enclosed Black Knight, while the supersports Shadow was reincarnated as the visually very similar Black Prince. If you want to tell the two apart without stripping their engines, check the front mudguard.
You'll find an axe on a Knight and a helm on a Prince. The new fairings were functionally superb, and certainly in keeping with the fashion of the day for 'bathtub' enclosures.
However, the few people who could afford a Vincent V-twin were far from impressed. Who wants to pay half the price of a house for a bike and then have it covered up so that no-one can see it?
The result was almost inevitable: the Vincent company ceased making motorcycles before the end of 1955. Once more, the idea that discerning motorcyclists would pay for the very best bike in the world had been laid to rest.
Riding a Vincent is still a remarkable experience, but most definitely an acquired taste.
It's certainly worth trying a Vincent, if only once, and then returning to more mainstream bikes for a more easily digestible motorcycling meal.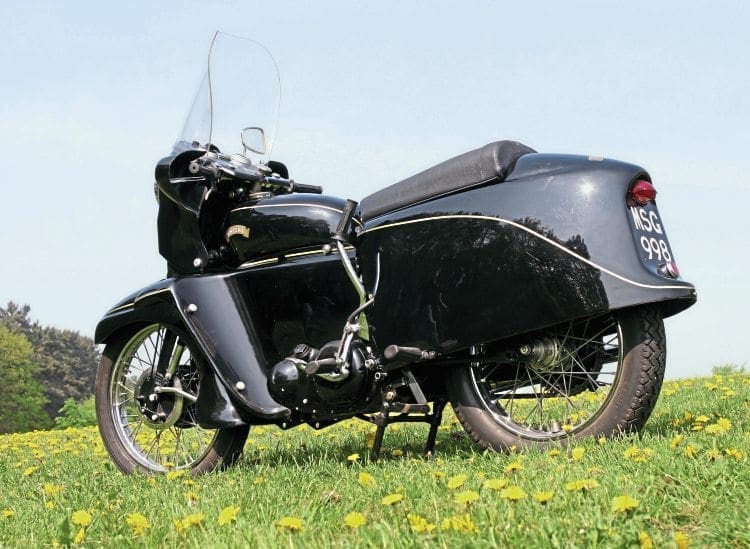 However, should you inherit such a machine, or be blessed with the opportunity to own one, then you'll be able to call upon some of the best specialists in the classic industry.
The Vincent Owners' Club spares scheme is so good that it stocks virtually every single part needed to make a new bike; living proof of the loyalty the marque inspires.
PRICE GUIDE
£50,000-plus
FAULTS & FOIBLES
Technical expertise needed for everything. Value massively dependent on provenance, originality and authenticity. Don't buy without consulting the club and ideally check the history of any prospect with them before purchase
ALSO CONSIDER
Vincent Rapide (still can be had for £25k or less; the 'affordable' Vincent). New-build 'Egli Vincent' (made to order, likely to depreciate more than original Vins). Yamaha TR1 (a tiny fraction of the cost, none of the kudos but quirkily similar)
SPECIALIST INFO
VOC Spares:
vincentspares.co.uk
OWNERS' CLUB
Vincent Owners:
voc.uk.com
MANUFACTURED: 1955 ENGINE: Air-cooled ohv V-twin BORE / STROKE: 84mm x 90mm CAPACITY: 998cc POWER: 45bhp @ 5300rpm PRIMARY DRIVE: Triplex chain ELECTRICS: Lucas coil / 60W lighting FRAME: Oil-bearing steel spine, engine as stressed member FRONT SUSPENSION: Girdraulic forks REAR SUSPENSION: Triangulated swinging arm, hydraulic damper FRONT BRAKES: Balanced dual 7-inch drums 
REAR BRAKE: 7-inch drum 
FRONT TYRE: 3.50 x 19, QD wheel REAR TYRE: 4.00 x 18, QD wheel WHEELBASE: 56.5 inches WEIGHT: 485lb 
TOP SPEED: 110mph
Read more News and Features in the April 2020 issue of Classic Bike Guide – on sale now!