From our 2016 archive
Tired of clip-ons and rearsets? We recommend something altogether more refined
PHOTOS BY Mortons archive / Rowena Hoseason
'FIRST CLASS PERFORMANCE without fuss' promised Veloce when it reintroduced its 500 ohv single in 1954. That's not too far off the mark today, which is why the MSS is one of those much
sought-after traditional British singles that ranks alongside Vincent's Comet as a distinguished gentleman's all-rounder.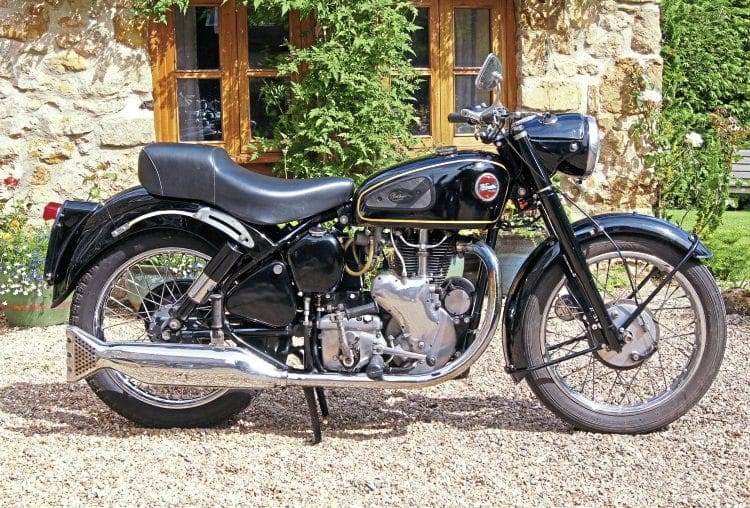 Velocette's four-strokes are the archetypal upper-class classics, a cut above the ubiquitous parallel twin and far more refined than the typical grey porridge single cylinder slogger of the 1950s and 60s.
Yet that very reputation can discourage some riders from trying Veloce's more exotic models. Indeed, you can't blame anyone new to the marque for feeling a trifle daunted by a cammy KSS or a 45 horsepower Velo Thruxton. Those bikes don't come cheap, and they aren't entirely easy to live with.
The 499cc MSS, reinvented in the mid-1950s, is one of the most user-friendly Velo four-strokes you'll find. The 350 MAC offers many of the same benefits but runs out of puff at just the moment when the MSS comes into its stride – so if you like to press on then the 500 will be more rewarding. It's a pleasant and practical sporting single, the type of British bike around which those legends of 100mph/mpg were built. This second incarnation of the MSS comes with comfortable suspension and a broad spread of torque, making it a rewarding yet relaxed ride over longer distances. And all the bragging about brilliant fuel economy didn't stretch the truth too far, as you'll see…
The MSS initially arrived in the mid-1930s as the third in Veloce's range of high-cam, short-pushrod ohv singles. They started with the 250 MOV, which was followed by the 350 MAC. The MSS was a natural progression, using the 96mm stroke from the 350 engine with a bigger 81mm bore to give a 495cc long-stroke motor. This engine was slotted into a heavyweight frame developed from the racing machines, with a rigid rear end and Webb-type girder forks. The result was something of a lumbering beast; elegant to look at and very long-legged but not rapid in the acceleration stakes, and often found with a sidecar attached.
From 1948 Velocette turned its attention to the water-cooled flat-twin LE and discontinued the MSS, but a re-worked 500 returned in 1954 with all the mod cons of the moment. The light-alloy engine used square dimensions of 86mm bore and stroke, and featured hairpin valve springs and a bonded-in iron cylinder liner. Veloce's designer, Charles Udall, revealed that he'd abandoned the 96mm stroke of the earlier engine simply to fit the motor into the swinging arm frame initially introduced on the MAC.
"The size of this frame is such that the old long-stroke engine was too tall to go in, so we shortened its stroke until it would fit," said Udall. The shorter stroke also extends the working life of key engine components: lower piston speeds reduce wear to the piston itself, rings and bore. The broad bore also provides space up top for big fat valves, which explains in part how this engine layout lent itself to extensive tuning in subsequent Clubmans, Venom and Thruxton forms.
In typical Veloce fashion, the MSS motor has a narrow, extremely rigid bottom end assembly, unusual for its use of taper roller main bearings. Up top, the MSS employs valve timing, which was considered 'moderate' even in the mid-50s. In this format the motor was tuned for low-rev torque – the MSS was still the Velocette best suited to tugging a sidecar – and frugal fuel economy. Just how frugal was demonstrated by Cycle magazine's tester who rode 200 miles in city traffic and reported 68mpg… that's 68 miles per US gallon, which equates to around 85mpg in olde English.
Nor did that rider hang around. "With only a slight crack of the throttle the lunger would overcome knolls that would force bigger twins to scream to conquer," he reported, enamoured of the punchy torque available from low revs through to 4000rpm. No need for constant cog-swapping: the MSS motor is your flexible friend. Its output of just 23bhp sounds modest, but the MSS made the most of its virtues, including Velocette's excellent sprung frame, which journalist Cyril Ayton considered 'virtually faultless'.
Velocette's own tele forks provided neutral and responsive steering, with fully-adjustable rear suspension provided by Woodhead-Monroe springs. Many a rider on a 650 twin was startled to find a 500 single keeping pace on A-roads, and on twisting B-roads the MSS would have the measure of Edward Turner's flexi-frames of the era. The Velo was (and is) capable of cruising at 70mph, with exuberant interludes over 80mph. Cycle's tester noted that the only vibration was between 58mph and 62mph after which it 'all but subsided, leaving just a faint buzz'.
Brake performance from the seven-inch drums was, for the time, simply brilliant. 'The Velocette's stopping power proved to be no less than sensational.' In fact, the rear brake was so effective that the tester had to practice several times to stop the back wheel locking.
The downsides? Very few. One roadtester admitted that it took him several days to get the hang of the Velo's starting sequence, and even once mastered he hankered after a kickstart lever that was two inches longer. In long-term use, the MSS lived up to its manufacturer's claim that it could 'retain its tune without frequent attention to mechanical details', and was a 'sturdy general purpose model, ideal as a ride to work or long distance touring mount.'
Weighing 375lb, the MSS justifiably became known as a tractable, good natured all-rounder with refined road manners. It looks the part, too, in gleaming black and gold with that fishtail silencer and slightly stepped dual saddle. Although Velocette was never a massive mass manufacturer as such, the MSS stayed in production until 1970, so there is some choice for prospective purchasers today. The owners' club and marque specialist Grove provides a comprehensive spares service, which includes many remanufactured and improved components.
However, before you buy the first MSS to cross your path, make sure you take it on an extended test ride to thoroughly check its clutch operation and gearshift. In good operational order, Velocette's unusual clutch should be light and positive. It's easy to shrug off a bit of slipping or dragging on an old bike and assume that you can adjust it after purchase – but in this instance that may be more complex than you imagine. You really don't want to spend your first month of ownership involved in understanding the intricacies of the Velocette primary drive…
Equally, it's important to rapidly master the art of starting. Try to buy from an owner or enthusiast dealer who'll coach you in the correct process; your Achilles' tendon will appreciate the effort. Get those two traits solidly squared away and you'll be well set to enjoy what Mick Walker described as "the best of the range, a classic in its own right".