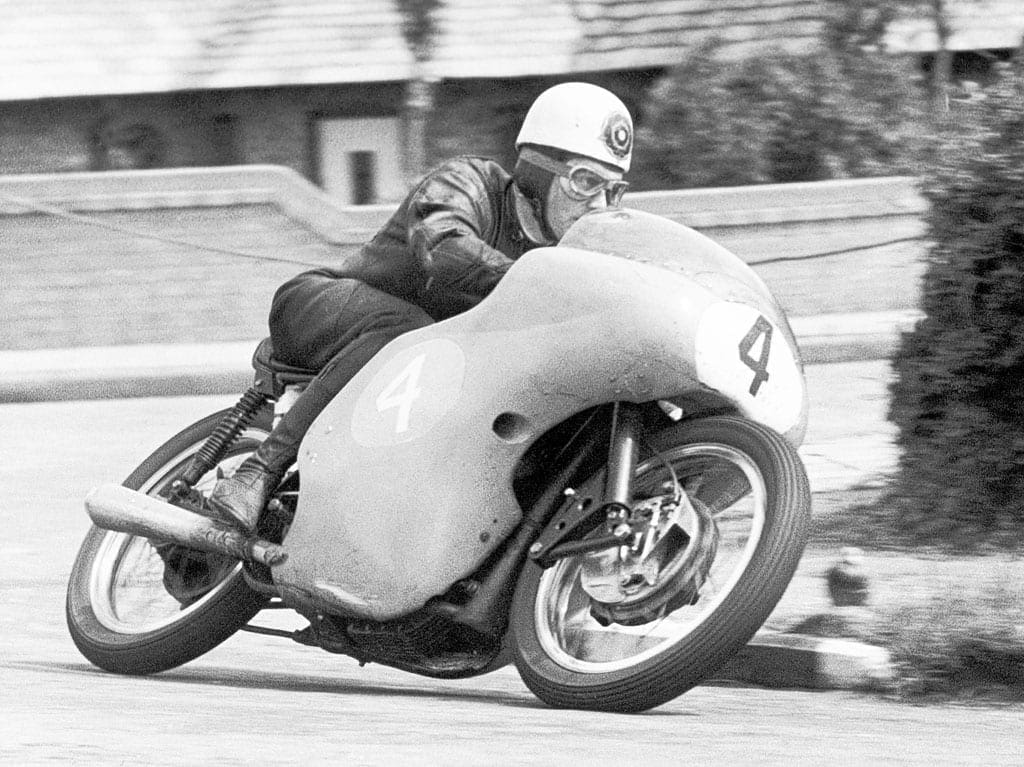 Words: Sophie Bell | Photos: Mortons Archive
Geoff Duke was the first global superstar of Grand Prix racing, the first to win three successive world championships and the first to win two in the same year. A genuine star of motorcycle racing, Duke was a 1950s icon.
Geoff Duke was born in 1923 and had a taste of machines from the age of 10, and although his parents were opposed to the youngster's enthusiasm in motorcycling he continued to develop his passion in the sport.
His parents disliked motorsport after his elder brother had suffered significant injuries from a motorcycle incident. They attempted to direct his enthusiasm elsewhere and even refused to help him buy his first tatty 175cc Dot which Geoff used to help him get to work as a trainee telephone engineer.
The beginning of Second World War meant the racer had a delayed start to his sporting career. Duke went into the army in 1942 where he rose through the ranks to sergeant with the Royal Signals display team. Once he was demobilised he worked as a motorcycle instructor and acquired off-road skills which some believe to have enhanced his racing career.
In the start of Duke's racing he won 350cc and 500cc doubles on a British Norton at the 1951 TT and World Championship, just three years after his first race. Although Nortons had seen him through his first victories, they proved no match for his competitors' Italian machines, from Gilera and MV Agusta. In 1953 Geoff moved across to Gilera, where he won the 500cc world title three years running.
Not only did he succeed in victories he also changed fashion for motorcycle racing. Duke abandoned the uniformed jacket for a leather one-piece that he designed himself, which was quickly copied by his rivals.
He received the RAC Segrave Trophy in 1952 for his outstanding demonstration of the possibilities of transport by land, air or water. He was the first motorcyclist to be awarded this prestigious cup, which was in recognition of his 13 major motorcycle victories. Shortly after achieving one award others followed. He won Television Sports Personality of the year and a year later an OBE not only for his achievements on the track but also for his impressive sportsmanship.
However, Duke did face adversities when he was suspended from the first six months of TT racing in 1956, despite being the reigning world champion. His suspension was punishment for supporting a rider, who was striking for better start money for GP privateers who made up the majority of the grid at the Dutch TT the year before.
The sporting legend's racing career came to an abrupt end in 1961 when he was involved in a crash where the gearbox seized during a test in a Formula 1 Cooper racing car which left him with severe injuries.
Although he recovered from his injuries he never returned to racing, instead he ran a hotel and shipping business in the Isle of Man. His popularity made him a very successful business man.
He remained a household name and was admired for his achievements. The ex-racer did return to motorcycling in other ways, managing the private Scuderia Duke team in 1963. Yet this ended when a lack of sponsors meant financial responsibilities fell onto Geoff with the lack of cash reducing their competitive position. He continued to remain involved with the off-road sport.
Duke later wrote an autobiography in 1989 focusing on his racing career called In Pursuit of Perfection, 30 years after his racing glory days.
In the book he detailed his recollection of injuries he had faced from the track. "Going through a fast S-bend, I caught my left footrest on an obstruction near the edge of the grass verge. This lifted the machine and I was catapulted off. With a broken left leg and lots of razor-sharp thorns in my back, I ended up in a Dublin hospital."
In a time where motorcycling had limited safety precautions and many of Duke's competitors lost their lives while racing, he lived a long, fulfilled life, passing away at the age of 92 in 2015.