For adventure, that is. The first Triumph to carry the name Adventurer was a light 500 twin, good for pretty much anything adventurous…
PHOTOS BY CHRIS DICKINSON, CHRIS SPAETT WORDS BY FRANK WESTWORTH
A minor puzzle in the classic motorcycling world – at least for yrstrly – has been the popularity of Triumph's twin engines when compared with the BSA equivalents.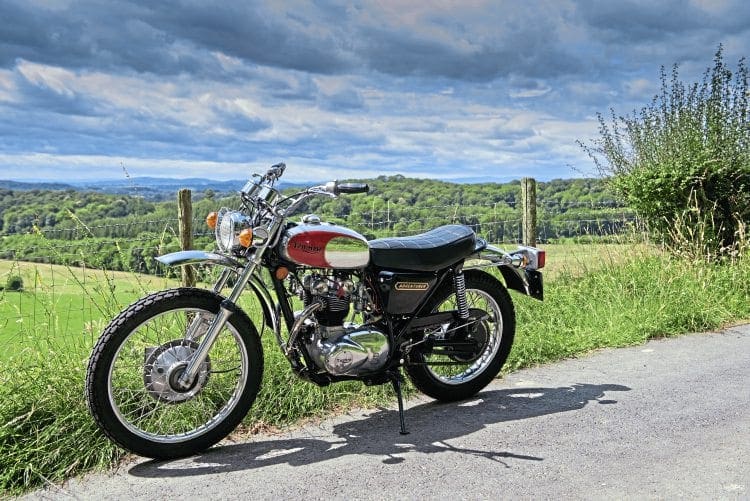 Although it is true that they do what they do in slightly different ways, what they actually deliver is very similar. At least, that is the case with the 650s; it's less so with the 500s, although it's not easy to pin down the mechanical reasons behind that.
BSA, on the other hand, faced no competition from its Triumph stablemates when it came to single-cylinder machines, and although there is an argument which claims that all the unit-construction BSA singles from 1958's C15 Star all the way through until 1972's B50 were derived from a Triumph design – the Terrier – it is the BSA-badged versions which are the most well known. And the development was a BSA Small Heath project, not a Triumph Meriden effort.
BSA achieved monster competition success with its unit singles in the 1960s – awesome riders like the inimitable Jeff Smith proving just how powerful they were on the rough stuff – and while the engines were rarely adventurous in the engineering department, they were robust, reliable and delivered enough poke – until more modern peaky strokers interrupted things. The comp bikes' frames were also clever, finally proving the old adage that racing improves the breed by providing the inspiration behind the last generation of roadster bicycles built specifically for the over-developed single-pot engines, the 1971 design which carried the engine's lube inside its main tubes – a practice followed by the comp singles for a couple of years before them.
Article continues below...
Advert
Read more in January's issue of CBG

Enjoy more Classic Bike Guide reading in the monthly magazine.
Click here
to subscribe.
Article continues below...
Advert