Updating an icon can be a risky business. It's all too easy to throw the baby out with the bathwater, or produce a pastiche instead of an improvement. But if you want the best, you may have to build it yourself…
WORDS BY Rowena Hoseason
PHOTOS BY Chris Dickinson
When bsa first built this bike, they did a damn fine job of it. The Gold Star is arguably one of the best British motorcycles ever made, and the DBD editions of the late 1950s represent the model at the peak of its development pathway. But that was 60 years ago.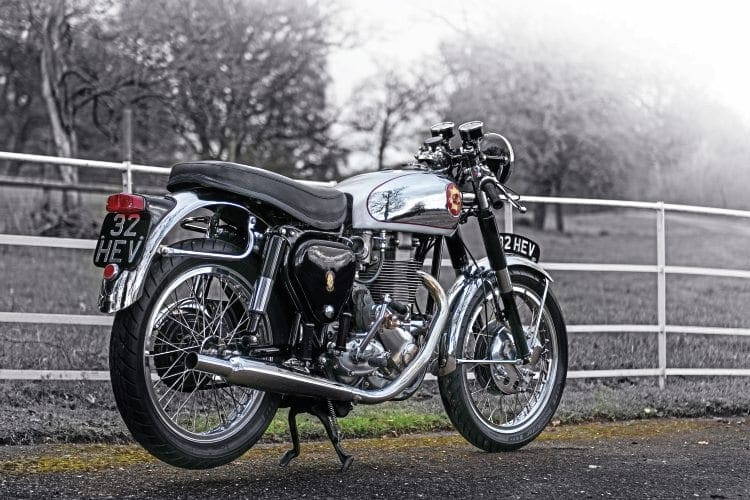 Times have changed and technology has been transformed since this DB32 was originally assembled from hand-picked components, then rigorously bench-tested before delivery. Many of the Goldie's uncompromising attributes, those which gave it such a successful career as a clubmans racer, sit uncomfortably with its current role as a Sunday-best classic ride.
Famously, the GP carb and close-ratio RRT2 gearbox make starting a Gold Star into one of British biking's black arts.
Combined with valve timing which only starts to feed in the power when the revs hit 3500rpm, and an easily overwhelmed clutch, they frustrate any form of clean getaway on stop/go suburban streets.
Meanwhile, the much-vaunted 190mm front brake, so effective on track when running at the correct temperature and used consistently to decelerate at fixed braking markers, can be equally all-or-nothing on today's highways.
Minimal use during a back road bimble barely rouses the full-width stopper from its slumber. So when the car in front suddenly executes an ABS-assisted emergency stop, the BSA's big brake is cold and unresponsive – until the moment when it bites, big time…
Read more in February's issue of CBG – out now!