Almost civilised and almost sensible, Suzuki's GT550 is actually a triple treat
WORDS & PHOTOS BY Oliver Hulme
SUZUKI LAUNCHED THEIR range of big two-stroke triples in 1972 with less than perfect timing. The GT arrived in a world that was just about to start worrying about air pollution and an oil crisis.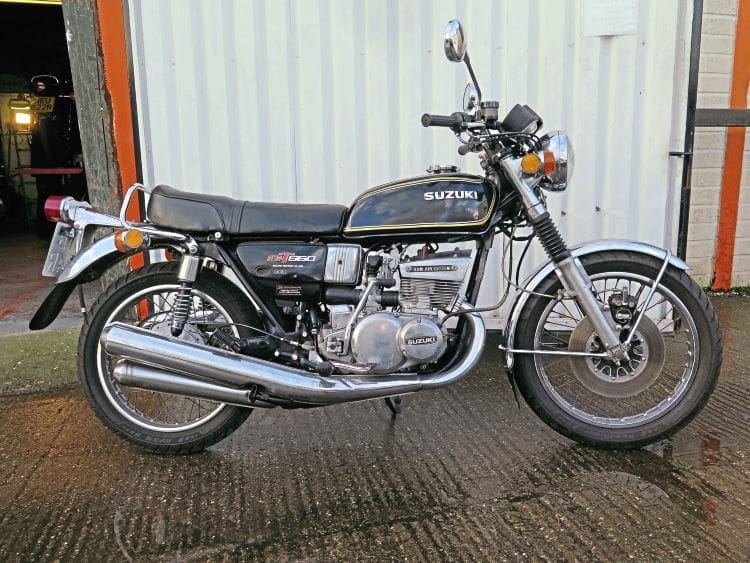 Despite the company's tendency to build highly strung two-stroke screamers and the success of their TR500 racers, Suzuki's roadster strokers were nothing like the equivalent offerings from Kawasaki and Yamaha.
Far from being like the peaky, hairy, sports bikes on offer from their rivals, the turbine smooth GTs, with their rubber-mounted engines, were more akin to Honda's fours when it came to the riding experience.
The GT550 was the least popular of the triples, though sales of the model of more than 60,000 in six years, hardly marks it down as a failure. The GT380 was the most popular of the range, followed by the legendary GT750 'Kettle'.
The GT550 is not just an overbored version of the 380. It is bigger all round, with a bigger frame and wheelbase, and comes out chunkier and more comfortable to ride than its little brother, though a tad less exciting. The torquey engine suffers from none of the powerband issues that Kawasaki triple owners have to deal with and a good GT550 is a useful classic, which 40 years on, you can use day in and day out.
Article continues below...
Advert
Read more in the April issue of CBG – on sale now!
---
Advert

Enjoy more Classic Bike Guide reading in the monthly magazine. Click here to subscribe.
---