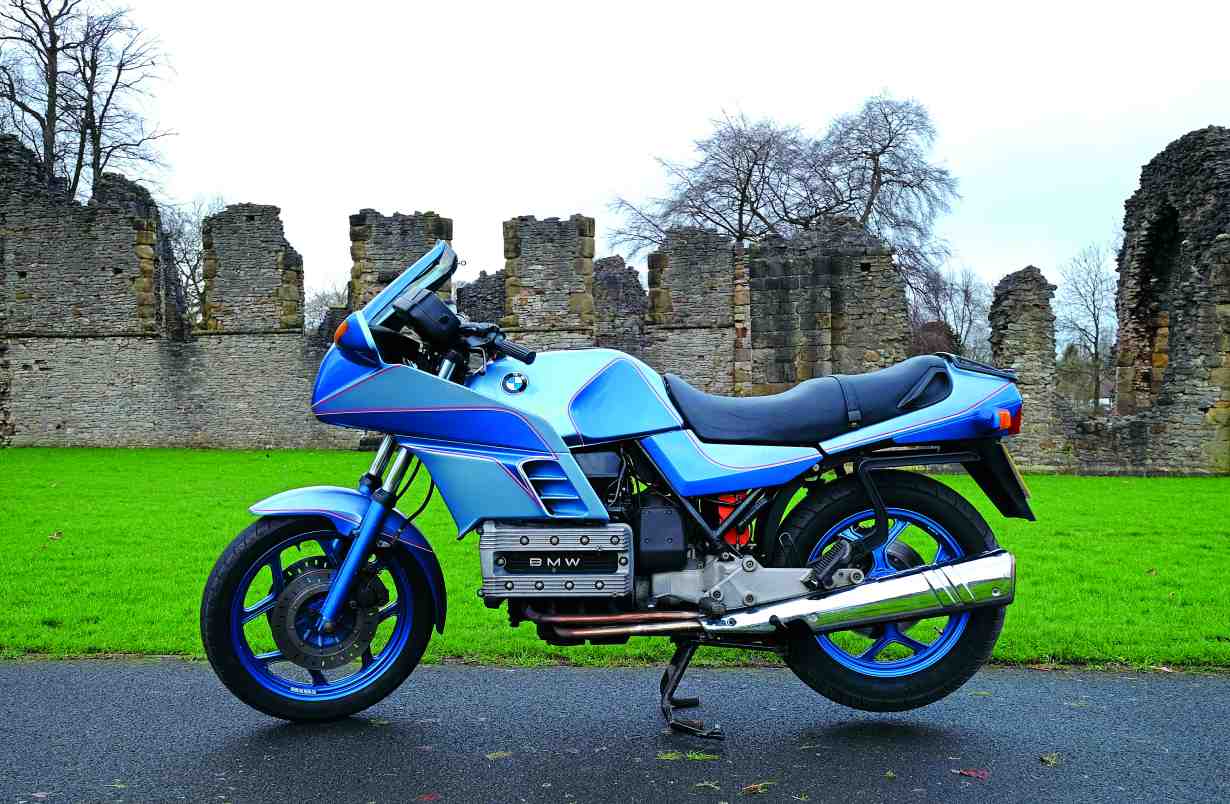 This was one of the last stories Rob Davies, a regular CBG contributor, wrote for us before illness took him. Right to the end, he was trying to convince himself of bikes he didn't think he would like.
Words: The late Rob Davies
Photography: Robin Horton, Ales Tomis and BSK Speedworks
Published: Classic Bike Guide – December 2021
Remember the story of the Ugly Duckling? Well, somethings get better with age… I hope. When I was a teenager in the 1970s, I don't remember seeing a BMW – not a sniff. My mates rode BSAs or Triumphs, or one of the more exotic offerings pouring in from the Land of the Rising Sun. I have no doubt that there must have been a few BMWs knocking about, but we were working class lads and couldn't afford a BMW, so it didn't come across our radar.
Fast-forward 50 years and the world has changed dramatically. Take styling, for instance. There were generally three styles of bike back in the 1970s. There was your straight-out-of-the-showroom standard bike, the hybrid or mongrel mix (that included Tritons etc.), and finally the occasional badly done chopper with extended forks and upswept pipes. These fab creations arose from the fallout of the 1969 movie Easy Rider, yet not a single whiff of a two-wheeled Teutonic master machine. Nowadays there are a plethora of bike styles, because customising motorcycles has truly come of age and the well-engineered – some may say ugly duckling – BMW air head and its successor, the K100 and K75, have slotted right in.
The model I wish to pay specific attention to is the K100 and its smaller sibling, the K75, unkindly nicknamed The Flying Brick. Fortunately, a very good pal of mine has a mint 1984 K100RS model, so I asked him nicely if he would allow me to take it out for a detailed evaluation. At the very same time, I would l look around for examples of how this Germanic beast has been transformed from a seemingly lacklustre mile-muncher into a piece of two-wheeled art.
What exactly was going on in the mind of BMW designers and engineers during the late 1970s, a time of intense competition from Japan? Certainly, they were well aware that their old, tried and tested, horizontally-opposed, air-cooled, boxer engine was coming to the end of its sell-by date. They'd squeezed all they could from the ancient design, and then there was more stringent emission regulations and all that jazz.
Honda had stormed ahead in the big bike game with the beautifully engineered flat four Gold Wing of 1974, and was very soon about to surpass that with, for what was at the time, the incredible six-cylinder CBX (1978). With rivals and the old-fashioned image of the boxer R models, the pressure was on the guys at BMW and they had to seriously put their thinking caps on. Josef Fritzenwenger came up with the seemingly off-the-wall idea of shoving a car-style four-cylinder engine into a motorcycle, but not across the frame like the Japanese. He and his pals built a prototype by placing a Peugeot 104 engine longitudinally into a bike frame, and so the concept gathered momentum. This design gave the guys two advantages over the across-frame arrangement. One was that the low slung engine would lower the C of G, and secondly, it would continue the German preference for shaft drive, by keeping a straight drive line to the rear wheel. You see, there is German genius and there is Japanese genius; they both arrive at the same destination – producing a great bike – via different means. Then, BMW designed its own sweet, durable engine and binned the Peugeot lump.
It was fuel injected, it was water-cooled like the cars and it had two valves per cylinder (later ones had four), while the double overhead camshafts were to be adjusted by the now widely used shim and bucket method. After five years of development, including 10,000 hours of dyno time and 400,000 kilometres of test riding, the K100 became a production reality for the European market in 1982/3, with the three-cylinder K75 range launched a year later. You could have the naked K100, K100RS with sporting pretentions, K100RT for full-on touring and work (emergency services) duties and later the LT, an even more fully dressed tourer. And in 1990 we saw the K1 – but that's another story.
It was a smooth, sophisticated, ultra-reliable machine. It didn't have the bling or pizzazz of rocket ships from Japan because it didn't ape their style. It was German; understated, yet displaying top-notch build quality and the company did things their way, for the next nine years. 'IT'S UNDOUBTEDLY THE WORLD'S EASIEST ENGINE TO WORK ON. ALTHOUGH IT MAY BE YEARS BEFORE YOU FIND OUT,' read one advert.
The bike used a variation of the Bosch LE-jetronic system which utilises a black box computer under the seat, that by means of various sensors keeps a close eye and thus control on engine temperature, engine revs, throttle position, and the temperature and pressure inside the intake tract. The whole fuel system is kept nicely energised by a Bosch-built fuel pump hidden inside the 5.8 gallon aluminium tank. Bosch also supplied the electronic ignition as a true compliment to the injection system.
What is the performance like? The K100RS is not a bike designed for the track but it's no slouch. The motor produces its 100bhp smoothly from low revs straight through to the red line at 8650rpm – not that most riders are likely to push it that hard. But if they did, a clever little device automatically retards the ignition to protect the engine – neat.
After being left out of the limelight for some decades, The Flying Brick Beemer has truly come of age and is now being appreciated and even sought after (prices are still low but climbing) by those in the know… add to that the fact that a growing generation of customizers have binned the functional yet not-so-pretty fairings, seen the raw ugliness beneath and transformed it into some really great custom bikes.
And I found out that the bike is quite nice to ride once you have got used to its quirks and differently styled switch gear. The clutch can feel heavy – especially if, like me, you are used to a nice easy-squeezy hydraulic type. The revs pick up slowly but once spinning past 2000rpm, that motor provides a delicious linear torque curve that just seems to pull and pull – and… you get the picture.
LOOKING AT BUYING?
So, if you are looking for a classic tourer that wants to go willingly right around the world, or you want to go completely ape and convert it into a work of modern two-wheeled art, or simply to go to and from work on, then at current prices, the K100 has a lot going for it. It should start easily, run smoothly and not overheat, and, on the road, change gear cleanly and consistently. Expect a bit of smoke on start-up, especially if it hasn't done much during the last 12 months, and go through all the electrical items. Actually, the neutral light didn't work on my test bike. I can live with that, but if you think of buying one of the later ABS models, make sure that this device is working, because if it isn't, you can spend a lot of money simply putting that right. A project can be bought for less than a grand, while clean examples were going for between £1500 and £2000; a later, mint K between £4-5000.
If the rear drive splines haven't been greased for some years/miles, then they will require checking. Check the rear drive for play, then pop the bike onto the centre stand (check this for rot at the same time) and grab the wheel top and bottom and then at the sides and see if there is any click in the play. If there is, then the rear drive may very well need rebuilding – another expensive job. Under the front of the engine – impossible to see with the belly pan fixed – is a weep hole under the oil/water pump. If there is oil or coolant leaking from this, the pump will need rebuilding. There is a similar hole at the back where the transmission mates up. If oil is dripping from here, then there is the more serious issue that the interior seals have gone. If oil has got onto the otherwise dry clutch, it's strip-down time.
BMW has always used long, soft-ish suspension on its motorcycles and although the K100rs has a tad less travel than the Boxer models, it is still rather plush and takes any bumps in its stride. I found the seat extremely comfortable – well, it is designed as a touring machine. I must add that the K exhibits less of the up-and-down thrusting of the rear end that can be noticed on other shaft-driven bikes, and this is mainly due to the slightly shorter suspension travel. The later Paralever swingarms are more refined. The forks offer no external adjustment, but the single rear shock has a typical ramp-type collar that allows the spring pre-load to be set at one of three positions. At its lowest setting, the rear end is soft, as you would expect, and compresses and moves around too much for hard cornering – not that I'm going to be doing much of that, I'm way too mature, ha. At its highest setting, the shock is well suited to carrying your pillion plus a few days' worth of luggage.
The K's fairing is a Marmite angular job that is probably never going to win any beauty contest but it does work (I usually ride naked – the bike, silly), but one interesting trick that BM employed to help keep things calm behind the windshield is the use of an adjustable airfoil right at the top of the screen. The foil creates a venturi effect that directs the flow so that the air that does hit the rider's helmet is relatively free of disturbance.
How do they ride?
I arranged to take Tony Cooper's 1984 model – a rare two-tone blue with red pin stripes – out in winter. After a period of rest but with a revitalised battery, the engine started well, gave a bit of smoke for a few seconds, and then settled into a good throaty tickover just under 1000rpm. I was given the quick tour of the controls and switchgear, turned on the dip headlight and made sure my scarf was snug. The switchgear on a BMW is nothing like a Japanese machine and I was finding the indicator controls particularly difficult. The switches are under the grips and out of sight on each side of the 'bars, so you have to feel for them with your left or right thumb. Then you have to cancel, by pressing upward on a red button with the right thumb. Sounds easy, right? It isn't, and it took a bit of getting used to.
On the positive side, the clutch was smooth and easy; I have never used a smoother gearbox in my life. Most gears change with a bit of a click or clonk… not the K; you simply move the lever and they slide into place – really. The seat was very comfy; firm, but the sort of firm that your bum can stand all day if required. The Brembo front disc was pretty good at hauling up all that metal, but the rear disc left a lot to be desired. Having said that, the later bikes were fitted with much improved braking and ABS.
Now I know for a fact that my inside leg is 31in (a useful thing to know, believe it or not) and when filtering through traffic, and stopping at lights, I could not put my feet flat on the ground. If you have short legs, and I won't be rude, then you will possibly have trouble with the K and they are not light machines.
After some miles for photos, I was now used to all the controls, including the difficult turn switches, and was enjoying the bike. The power was not arm-pulling or even what I would term exciting acceleration, but the sort that grew strongly from 2000 revs onward. Filtering through heavy traffic was easy because the 'bars are so narrow, and even though they are almost as low as clip-ons on the RS, the riding position is forward-leaning but relaxed.
Finally, I got to the motorway island, sped up the slip road and overtook the cars on the inside track. I was now much more confident with the BM, knowing that it had the power through the gears to take me rapidly into the fast lane, though I did occasionally go for a sixth gear… that isn't there. Most traffic was content to stay within the speed limit, but I fully intended to spend at least a minute or two finding out what the BM could happily cruise at before dropping back to lawful speeds. I can confidently say that this bike can comfortably cruise at the ton – and no doubt all day, if you wanted it to. The downside is that even though fully faired, there is quite a lot of buffeting at high speeds. This may be down to the fact that the fairing doesn't really extend to shoulder width and will definitely alter with different-sized riders and their chosen jackets/helmets. The RS has an adjustable screen but, in truth, does little.
Handling at fast and slow speeds was good on all types of road, and the suspension was good, too. My only gripe with the K100 is that the early 83/84 models have a fair bit of vibration from the engine into the footpegs – not the seat or grips. It comes in at about 2500rpm and stays until 3500 or thereabouts before smoothing out, whether you are accelerating or decelerating. However, as I mentioned earlier, the later models have rubber-mounted engines and four valves per cylinder, making it a different beast altogether.
I did some 10 or 12 miles on the M5 – I know, it's not a lot but it was bloody cold and I wanted a hot drink. Altogether, I was out of doors for most of that day, and riding the K for nearly three hours, plenty enough time for a bright but wintry January day. There's not many bikes you would want to do that on more than a BMW K series, yet the earliest are around 35 years old. But they are a classic, reliable, and will take luggage, and take accessories like heated grips – and there is a great spares supply out there. Another bonus is the average K series has been owned by more mature owners who are likely to have looked after them and had their machines serviced.
Prices for a K100 or K75 are at rock bottom, with MoT'd bikes for less than £1000. If you like using your classic, then there are few better ways than an RT or an RS. Or enjoy the naked bike. Or embrace the custom scene, as so many have. It's been unloved for years; maybe now it is time to give the K100 and K75 some love.
Many thanks to Tony Cooper for the loan of his lovely K100RS.